A closer look at Lowrance's HDS Gen2 Touch
Today is an excellent time to look in more depth at the Lowrance HDS Gen2 Touch, a slightly awkward name for six products that form the "top end" of the Lowrance multifunction display range. The reason is the recent release of the 2.0 software version that brings GoFree functionality — as seen above — and much more to both the Lowrance Gen2 and Gen2 Touch range. Last year I upgraded my HDS Gen1 to a HDS2T and in this entry I will compare the HDS2T to other Navico options, give you the reasons why I like it and of course discuss the new features in the 2.0 software.
HDS2T and its family members
As regular Panbo readers are aware the Lowrance HDS series shares a very high commonality with the other Navico chart plotters — the Simrad NSS, NSE and NSO and B&G Zeus and Zeus Touch (ZT) systems. All of them use a common operating system named Navico Operating System (NOS), based on GNU/Linux, Qt and the NOS application. As Ben reported in March, the range subdivides into three target markets, with Lowrance focussing on fishing, Simrad on sport fishing and cruising and B&G on sailing.
In the early days of NOS the devices all ran on different hardware. The NSE/NSO/Zeus class is based on an x86 VIA processor, whereas the HDS Gen 1 ran on an low power Freescale i.MX ARM processor. The NSE is quicker, but uses a lot more power. Nowadays the newer displays (NSS, HDS2, Zeus T) all run on a Freescale i.MX51 ARM processor which still hasn't got the CPU power of the VIA C7 but also uses significantly less power. On digging into my HDS2T I found it runs a single core processor at 800 MHz, has 512 MB RAM and a 1 GB flash memory. To put that in perspective, it's 1/8th the CPU power, 1/4th the RAM and 1/64th of the flash memory of my Android phone.
Still, the touch class systems have quick enough redraw rates and enough memory to process even complicated chart areas. The Freescale processor also contains hardware support for video compression, which makes GoFree remote Viewer/Controller apps are possible over the restricted bandwidth that WiFi offers.
If you look carefully you will find that 90% of the functionality in the range is shared, like the generic chart plotting, sonar, radar, Sirius weather, SonicHub audio control and maybe even the CZone digital switching which Ben has recently begun testing (CZone is not mentioned anywhere by Lowrance, but it appears in the HDS2T 2.0 advanced settings menu). The differences between the different NOS products (that I am remembering now) are:
HDS can have more fishing hardware (Broadband sonar and/or StructureScan) built in. Simrad and B&G need extra black box hardware to offer the same functionality (the exception being the smaller NSS/ZT displays, which do have an internal Broadband Sonar module).
Simrad and B&G have a (Simrad) autopilot control feature.
B&G offers specific sailing calculations and displays, as discussed here on Panbo.
HDS can't control multiple SonicHub zones at different volume levels.
HDS has a different look & feel compared to Simrad and B&G.
HDS Gen2 Touch has a wide screen instead of 4×3.
Some broadband radar features, like 4G's independent dual ranges, are only supported on the x86 class products (NSE, NSO, Zeus).
HDS may have fewer CZone features, or at least it is de-emphasized in the documentation and website.
A HDS Gen2 has upgraded internal components compared to Gen1, so it is faster and has more RAM. Other than losing the round control ring which wasn't as useful as was claimed there is no real difference in external hardware. It looks as if the Gen1 is at EOL (end of life) and won't receive any major software upgrades beyond the current 4.1 software version. The Gen2T models have basically the same hardware as the Gen2 but have a wide, touch enabled screen, can have the StructureScan module built in and a 2nd Ethernet port and video input on the 9″ and 12″ models (like the one seen below).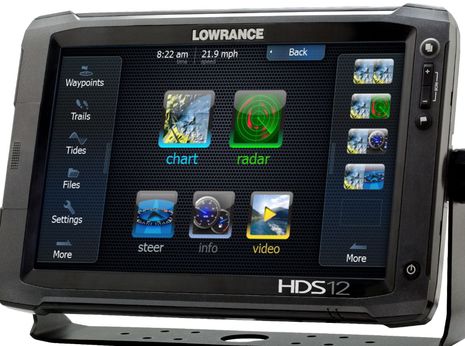 Why I like the HDS 2 Touch
For me the important difference between the Lowrance and the Simrad/B&G is the different look and feel of the UI. The extra screen width provides for more pixels in the 7″ and 12″ versions (but not the 8/9″ size) horizontally, of which good use is made by a soft menu on the right side.
The extra width of the wide screen allows the HDS2T to show a soft menu on the side, which in most cases infringes little on the display. It can easily be swiped away to offer a full screen view. In fact this main menu is very well executed, and usually contains exactly what you need, with the other menu items easily accessed by a swipe down on the menu bar.
I also like the HDS data overlay better than that of the Simrad & B&G units. On the Simrad version you can have a single row of data values at the top of the screen. If you need more you can have two alternating rows with one displayed at a time. This I found very distracting at night when standing watches in the wee hours. Also, it takes away valuable screen space. Also, it took me 4 watches before I found how to modify the databoxes (without a manual.) The HDS method of floating data boxes that can be adjusted in size and location is, in my opinion, easier on the eye, doesn't hide as much of the chart and is much more flexible.
Touch control
In general, the touch control on the HDS feels very polished and robust. I was worried that it might be executed the same way as a normal tablet, but it seems the engineers have tuned the minimal duration and location of a touch such that accidental operation is minimized. Over the last two months I found that I hardly had a case where the plotter did not do what I want. One helpful feature of the touch interface is what is called "Cursor Assist" mode. If you put your finger on the screen it is hard to see exactly what you are "touching". If you keep your finger on the screen a "looking glass" appears on the screen immediately above your finger. This cursor stays immediately above your finger, allowing you to place the cursor at exactly the right spot.
One thing which I did not really realize would make a difference is that it is now a lot easier to control the SonicHub audio interface. On my HDS 8 I had to long-select twice to move the selected window to SonicHub before I could adjust the audio volume using up/down. This easily took 6 seconds. Now it is a quick tap on the SonicHub bar and presto the + – buttons are the volume controller.
Bigger is not better in all aspects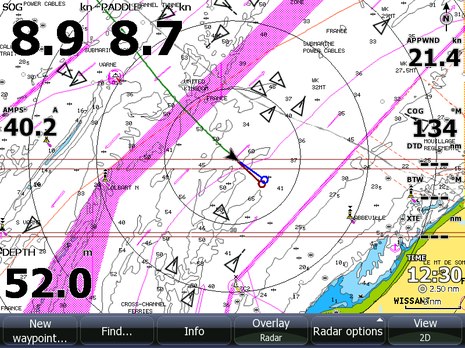 A bigger screen is easier to read, and can show more detail. Just compare the 800×600 pixel 8″ HDS Gen1 screenshot above with the 12″ HDS2T screen below showing the same chart area but with 1280×800 pixels (click on both files to get the full size and compared them side-by-side).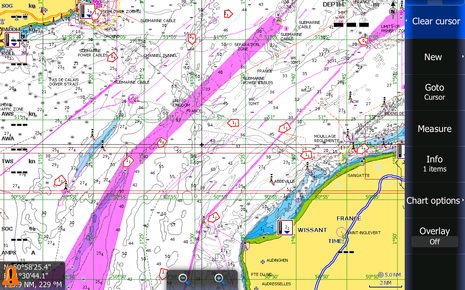 However a big screen also has its disadvantages. The simplest is that it might just not fit the mounting location that you have in mind. Another that may play a role for sailors is the power consumption. Even though the latest plotters, in general, use much less power than their predecessors, keep in mind that a big screen still uses more electricity. My HDS 8 used 0.4 / 0.7 / 1.0 A at low (night), next-to-max and max brightness. In comparison I measured my new 12″ HDS2T and it uses 0.7 / 1.2 / 2.0 A in the same circumstances. A little bit (about a quarter of an amp) can be attributed to the faster and extended hardware, but still it is quite a difference. Note that the difference between the highest brightness step and just one level down is a huge reduction in power consumption of 40%. I imagine this will be true of any LED backlight, so just keep it (at least) one level lower than max if you are trying to make your batteries last.
GoFree: remote display & NMEA 0183 streaming
As the main reason for me getting the HDS2T, I was hoping this would work well. Luckily, it does! Still, there are some improvements that could still be made. You can download the free Simrad, B&G or Lowrance GoFree app from the Apple store. It does not seem that there are any functional differences between them — I get exactly the same controls and features in the Simrad app as in the Lowrance app.
I don't have a Navico Wifi-1 module but my own Linux based router/server which uses simple Linux bridging and acts as a DHCP server, so all devices get an IP address. I'm happy to report that the HDS2T had no problems in working with the assigned IP address, and the GoFree app immediately found the HDS2T and connected flawlessly. I guess that Navico sells the Wifi-1 as a solution for a plug-and-play solution, I've heard that they don't mind when the system is included in a larger existing WiFi system. This is great as it means you don't have to switch between multiple onboard WiFi systems.
Once connected you can control all features of the chartplotter, and press all buttons. The plotter does become a bit more sluggish, so it's definitely not a 'free' service in terms of processing power. This is most apparent when scrolling or using displays with multiple areas.
One issue I did find is that if you have accidentally started the GoFree app whilst still connected to the wrong network it will keep on searching that network even if you have since switched to the correct one. Stop the app completely by opening the multi-task bar (double click on Home) then click-and-hold until you see a red "delete" button attached to all recent apps, click on GoFree. After this you can start it again and it will find your plotter immediately.
The other issue is that there can be some improvement of the fidelity of the display. The HDS display in the GoFree app is a little hazy, as if too much compression has been used. Click on the top image of this entry to see what I mean. As my retina iPad has exactly double the resolution of the HDS, a cleaner picture is possible. What would be nice to see in the GoFree app is the option to tune how much compression is used, and be able to choose a pixel-perfect (but possibly slower) display.
In the menu I noticed that the 2.0 software comes with the ability to show the HDS IP address, what I think may be the capability to control Wifi-1 access points, and network testing tools. It even has an iperf server so you can test the bandwidth of the network connection. Using the iperf tool on my laptop and Linux server I found that the wired capacity was 77 Mbit/s and my wireless still managed 20 MBit/s, only 1 MBit/s slower than the wireless bandwidth directly to the router.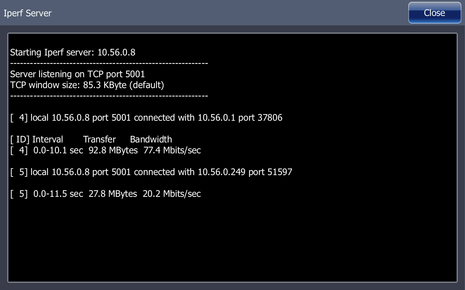 If you know your display's IP address you can use a GoFree enabled plotter as an Ethernet TCP server for NMEA 0183 data. Go to Network > NMEA0183 > Ethernet for information on how to connect your app. My HDS is only connected to NMEA 2000 sensors, but it generates a full NMEA 0183 stream with all available data (sensors, GPS, AIS). It even includes a non-standard sentence so that air temperature, heel, trim, barometer and rudder data can be transferred. Very well done!
Navionics chart improvements
A whole ream of improvements has been made to the chart representation of Navionics charts. They may not be world firsts as I think I have seen every one of these features in other chart plotters, but it is nice to see Navico/Navionics play catch up here.
The ability to hide rocks deeper than a particular depth. This declutters the chart in areas with many (charted) rocks like Norway.
The ability to highlight a particular interesting water depth between a certain lower and upper bound.
The ability to make very shallow water stand out using red dots.
New on-chart display of tidal heights and streams.
The ability to use a larger icons and fonts for chart data (Easy Read).
Whether and how useful these features are going to be will depend on your area and how detailed the charts are. Our home waters are so shallow that the "warn for shallow water" feature is useless, and we don't have any rocks, but we do care about currents and tidal heights so I do appreciate these feature, shown to great effect in the screenshots above.
Other features in the 2.0 software release
I will just mention the rest of the 2.0 software features very briefly.
Support for Lowrance Point-1 GPS (configuration.)
5 Hz update rate of the internal GPS.
Support for Insight Genesis (for creating your own hi-res depth charts) and StructureMap HD.
Chart sharing across the network (long overdue!)
Simultaneous display of two different chart providers.
PDF viewer for manuals and such.
Here's Lowrance's HDS2T 2.0 download page with detailed release notes.
For the HDS Gen 2 this is an even bigger release (download and notes here) as it brings it fully back to par with the Gen 2 Touch:
Similar icons and button use
Similar custom split screens
Export user data based on region
StructureScan Auto Contrast
More tanks and engines can be shown in the instrument display
Support for the standard PGNs for AIS class B static information