WiFi MFD's, Navico GoFree promises more than met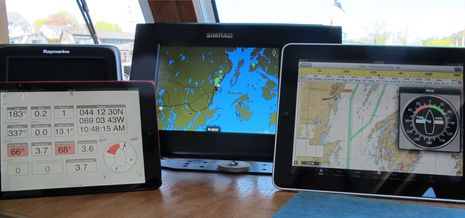 After Raymarine and Furuno introduced multifunction displays with WiFi built-in and apps that could mirror and even control the MFD screen on an iPad or Android tablet — a great idea that caught on quickly — I was frankly a dite dubious when various Navico folks said that they had an even better idea. Eventually, though, we got to discuss the WiFi1, their MFD network hotspot, and then the whole multi-tier GoFree concept. It's a complicated concept largely because it's so ambitious — for instance, supporting both Navico screen control apps and multiple third party apps like the ones seen above — but it seems to me that GoFree is now doing even more than Navico promised, and there's virtually no limit to where it's headed…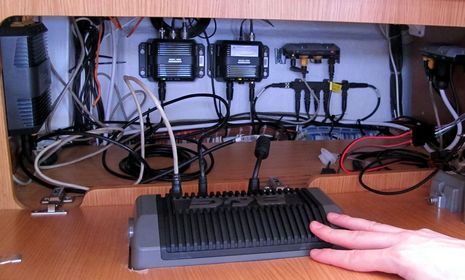 The photo above shows a GoFree WiFi-1 module (upper right) that had just been installed for the B&G press event in Las Palmas last February. I was easily able to view and control the Zeus Touch goodness with my iPad mini using the B&G/Simrad/Lowrance GoFree app (Las Palmas screenshot here) and also had success streaming GoFree "NMEA 0183" data into several third party apps. Getting Gizmo's fairly complex Simrad network to work well with a WiFi-1 took me a while (and various updates I misunderstood at first), but it's been solid for months now and I'll discuss some results below.
But let's note first that some people want GoFree to work with their own boat's WiFi routers, no WiFi-1 involved, and though Navico made no promises, they've apparently satisfied that desire by publishing details about how to do it (see the download section down the product page). I say "apparently" because I haven't tried it (and am not sure I have the IT skills required), but some Panbo readers report success.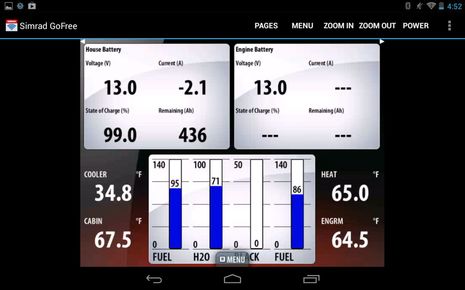 Navico also came through with the Android version of their GoFree app, as seen on my Nexus phone above. I don't think that it makes as efficient use of the screen space as the iOS version does (please stack the controls right or left if possible), but it's fabulous that I can monitor Gizmo's tank gauges while fueling from a dock or running the overboard waste pump inconveniently installed in the head (happy CZone tank interface story here). Plus, I can use an iPad to bring the NSS 8 up to the flybridge alongside the NSE 12 (though the vice versa is not possible because the NSE doesn't have the video chip needed to enable the screen streaming app).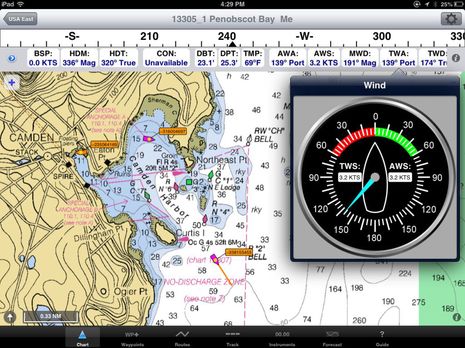 Then there's what Navico calls "Tier 1: TCP/IP NMEA 0183" data. I didn't expect much when I first put the WiFi-1 IP address into the iNavX iOS nav app — because Gizmo's NSS 8 has no NMEA 0183 data going into it — but, wow, iNavX gets GPS, Wind, Depth, Heading, AIS, and more. And, thus, is a much more full-bodied nav program than it already was. The impressive SEAiq app provides similar GoFree nav integration at a much lower price (though the AIS streaming needs some work).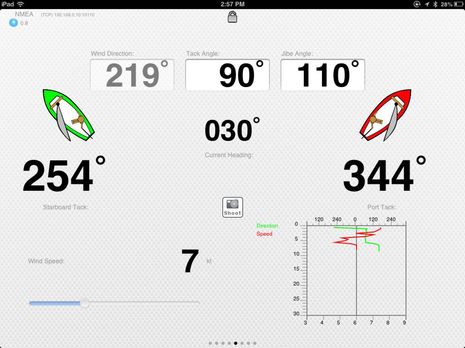 So, Navico is generously translating a lot of Gizmo's fundamental NMEA 2000 data into an 0183 format that's easily understood by many third party apps. The iRegatta iPhone/iPad tactical sailing app, for instance, seems fully populated with Gizmo GoFree data and a good example of how the integration can make some tricky niche functions fairly easy and inexpensive to obtain.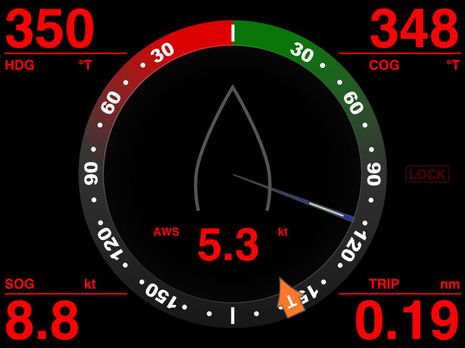 MID Wifi seems to provide some iRegatta performance specifics like polars while also offering sexy instrumention that looks ironically similar to Zeus Touch (though you may want it on a pad so you can devote your Zeus screen to charts, radar, etc.).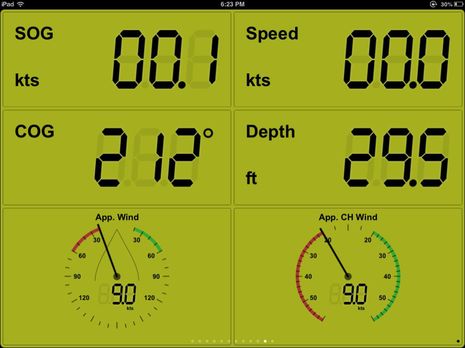 I've just started testing NMEAremote, but I'm already convinced that there's a very talented programmer behind the scenes. Its goal is boat instrumentation any way you like it, and it's slick how all the possibilities are organized into themes and chapters (though I wish there were alternates to the faux segmented LCD data font).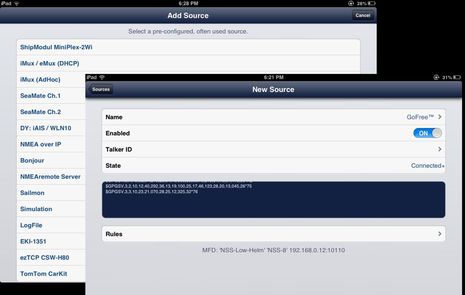 What's especially interesting is how well NMEAremote handles the WiFi data connections, and how many flavors it can support. While iRegatta even makes you dig into iOS general settings to set up your GoFree IP address, NMEAremote is the only app I've seen able to figure that out itself. Note how it also has a data stream window so you know immediately if the connection is working and that Rules button lets you control individual data type inputs.
I've heard that NMEAremote will also be the first to support the super easy Bonjour WiFi interface built into the Vesper Marine WiFi AIS transponders — Vesper Vision is already working well with third party apps on Gizmo (more to come) — and do check out that list of supported NMEA sources. In fact, you do not have to own a current Navico MFD to use any of these apps. It's more like Navico has helped its customers (and itself) by freeing its system data for use with third party apps, and I bet that's helping not only those developers but even the various manufacturers who offer alternative hardware to get NMEA data onto WiFi. A lot of boaters don't know about this NMEA WiFi thing yet.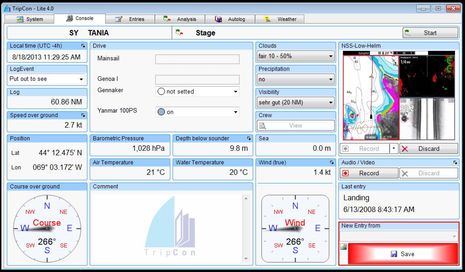 Of course, it would be great to hear how others are using GoFree, but a couple of other points first. Something I don't understand is the state of Tier 2 NMEA 2000 data. Obviously, the generous 0183 feed takes care of many needs and is being widely adopted by the apps developers, but Tier 2 promises to unleash more info than 0183 can handle, plus two-way control. Do any such apps exist yet, or are about to?
Let's also note that neither Navico, Raymarine, nor Furuno yet have an associated planning app that passes routes as neatly as Garmin BlueChart Mobile does (though Nobeltec/MaxSea TimeZero could conceivably get that feature at any moment). Meanwhile Garmin does offer a screen control app, and none of the MFD manufacturers beside Navico is working with the independent developers. Finally, Standard Horizon just entered the game with a CPN software release that supports screen control integration with C-Map Plan2Nav (and purportedly brings numerous other improvements, including N2K support, to that still-trailblazing WiFi plotter).
But what about the upper tiers of Navico GoFree, about which very little was promised? This weekend I had the pleasure of trying TripCon Lite, the free trial version of an unusual logbook PC program being developed in Germany. It took just a few minutes to install it and select Gizmo's GoFree WiFi as the data source. As illustrated above and below, TripCon not only uses the data streaming seen in other apps, but also NSS 8 screen streaming and control. I'm hoping to test the full version, but it sure looks like I'll be able to record the video screen or attach screenshots to an automated or manual log entry. Like I said, the GoFree possibilities seem unlimited.