Lowrance HDS Gen3, plus Elite CHIRP and SmartSteer two ways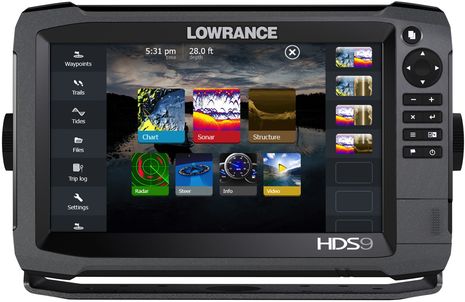 Lowrance put a lot of cards on the table yesterday. Foremost is a new HDS Gen3 series which combines the touch interface of the Gen2 Touch with a keypad similar to regular Gen2 models. Added are multi-touch gestures, built-in WiFi and Bluetooth, dual SD card slots (though micro size), and a CHIRP option in addition to Broadband sonar. And it all fits into about the same dimensions as the original Gen2 Touch 7-, 9- and 12-models with about the same original retail prices. I don't yet buy the press release, "next revolutionary step forward," but "state of the art" sure seems appropriate…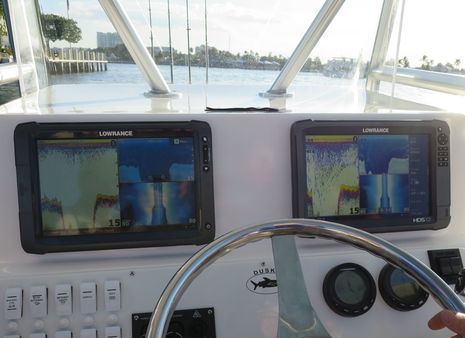 I got a peek at a prototype HDS12 Gen3 alongside the Gen2 Touch during the Fort Lauderdale show, and you can see above how they shrunk the left side of the bezel to fit in two narrow columns of control buttons. Jim Hebert over at Continuous Wave did a good job of figuring out what the Gen3 buttons do — before yesterday's marketing blitz — but I don't share his worry about identifying them with icons instead of English labels. I think they're easy to figure out even without looking at the Quick Start Guide PDF, but I do wonder if the relatively small buttons will be hard to use in some conditions. Running what seems like a very similar Simrad NSS evo2 interface with a simpler keypad (and knob!) works well for me, but then again, there are commands I can't get to as quickly.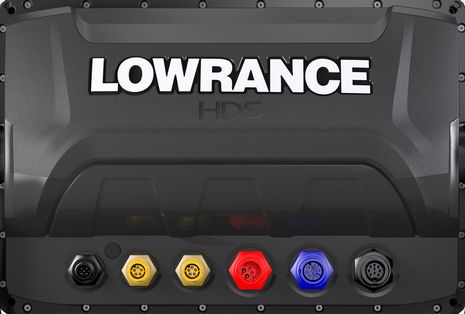 Some Internet commenters think that the Gen3 is simply NSS evo2 in different clothes, but the backside of this $3,149 Gen3 12 says different. On the $3,999 NSS12 e2 you'd also see an HDMI video output, a dedicated power port, and a port combining NMEA 0183 RX/TX wires with dual RCA analog video inputs. The HDS Gen3 will support one analog video input, but it requires an optional cable that works with the combined power and 0183 port (red above). But both MFDs do have standard NMEA 2000 ports, dual Navico-style Ethernet ports (yellow), a CHIRP/Broadband sonar port (blue), and a StructureScan HD (or SpotlightScan) port. With evo2, and B&G Zeus2, that port can also be used for networked ForwardScan, but Lowrance doesn't offer FS yet. (I think Navico wants to emphasize ForwardScan's usefulness for grounding avoidance, though I can testify that it does image fish, too.)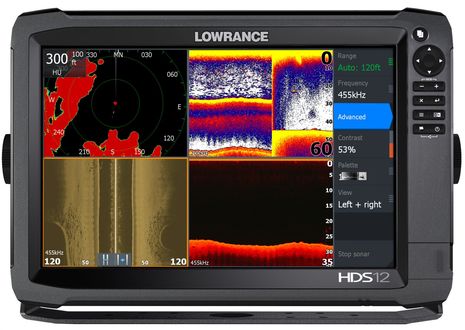 Of course, Lowrance HDS Gen3 can already do all sorts of fish and structure imaging. While Kees once took a great closer look at HDS Gen2 Touch, he's the unusual (though not necessarily unwise) sailor who uses Lowrance. For hands-on opinions about fishfinding I like sources like The Hull Truth electronics forum, and one interesting aspect of Lowrance CHIRP is that they claim effectiveness even with a lowend transducer. I saw it demoed during Navico's press event but only in shallow water, so I'll pass along this THT report from 'abbor': "…there are thousands of people (including me) who have tried CHIRPing with HST-WSBL. Using a standard transducer in CHIRP mode usually produces a cleaner image, at larger depths the resolution is improved and the sensitivity is also improved under most conditions. Where it brings least value is probably at 30′ and less. A TM150M will probably give better results 98% of the time, and the difference is usually significant."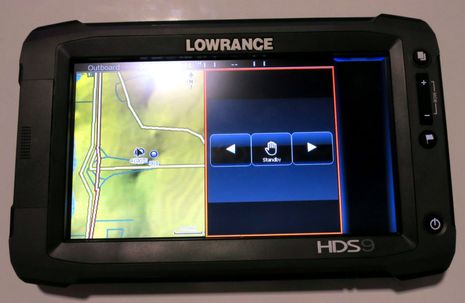 A new function icon you can see on the Gen3 Home Screen at the top of this entry is titled "Steer" and that's because Lowrance's interesting Auto Steering technology is getting real. At IBEX that Gen2 Touch above was using the new Outboard Pilot — due out this month — to turn a real outboard and new Gen2/3 software will also support the MotorGuide Xi5 SmartSteer (trolling motor) Control. The best detail I've found on both these systems is on these videos (which is also a good page for learning about HDS Gen3).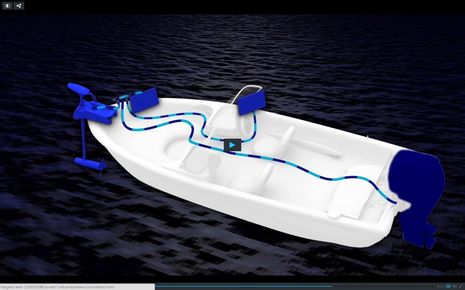 The videos show that a HDS Gen3 (or Gen2) user will be able to easily flip from "smartsteering" an outboard to having a trolling motor do the same tricks, like following a route or maintaining a heading (and speed too, with the trolling motor). Come to think of it, that may be "revolutionary" (or maybe I'm not caught up with the fast moving world of small fishing boats – corrections please if needed).
Lowrance also introduced Mark-4 and Elite-4 CHIRP fishfinder/chartplotter displays yesterday. So the little Elite below offers a 4.3-inch LED backlit able to show 455/800 kHz DownScan and Med or High CHIRP running around 83 or 200kHz all for $299 with transducer included, not mention built-in GPS and 3,000 lake maps included. Which may be a "revolutionary" value though again the sonar competition is moving fast. Navico is holding another Florida writer's event in January — where I expect to see all this new gear in action, and maybe more — but Raymarine and Garmin are already planning Miami demos in February.