Victron Phoenix Smart IP43 Charger, charging perfection?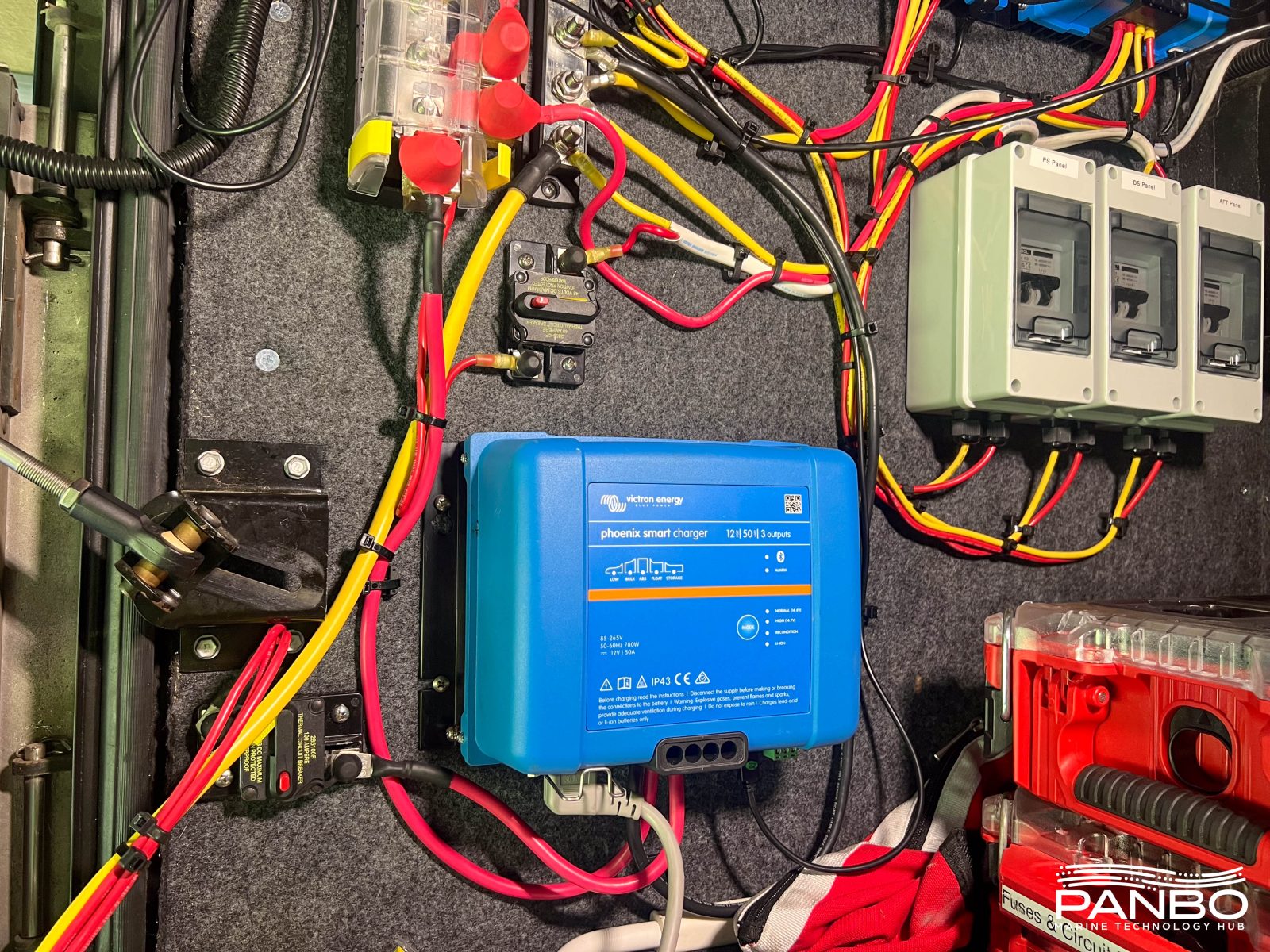 I've written a lot about Victron's products. In fact, I've written enough that I sometimes fear my readers will see another Victron article and roll their eyes. But, yet again, I find myself with a compelling Victron product that I think you should hear about. This time, it's a battery charger. I realize you may not think of battery chargers as the most exciting piece of technology on your boat, but bear with me and read on to hear why you should be excited by this one.
The Phoenix Smart IP43 line is available in 30 or 50-amp 12-volt varieties and 16 or 25-amp 24-volt models. The higher amperage option in each voltage sells for $530 while the lower amperage model sells for around $420. The chargers are available in 3 output models with the total output divided among up to three connected batteries or in what Victron calls 1+1 models. The 1+1 models output up to the full rated capacity to a single output and can also output up to 4 amps to a second battery. The second output is primarily designed to maintain a start battery.
Both the 1+1 output and three output chargers feature FET-based isolation of the outputs. The FETs ensure no current transfer between the connected banks. The three output chargers can output rated output to any one of the banks or split it across them. All charger models support a single chemistry, so you can't mix and match battery types among the outputs. Additionally, all outputs operate in the same charge stage, bulk, absorption, float, or storage.
What's so special about this charger?
I've spoken pretty highly about this charger. So, you might be wondering what this charger does so differently than other chargers on the market and the ones you already have on your boat. The difference in a nutshell comes down to three main attributes, small size, extensive connectivity, and configurability.
Connectivity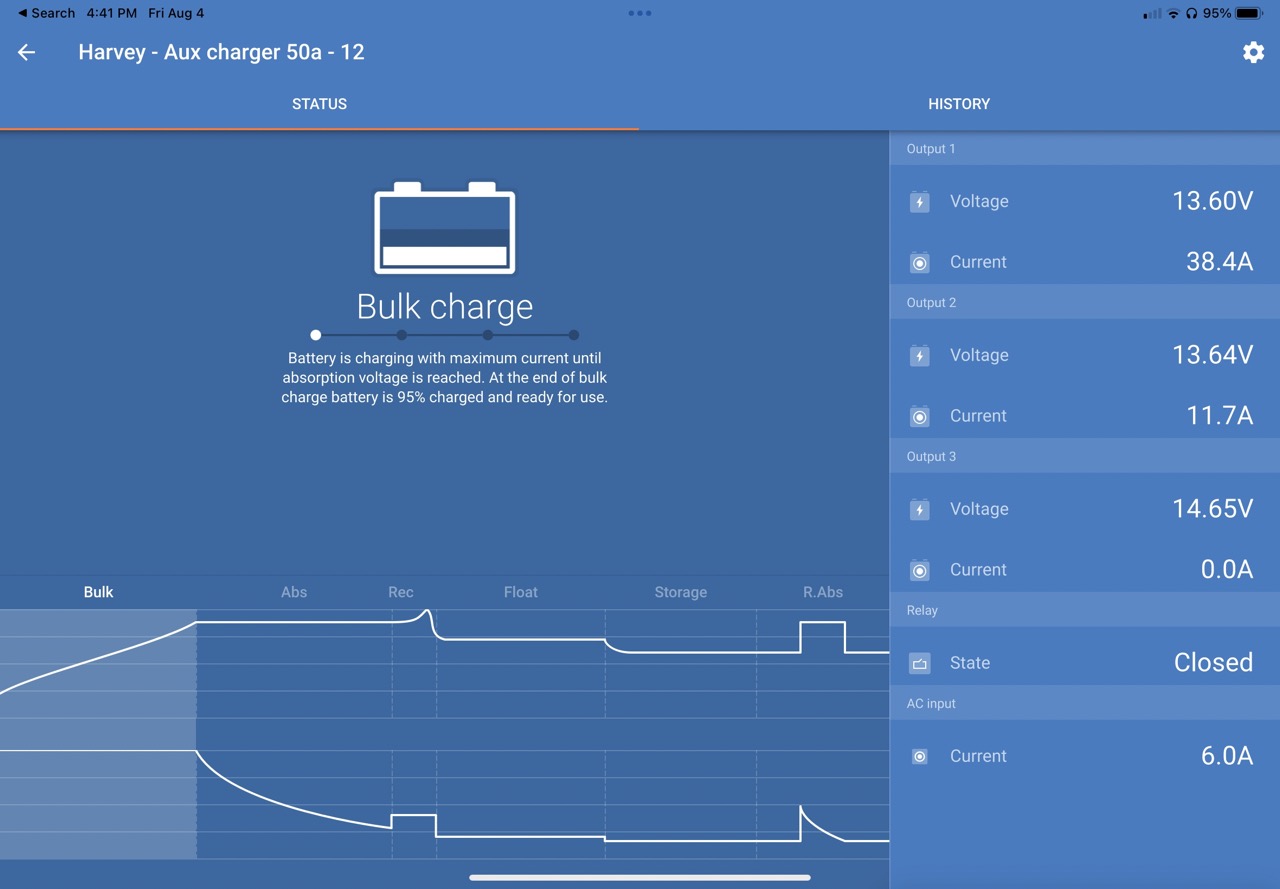 The IP43 chargers have a built-in Bluetooth interface that allows connectivity with Victron's BMV-712 battery monitor and Smart Battery Sense as well as the Victron Connect app. In addition to Bluetooth, the IP43 charger has a VE.Direct port. VE.Direct is Victron's proprietary serial connection that allows simple devices like battery monitors, solar controllers, and chargers to communicate with GX devices running Victron's Venus OS.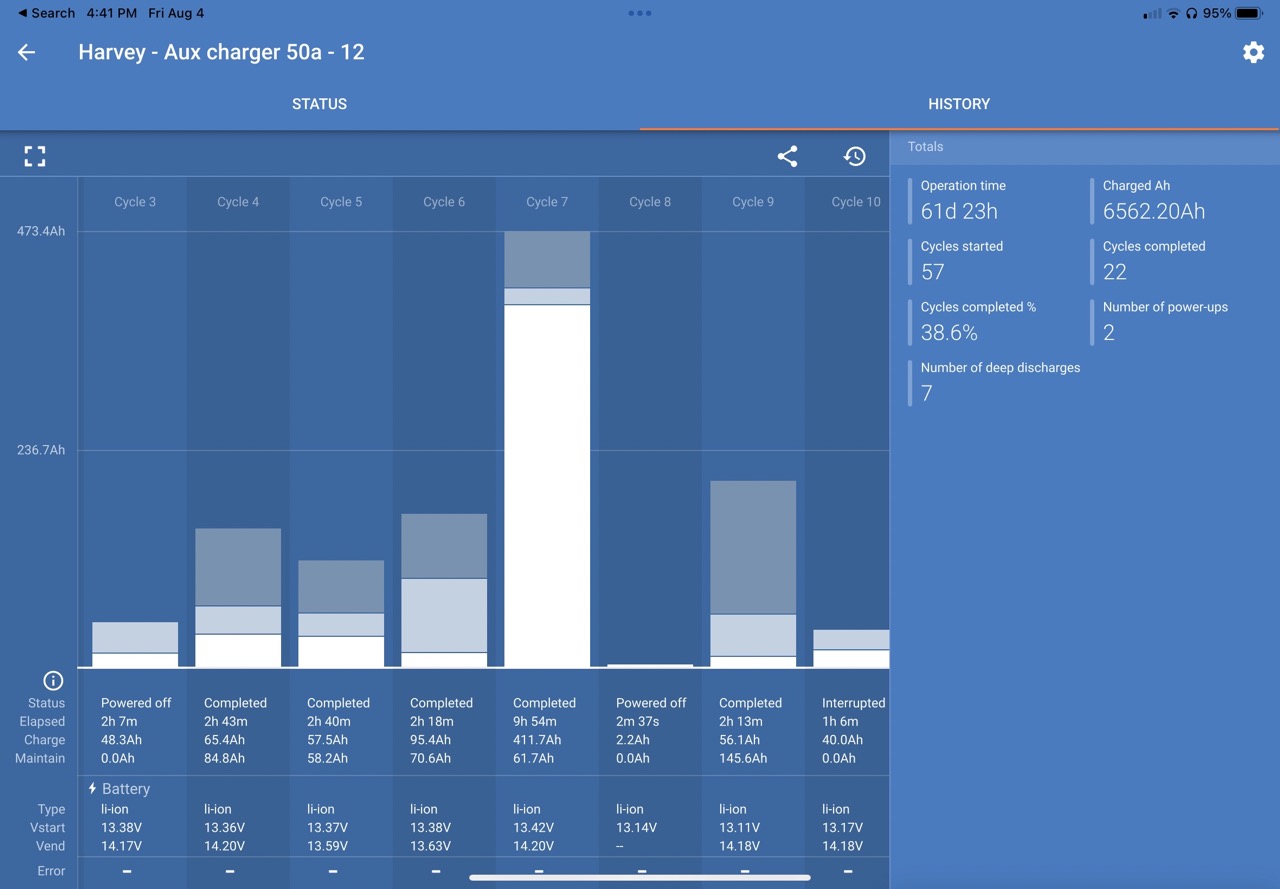 VictronConnect provides extensive insight into the charger's current status and historical operations. Lifetime totals for the charger help you understand longer-range trends including how often charge cycles are completed. I've been testing a lot with this charger and hence interrupted it much more often than I think would be normal.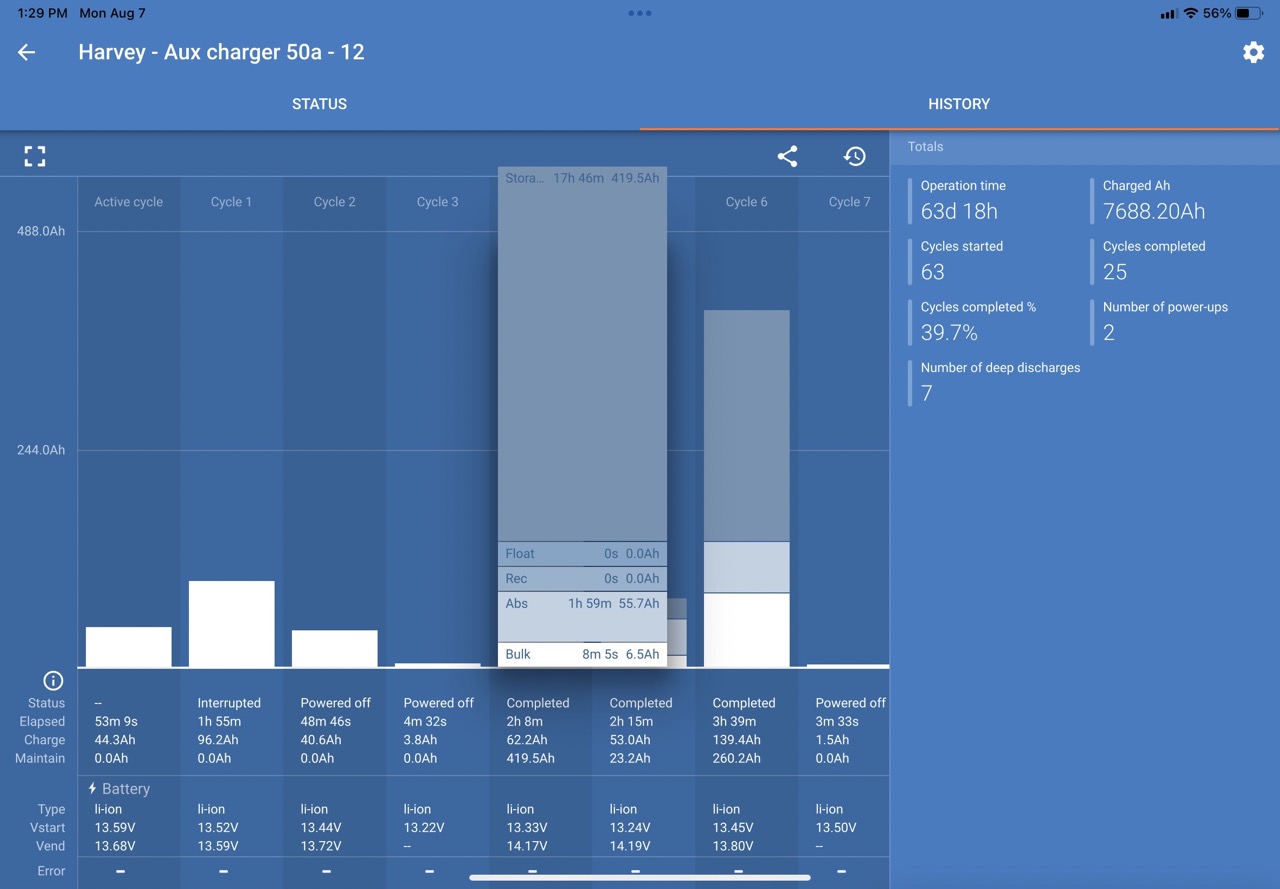 Each charging session is logged with full details of the charge cycle. I particularly like the detailed breakdown of each cycle and how long the charger spent in each stage.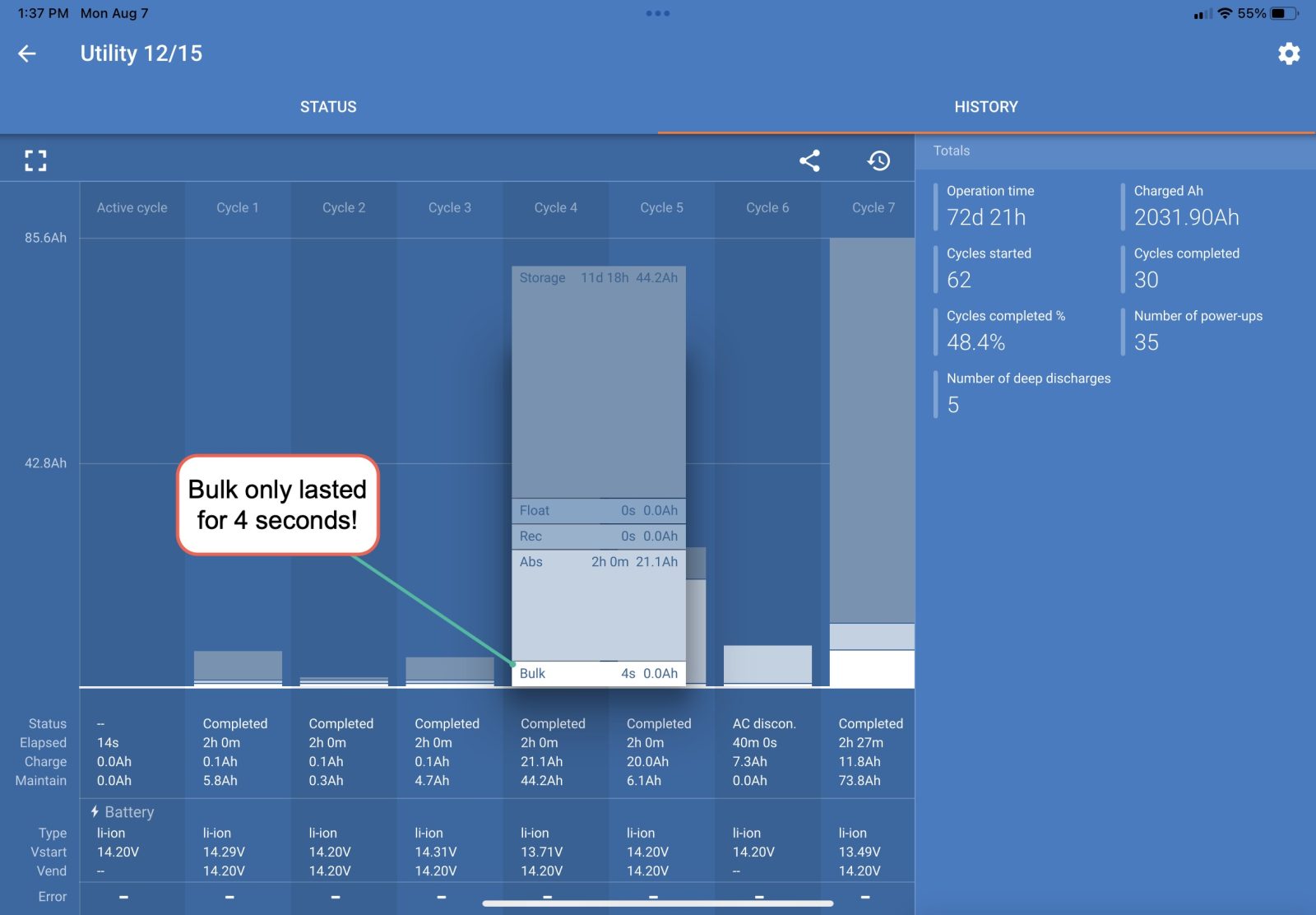 In fact, the cycle history has proved very useful to identify a wiring issue on a little brother to the Phoenix Smart IP43. I use BlueSmart IP65 chargers for quite a few utility charging needs. Looking at cycle histories on a 15-amp model, I noticed the bulk phase was only lasting a few seconds. It turned out the quick connect fitting I was using on a battery created a high resistance connection impeding charge speed and producing heat. I found it because the charger was quickly exiting bulk since the high-resistance connection caused the charge current to drop below the charger's full 15-amp output.
Additionally, if the Phoenix IP43's VE.Direct port is connected to a Victron GX device running Venus OS, output measurements can be displayed under the system visualization. In the screenshot above, the "House Batteries" and "Epoch 100ah" measurements represent the battery 1 and 2 outputs of the charger.

VRM's advanced widgets can also show further detail about the charger's operational history. Compared to most chargers, this is an embarrassment of historical data riches. For example, Have Another Day had multiple older Phoenix chargers onboard. But, these chargers are equipped with a single ammeter so there's no visibility into how much current is going to each output, just a total number. That single analog ammeter made determining the charge rate of a single battery bank difficult. In contrast, this level of detail makes that task trivial.
Configurability and control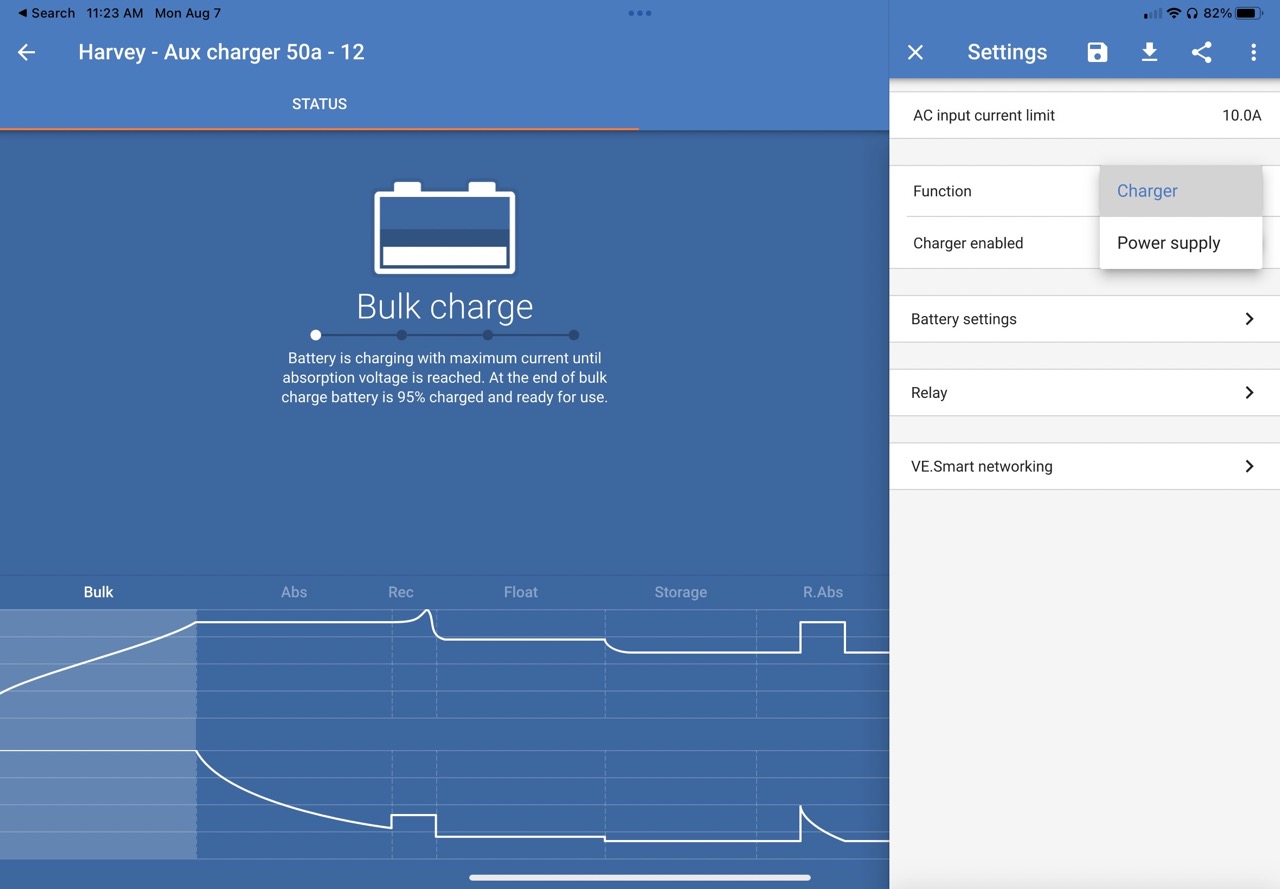 The Phoenix IP43's connectivity options make configuring the charger very easy. The simplest method is via the VictronConnect app on a mobile device. The app connects to the charger via Bluetooth and offers fine-grained control of nearly every aspect of the charger's operation. Additionally, as is shown in the last, Remote Console screenshot above, the charger's current limit and on/off switch can be controlled via a GX device's console.
Mode button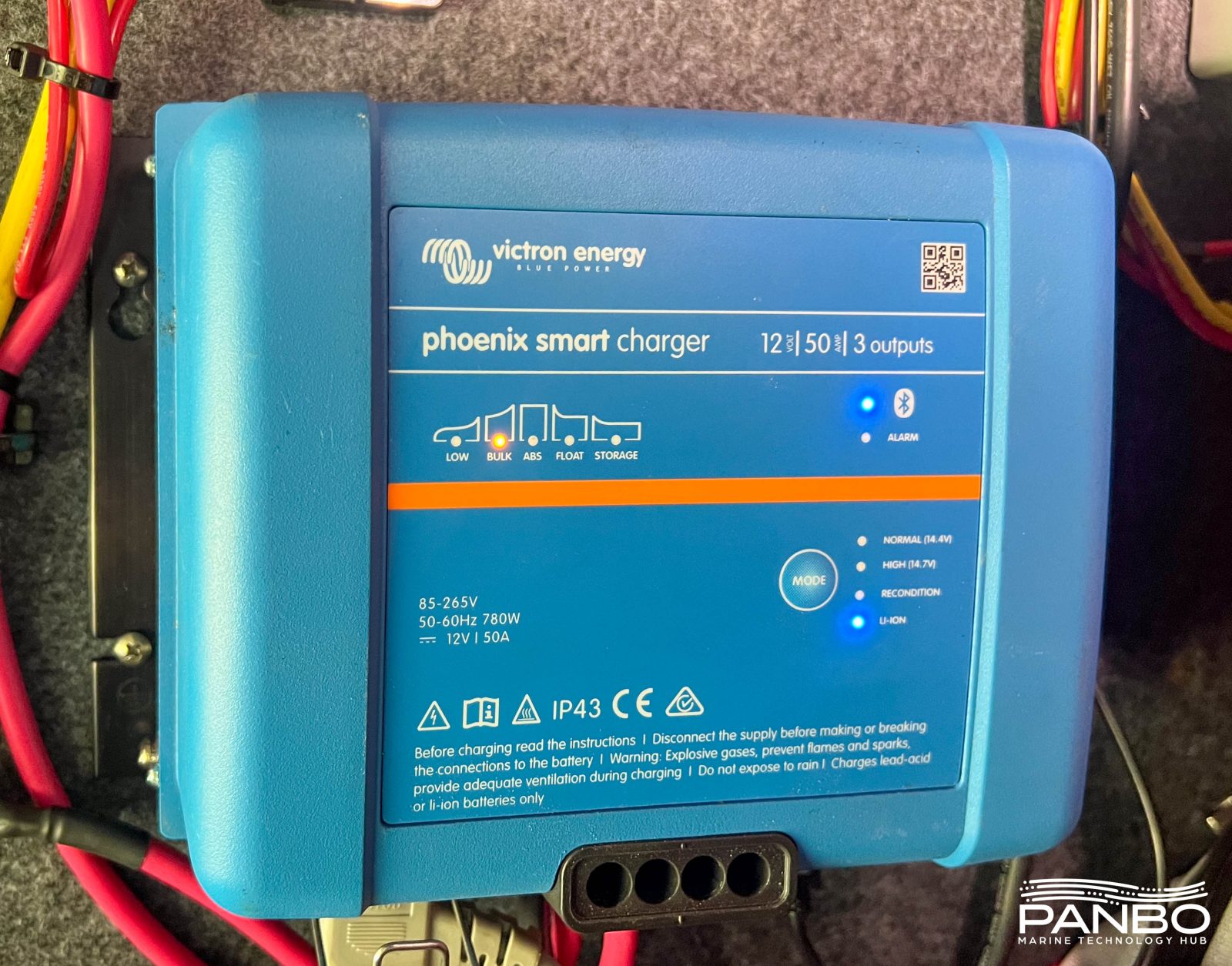 I'll get into the more advanced configuration options in a moment, but first I want to point out the ease of using the charger right out of the box. There's a mode button on the right side of the charger that cycles between Normal, Normal + recondition, High, High+ recondition, and Li-ion presets.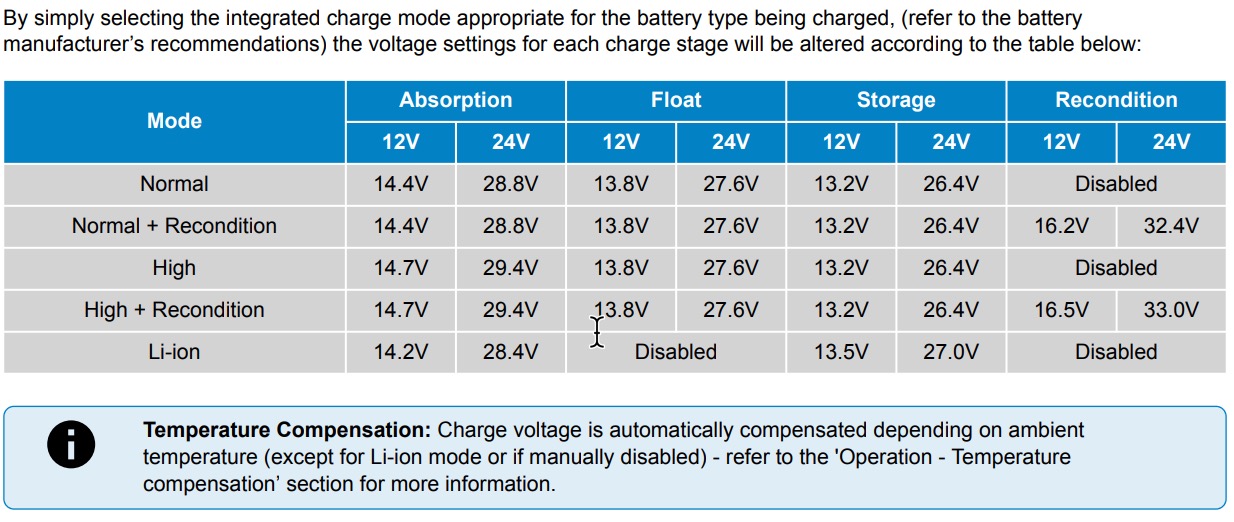 The first four presets are intended to be used with various lead-acid chemistries and designs, either with a reconditioning or equalizing cycle or without. The last is appropriate for most LiFePO4 batteries. It sure is easy to quickly top up a battery by simply tapping the mode button until the proper mode is selected.
Victron Connect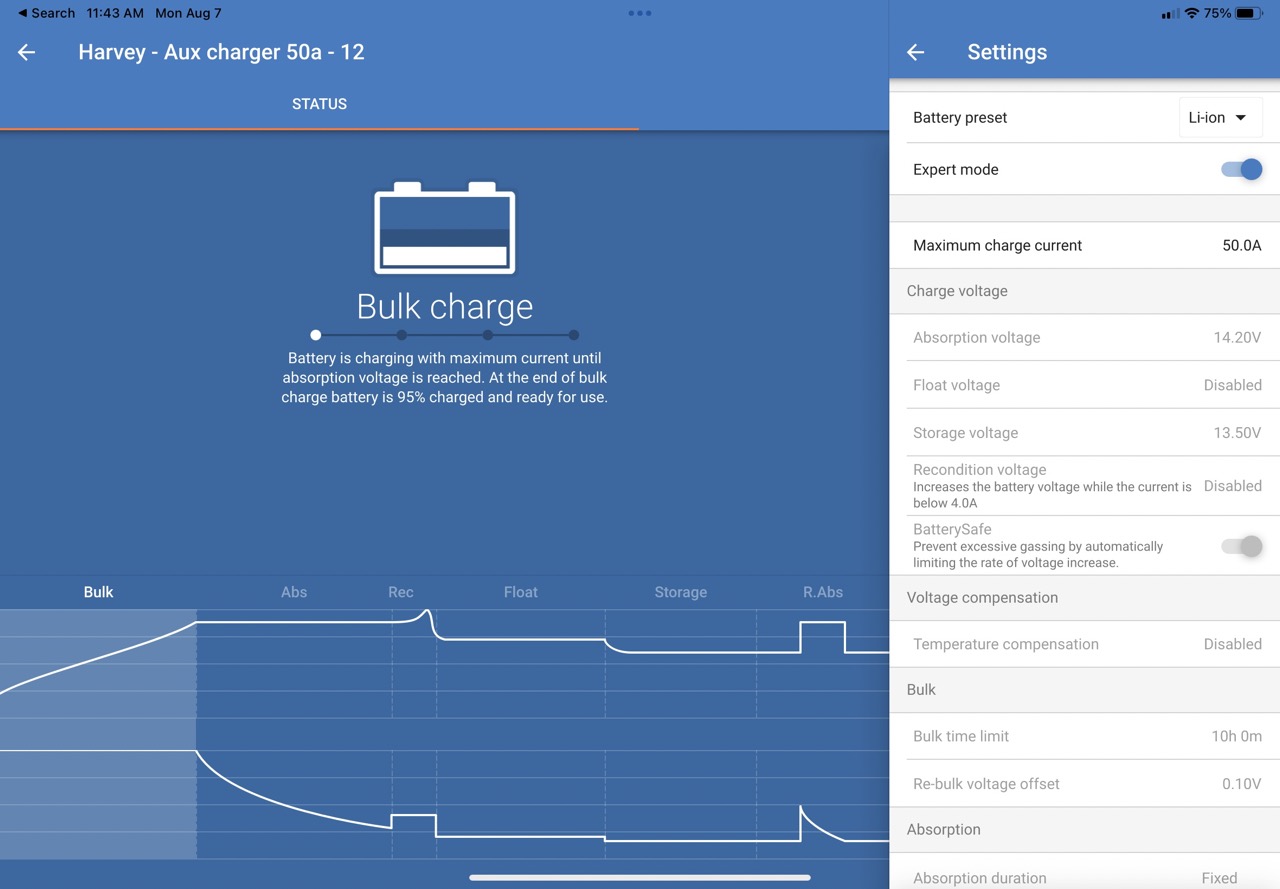 VictronConnect, Victron's Bluetooth configuration program, is available for Android, iOS, Linux, MacOS, and Windows. In addition to the status monitoring and history functions mentioned above, the app allows the selection of several presets or the configuration of user-defined presets.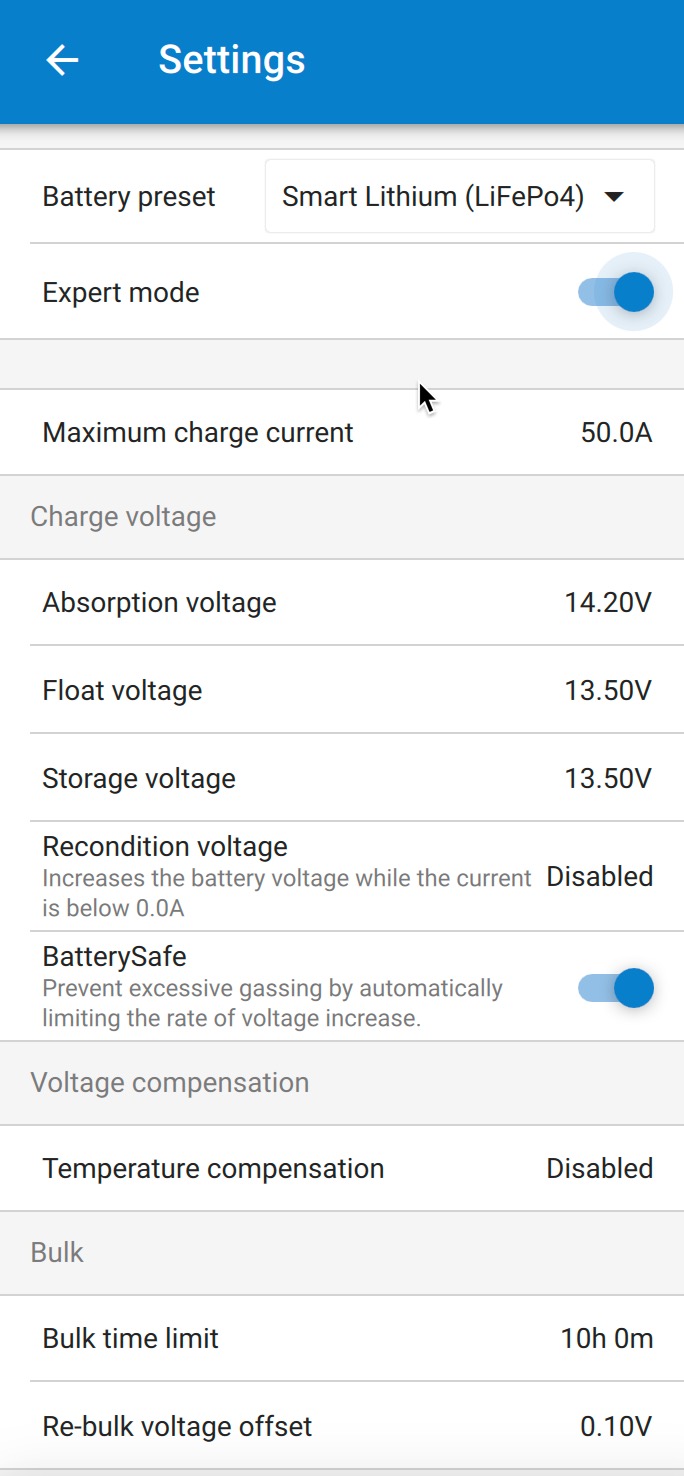 As you can see in the settings screens above, nearly every aspect of the charger's operation can be controlled. Given the varying recommendations from chemistry to chemistry and manufacturer to manufacturer, it's very helpful to have such granular control.
GX Console

The last means of controlling the charger is via a GX device's console. Either locally via a display connected to the GX device or via VRM's remote console. The screenshot taken above shows the remote console. Via the console, you can enable or disable charging or set an input current limit. The lowest allowable input limit is 3 amps at 120 volts AC.
Small size
At 6 pounds and 7.1 by 9.8 by 4.6 inches for all models, these chargers are dramatically smaller than any other similar-capacity chargers in the Victron line. For example, the 50-amp, 12-volt Phoenix charger weighs 8 pounds and is 13.8 by 7.9 by 4.3 inches. By comparison, that means the IP43 occupies 320 cubic inches whereas the Phoenix occupies 469 cubic inches. For further comparison, a ProMariner ProNautic 1250P charger is 7.75 pounds and 10.5 by 6 by 14.8 inches or 932 cubic inches.
Real-world use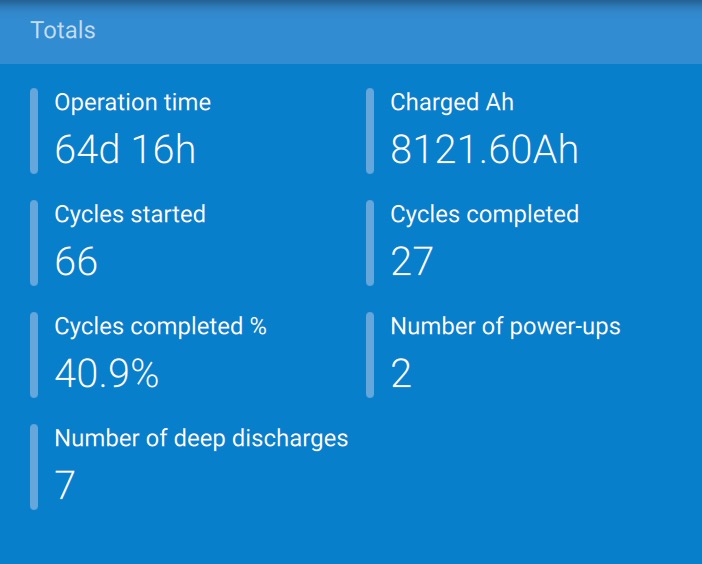 I've put the Phoenix Smart IP43 into service in a couple of capacities during my testing. Currently, it's mounted in Harvey, my RV, topping off the house batteries when I need a little more charge or when shore power availability is limited. Previously, it's come in very handy on my test bench. During capacity rundown tests, I've been able to remotely turn the charger on as soon as the test battery has reached 0% SOC. It's a real luxury to be able to turn on charging remotely and not leave the battery at 0% SOC where LiFePO4 batteries don't like to dwell.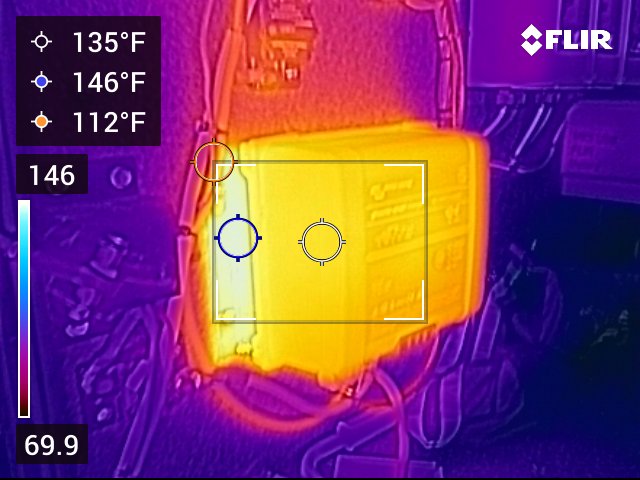 So far, the charger has been reliable, easy to use, and trouble-free. In light of the small form factor and no active cooling, I've been watching temperatures on the unit and although it definitely gets hot, it's been ok so far. The measurements above were taken after running the charger at maximum output for several hours.
BlueSmart Chargers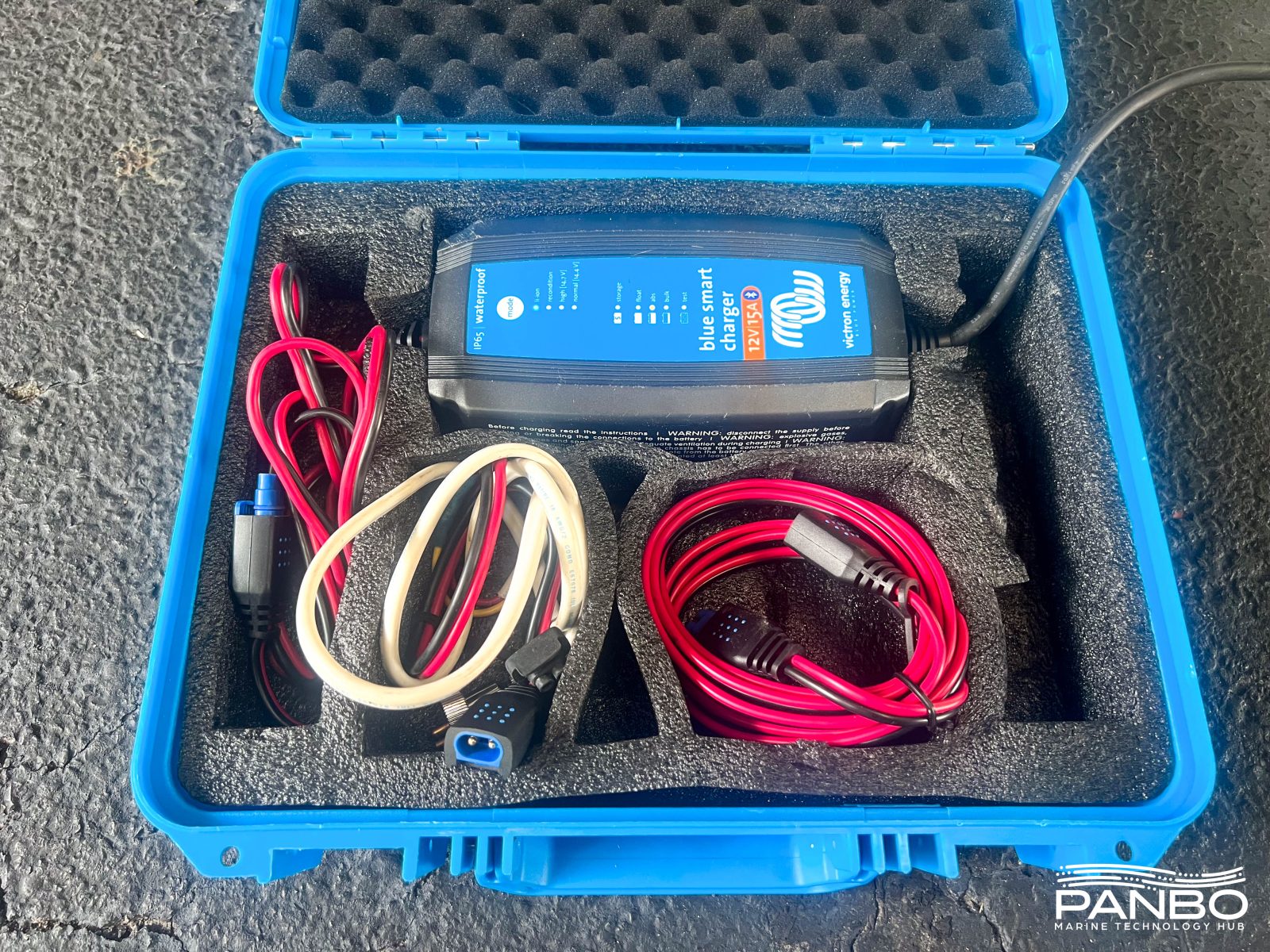 In addition to the multibank, fixed mount Phoenix Charger, Victron also offers a similar, portable charger, the BlueSmart IP65 charger. The charger is available in 6, 12, and 24-volt configurations with outputs ranging from 1.1 to 25 amps. It is equipped with most of the features I've mentioned for the Phoenix with the exception of a VE.Direct interface. So, it won't integrate with a GX monitoring system, but given its portable nature, that's likely fine. Rodd Collins of MarineHowTo.com has written up the BlueSmart in detail and professes a great affinity for the charger.
Final thoughts
Is this charging perfection? That's probably a little bit strong. I think I'll reserve that description for a charger capable of multiple chemistries and stages on its outputs. But, this is one hell of a charger. With detailed control and reporting, I find myself with very little about which to complain and a lot to appreciate. At similar costs to other, less communicative chargers, this is an extremely compelling option.