Weekend weirdness, USCG fleet failure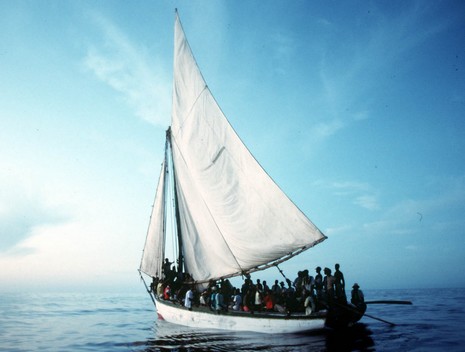 I'm steamed this morning, having just read the New York Times detailed expose on all the problems plaguing the U.S. Coast Guard's multi billion dollar fleet upgrade. It's just unbelievable. Personally I'm neither anti-government nor anti-corporate, but read this and see if you don't want to do damage to some greed heads at Lockheed Martin and Northrop Grumman, and their cronies at the Dept. of Homeland Security.
So I went looking in the CG image archives for pictures of the electronics screw ups—like the non-waterproof (and now shorted-out) radios installed on open patrol RIBs, or the oversize navigation systems that are apparently still being installed on the new National Security Cutters even though the Guard plans to strip them right off. What I found instead was this shot of 123 Haitians trying to make Miami on a funky 40' sloop. Now that's the moxie we humans are capable of, and vaguely akin to the energetic work the USCG has been getting done, often despite their own old boats. So how did all the new ones get so messed up?