WiFi Wayne's way, USB economy?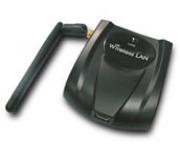 A chap named Wayne B. is very happy with his new boat WiFi set up over at rec.boats.electronics. He says he's "hitting low power, indoor access points at least 300 yards away," and expects to get commercial outdoor APs at over a mile. Wayne's using an external USB-powered NUB-362(EXT) radio connected with 30' of Hawking CoAX to a 9dB Hawking omni-directional antenna that's 30' off the water. Those links go to online sources and the whole kit adds up to around $185, plus, per Wayne, "an adapter to go from an SMA connector to type N coax, also available at CompUSA". Cool, and less expensive than purpose built marine gear we've seen here and here. But I couldn't get the NUB362's specs to open and am not sure this will work with my son's Mac. Anyone know a sure fire way to improve a Mac's WiFi range?
PS 7/31: There's another interesting discussion of Wayne's WiFi rig going on at rec.boats.cruising. Also the whole bundle of hardware is available cheaper at Netgate (though it turns out the radio is only 200mW, not good enough for Jeff). And thanks, everyone, for Mac WiFi booster ideas!