Wireless N2K wind & more, Tacktick style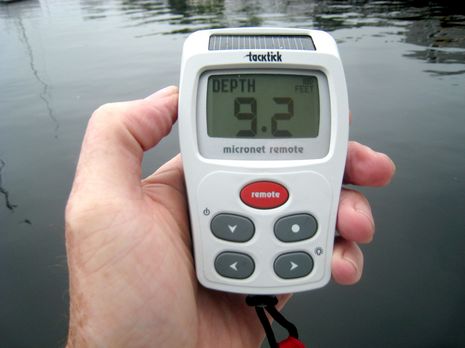 Mission accomplished! I tried integrating a Tacktick wireless sensor and display network with a NMEA 2000 sensor and display network, and the results were quite good. The depth seen on the remote above is coming from a Maretron DST100 in Gizmo's bottom. The Micronet system is also getting Heading, Speed through Water, COG/SOG, and more from the N2K system, which it can display and/or use for True Wind calculations. Meanwhile — and perhaps coolest of all — all displays on the N2K backbone are getting Apparent Wind info from the wireless Tacktick wind vane I simply clamped to Gizmo's mast…
Installing a regular N2K wind sensor can be problematical. The cables and/or made-up connectors tend to be bulky, with the notable exception of the SimNet whirly, and unless your masthead is less than 20 feet from the boat's N2K backbone, that backbone has to terminate at the masthead, which involves an inline or built-in resistor. Just fastening a solar-powered Tacktick T120 or T123 up there is relatively painless. Integration with N2K wasn't hard either, and is going to get easier. I just wired Tacktick's otherwise wireless, and quite able, NMEA 0183 interface box to a Simrad AT10 0183/2000 translator which then went to the backbone via a SimNet-to-DeviceNet (male) patch cable. The "almost done" Actisense NGW-1 will mean no patch cable (and purportedly a more complete data translation matrix). And, get this, Tacktick is working on a Micronet-to-NMEA 2000 interface box.
And that's not all I learned from Tacktick MD Clive Johnson over the phone recently. He sounded quite excited about the future of Tacktick now that it's been acquired by Suunto, including wider distribution here in the States (there's already a new U.S. online sales site). He also confirmed some details I've been gathering about the economy wind system Tacktick introduced last winter. The new MN 30 non-solar wind display does not do all that the standard displays do — like no close hauled or VMG screens — but it does have the same extensive wind sensor calibration abilities. And, remember, that's particularly important if you want to integrate the wind sensor into a NMEA 2000 network. All sorts of N2K displays can do all sorts of things with Tacktick wind info, but only a Tacktick display can calibrate the wind vane (including the nifty T106 remote, incidentally).
Finally, check out the screen shot below. That's Airmar's latest version of WeatherCaster talking directly to Gizmo's NMEA 2000 network. I could not only choose the Tacktick vane (aka AT10) as a wind source, but could also calibrate the PB200 every which way. And note that this screen was taken just before I realized that the Maretron DST100 triducer (probably made by Airmar) fits fine in the same thru hull sleeve which once housed the Horizon speed/temp sensor (probably made by Airmar) that was installed on Gizmo in 2000. I could kick myself for not trying that wet experiment sooner. Some electronics are more compatible than we may realize.