5000nits monitors, the world's brightest?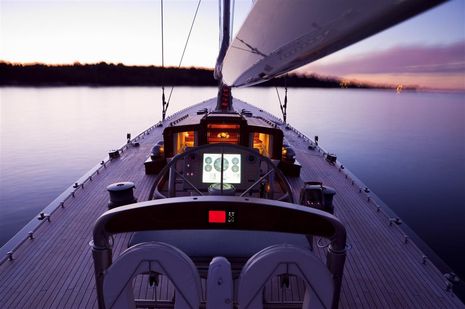 This photo is not the best way to show off the high brightness of that 5000nits customOcean monitor — because any LCD can look good at dusk — but how could I possibly pass up sharing such a lovely image of the amazing modern J Boat Hanuman? And while 5000nits may be a new company, there's no denying that they've already scored some serious customers; after all, it's the legendary Jim Clark's wallet behind this Royal Huisman artistry. There's also some evidence that 5000nits really does put the juice to its screens…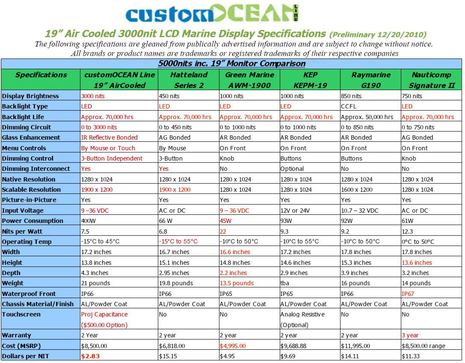 I like it when manufacturers publish comparisons of their features versus the competition, even if I regard them with skepticism. But the number that really jumps out on this analysis by 5000nits of the 19-inch marine monitor market is arguably not even a positive feature. At 400 Watts, the 3,000 nit customOcean Line monitor is supposedly using more than four times the power of even its closest competitors (at 1,000 nits), even though they're almost all using LED backlighting. Holy cow! Maybe this
is
the brightest monitor ever seen in a super sloop's cockpit, or elsewhere? (Except, perhaps, for the 5,000 nit units that gave the company, which apparently have to be water cooled!)
Now for the skepticism. It's long been my understanding that a nits measurement is only a crude indication of how a screen actually looks in direct sunlight. Anti-reflective coatings, contrast, color saturation, and who knows what voodoo also contribute to a display's overall readability. And transflective properties (as promoted by
companies like Argonaut
) don't show up in nits readings at all. So figuring out the best monitor, and especially the best value, is not easy…though you may be thinking that they're all out of your league anyway. Me too! But I do appreciate the difficulties of building for such a tiny niche as high bright marine monitors, as discussed once in
an entry on AmbientNav
(which is at least one of the companies that should also be in the comparison above).
One thing I am pretty sure of, though, is that screen brightness is critical if you're doing your navigation out in the open. That's a big reason why I doubt that iPads and their kin will put the dent into the dedicated marine electronics business that some people think they will (as much as I like them for other purposes around a boat ). Or at least until a truly bright, low power screen technology really emerges. It's also why the current crop of MFDs, which all seem pretty readable to me in sunny conditions, don't look quite so expensive when compared to standalone monitors. Screen readability really matters, don't you think? And isn't
Hanuman
something else again?