Jim Clark, a newer new thing?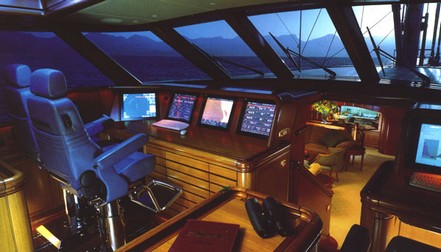 Monitoring and control systems can potentially do anything. Once you have a system of sensors, cable backbones, PCs, screens, and so forth performing the core task of collecting and distributing information and system commands, well heck, why not blend in security, entertainment, communications, inventory/maintenance management, digital documentation…whatever. A case in point is Hyperion (above), the 157' super yacht built in 1998 by Royal Huisman for the legendary Silicon Valley entrepreneur Jim Clark. Clark had to start a small company called Seascape Communications to create the system he envisioned, and what a humdinger the resulting "Genisys" is. 24 onboard computers monitor 50,000 data points and display on 22 touch screens throughout the vessel. Clark and his crew could mind and manage everything from windshield wipers to ballast transfer pumps to e-mail wherever they wished onboard. Clark could even "cruise" the yacht by satellite from his den in California (or his airplane), leading to the waggish comment that it was the world's largest remote control toy. And guests had their own screens mounted into berth-side drawers so that they can amuse themselves with the system's 1200 CD's on hard disk, 400 DVD's in changers, world band tuners, and masthead cameras!
Since then, Clark had Royal Huisman build him the even larger yacht Athena, launched last fall, with more Seascape software on board. Now he's announced the formation of CommandScape, which sounds like Seascape repurposed to automate large homes as well as yachts. Clark was the subject of the wonderful biography The New, New Thing, which begins with a hysterical description of Hyperion's trail run in rough weather—failing computers, seasick film crew, et all…a must read excerpt here).