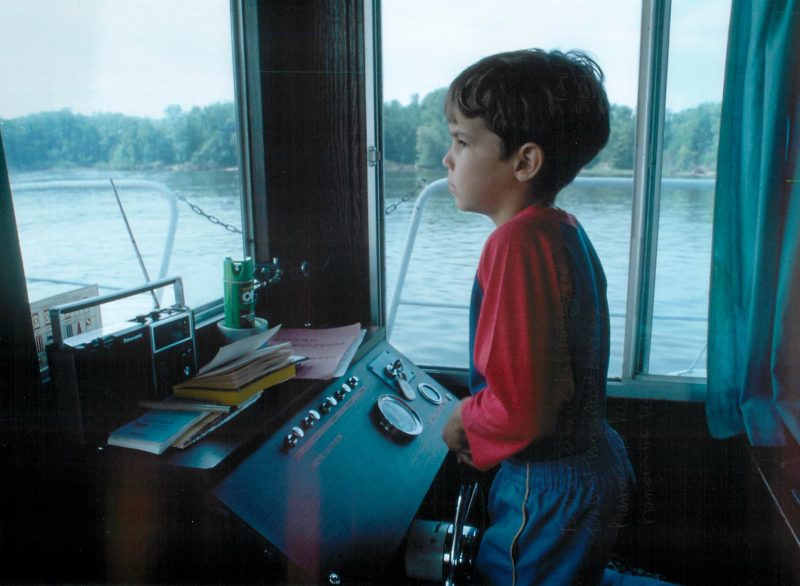 That's me at the helm of a fly-infested houseboat somewhere on the upper Mississippi when I was about 7 years old.  My family chose to rent a houseboat and take a vacation on the water.  I loved it, while the rest of my family hated it.  I was so happy to be on the water I didn't notice the layer of dead flies in the carpet or any of the other myriad inadequacies that made the skin of my family crawl.
I've always loved boats.  I grew up with a family home on a small glacial lake in Wisconsin on a 1957 Correct Craft speed boat and various sail, paddle, row, and pontoon boats.  In 2006 I moved from small inland lakes to the inland seas of the Great Lakes.  My wife Laura and I participated in a lease share on a 34′ Sea Ray.  We learned that we loved boating but didn't like sharing boats.  So, the next summer we bought a Four Winns Vista 358.  We actually signed the papers the day after finding out we were expecting our first, Molly.  So, our first summer on the Four Winns was a mix of a very pregnant Laura followed by a very small Molly on the boat.  Molly was on the boat for the first time at about three weeks old.  As Molly grew and Maddy came along we moved on first to Cruisers 4450 and then, Have Another Day, our current 57′ Carver Voyager.
I spent 15 years working in financial services technology running critical technology for brokerages.  First, for a small brokerage I helped start in Chicago and then for Charles Schwab.  My job was to make sure the technology worked no matter what it took; now I find myself applying the same principals to boats.  As marine technology has matured much of it is based on existing technical concepts and standards (Ethernet, WiFi, general purpose computing, etc) I used extensively in my previous career.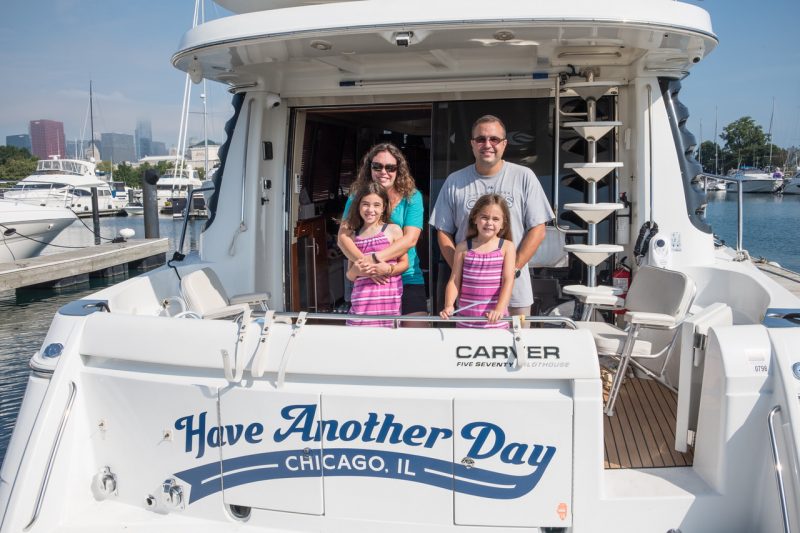 In August of 2016 my family (Laura, Molly — then 9 — and Madelyn — then 6) set out on the Great Loop.  Fast forward 14 months, 7,500 miles and a lifetime of amazing experiences and we returned enthused about living and cruising on our boat.  Since then we've continued traveling, having spent the summer of 2018 in the North Channel of Lake Huron and currently living aboard our boat in Fort Myers, FL. In 2019 I received my 100 ton USCG near-coastal masters license.
In addition to my duties as editor and publisher at Panbo, I'm now the electronics editor for PassageMaker, Power and Motoryacht, and Soundings as well as operating the U.S. reseller of Yacht Devices Limited's products.