AIO PNDs, and writing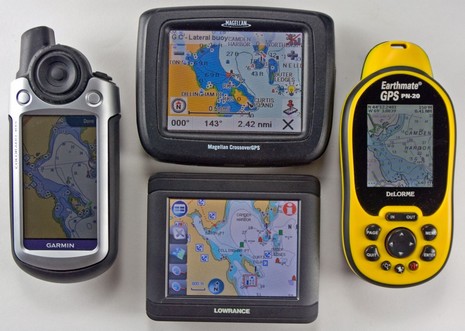 If Mae West were alive, her famously bawdy trademark line might go like this: "Hello there, sailor. Is that a WAAS GPS AIO PND loaded with a continent's worth of nautical, street, topo, and photo cartography and several hundred thousand POIs in your pocket…or are you just happy to see me?" To which a sorry geek like me might squeak back, "Pardon, Ms. West, no time for flirting; I've got gadgets to fiddle with!" Indeed I do.
So goes the opening paragraph of my current PMY column, Pocket Navigation, and I'm hoping it will make you chuckle, and read on. Plus you might enjoy a high res version of the alternate lead photo above, and looking back at first Panbo impressions of the Garmin Colorado 400C, the Magellan Crossover, the Lowrance XOG, and the DeLorme PN-20.

But please indulge a side track about writing. You see, for me, the goal of that opener involves two principals I take great stock in. One involves the legendary answer to a student's query about a writing career: "Do you like sentences?" I do. Heck, I sometimes admire a well-crafted sentence, or a smoothly structured article, as I might a finely executed boat detail. Then there's the dictum I learned in a college writing course: if you want someone to read you, you've got to hustle them into it. The instructor was the very persuasive, if somewhat crazed David Milch, who went on to draw many of us into many stories. But the real reason I'm thinking about writing is that my sweet daughter Jesse got her first big piece of reporting/writing into Newsweek (she works there, but not as a writer, yet; they are smart enough to make that transition an extended hustle). Her subject has nothing to do with marine electronics, and, in fact, is tough stuff to learn about—plus, this recommendation comes from a proud papa, for sure—but you might find Cutting Desire mind expanding. And so well written!