Airmar H2183 compass, best in class?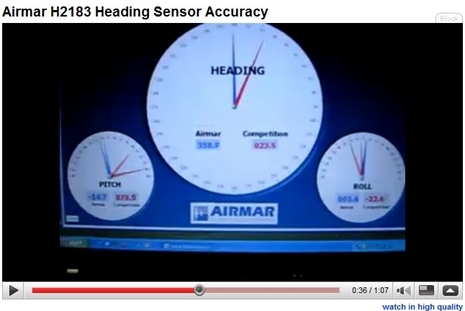 Airmar's new H2183 heading sensor is motion compensated every which way; i.e. it's a 3-axis solid-state compass integrated with a 3-axis accelerometer and a 3-axis rate gyro. That's news both in terms of real world compass precision and the masthead performance of Airmar's PB200 Weather Station, whose gyro only senses yaw. In fact, while Airmar is pleased with the how well the PB200 seems to work on Dan Corcoran's sailboat, it may not promote the Weather Station to sailors until it can produce a model that incorporates the 3-axis gyro. But the H2183 is shipping now, for about $700 retail, and Airmar claims that its accuracy in "dynamic conditions" — i.e. on a boat in a seaway — is "best in class." And it's backing up the claim with the side-by-side testing video snapped above. While the "competitor" compass is not clearly identified, it's almost undoubtedly Maretron's well regarded SC200. The performance gauntlet is slapped down! And if Maretron or Simrad or whoever has a rebuttal, Panbo is ready to run it.
While I can not personally attest to H2183 performance, I've seen the unit and was quite impressed with the mounting system. The bracket can be fixed to any vertical bulkhead regardless of orientation, because the compass itself can be spun any which way in the bracket so it's aimed at the bow. In fact, you only need to ease up on two thumb nuts to fine tune it. That's dang clever, as is the flexible way Airmar incorporates both NMEA 0183 and 2000 data in one cable that can terminate to multiple plug or combiner/splitter box options. I'm getting personal experience with that data/cable scheme because it's also employed on the PB200 — which I'll discuss soon — as well as Airmar's new GH2183 GPS/Heading sensor, which is cousin to both.