Airmar H2183 Improves Situational Awareness Feature on Raymarine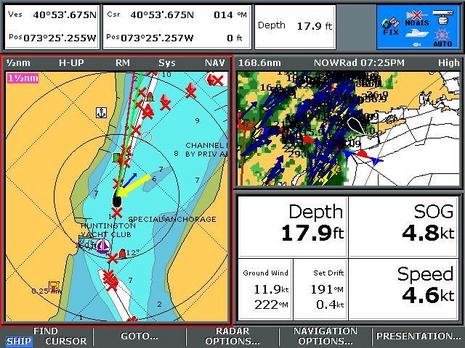 Check out all the vector arrows around Dan Corcoran's Raymarine E-80 boat icon, as he steers Breeze Pleeze through Huntington Harbor as a storm closes in. Red is for heading, green for COG, blue for current, and yellow for wind. High performance sensors have made these vectors valuable for situational awareness of the current where he's about to dock, and more, as Dan explains:
I am writing about the Airmar H2183 solid state heading sensor (covered in Panbo here) after my experience as a beta tester. Raymarine gets honorable mention in the title above for its role in making this compass especially useful at a time in recreational navigation when its too easy to cruise all day without taking a compass heading.
For this evaluation I have the H2183 connected via NMEA-2000 to my e-series chartplotter, Airmar USB to N2K gateway, and a PC with Airmar's WeatherCaster PC software. The S1G autopilot on my boat is unaffected by the installation, as it has its own gyro-enhanced fluxgate compass (like the Raymarine Smart Heading Sensor) as a heading source. A CS4500 ultrasonic speed through water sensor in my configuration, no doubt enhances the set/drift measurements I address below. Although the gateway and PC are unnecessary, the addition creates one of those rare N2K devices that can be configured, monitored, field upgraded, and if desired, data logged from a PC, and supports the PB200 reviewed here as well.
The evaluation included motoring my sailboat at 7 knots, in unusually poor weather, over a period of one week on the return 150nm leg of our family vacation from Nantucket Bay to Huntington Bay, along with additional experiences sailing and motoring on Long Island Sound since then.
An explanation of some Raymarine e-series features pictured above is going to be useful. First, the e-series optionally offers a red compass heading line overlaying the water and land cartography features in line with the boat's bow. The red line answers the question "what is that just ahead of us", R8 or R10? Second, this chartplotter offers a green line that overlays the water and land features in the path of the boat based on GPS COG (course over ground). The red and green lines are not exactly the same thing. For example, the compass driven red heading line may show the boat icon proceeding safely down a channel while the green line predicts the boat will impact a buoy. The difference is often water current crossing the channel.
In this picture is a blue current arrow representing calculated set/drift that represents the force of the current acting on the boat, a yellow arrow represents the wind, the thickness of the blue and yellow arrow represents the velocity, e.g. a very thick blue line is a strong current.
While the GPS driven green line works flawlessly to improve situational awareness, I had always considered the red line noise, a constant reminder I could never get my compass calibrated just right across the entire compass rose. As for the blue arrow, I had considered it a form of 'feature overload' by Raymarine, especially since it often shows the current coming from improbable locations like beaches and bulk heads (like this example where 3 degrees of heading error becomes 90 degrees of set & drift error, causing the blue arrow to be useless).
My beliefs about noise and feature overload shifted during this H2183 evaluation to an appreciation of the situational awareness capabilities of the four lines and arrows. For example, while motoring, the red heading line pointed at the same land features on the chart as I was observing from my bow, even pinpoint features like a buoy half a mile away. In addition, the red line and green line merged when they should (if there is no current, or water current is parallel to the boat, this would be the proper alignment) eliminating that 'noise' I experienced for years. Also, when the red and green lines were different, it was telling me something I was interested to known like the effects of current or leeway (while sailing) on my boat, rather than annoying me with screen clutter.
This summer I had many opportunities to see the blue current arrow at work and consistently have found the set/drift measurements after the H2183 installation provide useful situational awareness when delivered to me as a blue current arrow. This is especially useful when maneuvering in harbors where I don't have time to repeatedly look for visual clues while preparing for arrival and tracking boat traffic. The numerical set/drift values are also useful out in the middle of the water where there are few visual clues about changes in the current which can occur as much as an hour delayed from Long Island Sound predictions for the day.
In the image above the very thin (width is velocity) blue arrow is pointing from the boat icon towards 1 o'clock, indicating a weak current following the deepest contours of the channel. From 2 o'clock is a thick yellow arrow, indicating strong wind (the 'X' waypoints indicate a safe path through the mooring field). While it's possible to have set/drift represented in numeric format as in the picture (191 degrees, 0.4 knots), it's not nearly as helpful as having the blue arrow on the map!
With an accurate heading source, I now recognize that the software designers got it right. All four lines (red, green, blue and yellow) work well together to provide improved situational awareness.
During my evaluation, I observed the superimposed red and green lines (e.g. H2183 heading sensor = GPS SOG) while motoring in dynamic sea conditions and on all points of the compass rose, an indication of extraordinary accuracy, and came away impressed at how the H2183 is able to measure the earth's magnetic field and consistently report a heading equal to the GPS COG even when being tossed about in poor weather. Clearly it was delivering within in its reported 1 degree of heading accuracy in static conditions, and 2 degree heading accuracy in dynamic conditions, on my first and only calibration attempt.
Another good use for the H2183 is in eliminating the loss of targets experienced when using MARPA with a standard (non gyro corrected) flux gate compass. The H2183 works real well for such purposes and comes already defaulted to the recommended 10 hz frequency recommended by Raymarine for the e-series.
A few caveats on the above before I close. First, when leveraging the high accuracy of the H2183 to measure set/drift it suddenly matters if your have sources of magnetism nearby! Boating products including Corrosion-X and SailKote have magnetic properties in their packaging (iron shaker balls maybe? Idiots !). Second, the ability to calculate current set/drift is impaired when sailing, the effects of leeway (e.g. 7 degrees) on a sailboat upwind render the values unusable. Third, when motoring in strong winds, the accuracy goes way down, especially in weak currents under 0.5 knots. By that I mean the accuracy of the set/drift calculation (the compass is still fabulous)
I didn't go looking for improved situational awareness while testing or have an expectation that noise would be eliminated from my chartplotter heading vs. GPS lines, but those are the two things I value most from this product. What would you do with a more accurate heading source on your boat? How would it be valuable? Comment below …