"Sorry Breeze Pleeze", a yuletide N2K rant!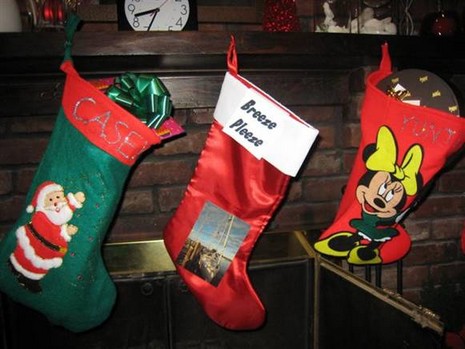 I like to think that one function of Panbo is to be a place where marine electronics enthusiasts can share their thoughts—rants included—with each other, and with the many industry folks who read the site. That usually happens via comments but guest blog entries are also welcome. Hence we have the following bitter sweet Christmas tale from Dan Corcoran (aka commenter "b393capt"). Thanks, Dan!
Sorry Breeze Pleeze, no marine electronics in your stocking this year …
My wife wants me to get something on the Christmas list for Breeze Pleeze. Cool, I would really like that. I already had a solid plan to spend the winter storage period wiring a new N2K backbone into my 39' foot sailboat Breeze Pleeze and her two N2K capable chart-plotters. So for Christmas I would, err .. I mean, Breeze Pleeze would potentially get her first N2K component.
Maybe an AIS receiver? Not any AIS, but one that uses N2K to pass info that identifies which contacts are my buddies. Or, maybe a new VHF that can use MMSI to contact another boat that appears on my chartplotter. Or, an ultrasonic masthead wind sensor would be really wonderful. I could get Breeze some accurate wind direction to steer by at those low wind velocities that prevail in the summer months, and all with no moving parts at the top of the sailboat mast !
However, in our house, Christmas lists need to include part numbers for Santa. And, when thinking through those details, my brain begins to hurt. In fact, I have given up for now. Combining products from multiple vendors on N2K would require a Crystal Ball to determine who's current and future products will give me the least integration hassle, as clearly, I can't call up and ask sales support in advance.
Don't get me wrong, if I bought my boat this year rather than 2005, I would definitely wire for N2K. Or more precisely … I would today pick a single suite of marine instruments, give preference to which makes the best use of N2K, and for those components for which I had a choice, I would use the N2K protocol. But … to wire my boat now and to make it easy to plug in new N2K components next season, this isn't a standard I can count on at all.
In fact, N2K looks like it's getting less standard every day based on the slew of continuous product announcements! For example, where are the standards for:
* AIS products – e.g. message sets for new features coming into the market place such as buddy lists (ability to flag AIS targets that are buddies to be noticeable on a chartplotter).
* VHF Radios – enable a user to initiate a call against an AIS target without typing in the MMSI number.
* Ultrasonic weather stations – enhanced PGNs to carry more weather data and standard PGNs to configure these devices? (or maybe an HTTP over N2K capability, so a standard browser interface can be used to configure any device from any browser based capable display).
A lack of standards in all the above, seems to dilute the promise of N2K and create a situation where I must still standardize on a specific vendors suite of products to get advanced features (e.g. need to buy a Maretron display to get full weather station info and for configuration; need a Simrad chart-plotter to use features in a Simrad VHF, use only Furuno products if I want N2K PGNs to pass through the N2K hub port on a new Furuno radar through to an ultrasonic masthead weather station). Even if I put off the decision of the specific electronics components, how can I even decide what wiring product to use this winter for an N2K backbone?
Sorry Breeze…due to vendor circumstances beyond his control, Santa 'missed the boat' and won't be coming through with a big, marine electronics gift for you this year. You will remain alone in storage this Christmas and I, instead of happily receiving and installing cool, new parts on you, will be at home opening ties and eating fruitcake.