AIS Class A, very much in the Spirit of Zopilote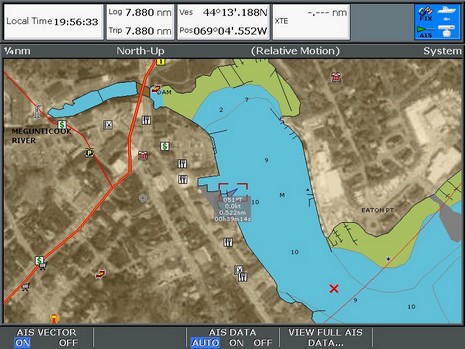 This whole last week was rich with AIS-related matters, including a fine visit with Fred Pot, but yesterday it got almost silly. First I got a call from Jeff Moser at PMY (who's turning out to be a talented and good humored addition to the staff there), asking if I could write a feature on AIS for a special annual pub called the Yacht Owner's Guide that's oriented to bigger boats. Of course I will, why not, says I (FYI: I'm committed to my monthly PMY columns, and wonderfully free to choose their subject matter; everything else is by suggestion, from one direction or the other).
Latter in the day, I hooked up Fred's SafePassage all-in-one AIS receiver/dGPS to the Raymarine E-120. Everything worked well, and darned if I didn't see my first AIS target right in Camden Harbor (the screen above, bigger here, shows what happens when you first cursor on a target). And darn if it wasn't Spirit of Zopilote, a well known 64' trawler operated by a gentleman named Bruce Kessler, a reputed guru of offshore power boat cruising. I called the marina owner, who checked with Kessler, and minutes later I was onboard taking pictures and having a great gam with Bruce. So AIS helped me collect some excellent material for an AIS article, and Panbo entries to come! (By the way, Kessler is aware that he hasn't yet re-entered some of the static info, like length and draft, since his Furuno FA 100 came back from an update, and, yes, I did obscure part of his MMSI and call sign).