AIS MoB & SART display, Garmin nails it?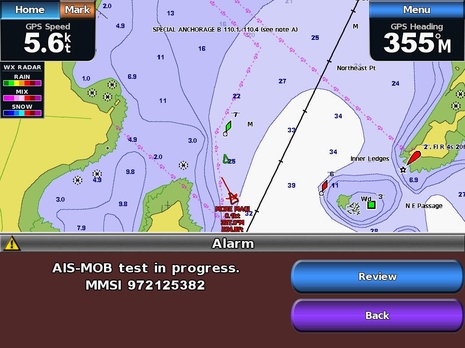 I think that personal AIS beacons are a deservedly hot new safety technology but, as discussed in June, the display manufacturers are just learning how to handle them well. In fact, right around that same time I had to add bug alert comments to an earlier Kannad R10 AIS MoB beacon entry about how a certain Garmin software update could cause its MFDs to shut down after receiving the beacon's test signal! It was an embarrassing moment in product improvement, as documented in these email warnings to the Newport-Bermuda race fleet, but Garmin eventually solved the issue and may indeed have set a new bar for the proper integration of AIS beacons. The screen above, for instance, shows how clearly the Garmin 7212 on Gizmo alarmed shortly after I activated the test mode on a Kannad R10…
Along with the text spelling out what's going on — as in "AIS-MOB test in progress" — there's also an audio alarm along with a button choice to go Back to what you were doing or to Review details of the Alarm. Below are Review screens for both the Kannad R10 and the easyRescue personal AIS SART which I first tested back in 2011. Note how Garmin again spells out exactly what these devices are and also references their proper screen icon, which is the same. (Truth be told, I can't see much functional difference between the two and suspect that personal-size "Search and Rescue Transmitters" were just a step along the way to "Man Overboard Transmitters" and so eventually AIS SARTs will only be the larger models meant more for commercial lifeboats than personal use.)
At any rate, the Review screen, though specialized for AIS beacons, will be familiar to Garmin users as regular AIS targets also have such screens where all the details are laid out and further actions offered. In the case of AIS safety beacons, there's only one further command — "Go To" — but it could be a critical to the beacon's success…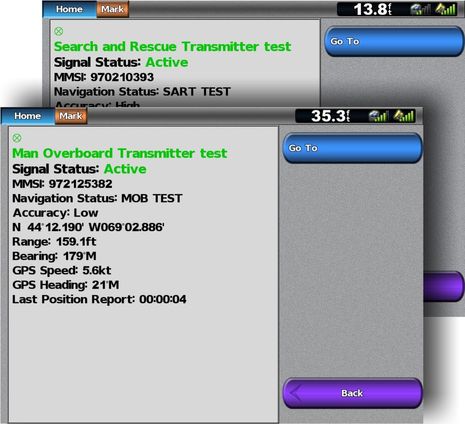 I'm sorry the screen below isn't a better simulation of what Going To a MoB might actually look like — my boat would be turning already if not constrained by sail plan or similar — but I think you'll get the idea. In two button pushes, Review and Go To, the Garmin has set up a flagged waypoint where the MoB alarm went off. And if I hadn't panned the screen to give you a better look at the waypoint, you'd also see data windows with the same bearing and distance to the MoB as is appended to the target. If there really was a person overboard we may have actually found and retrieved him or her.
Or maybe one of the other boats in the area might have responded, though their AIS plotter may not treat AIS beacons as anything special. Remember that all AIS display screens will see an AIS beacon as a target, but not all will display their transmitted Safety Related Message — like "MOB ACTIVE" or "SART ACTIVE — or recognize their special Navigation Status flag, let alone fire off an alarm, paint the proper AIS beacon icon, and let you turn it easily into a MoB Go To waypoint…
Which is why the ability of all AIS safety beacons to transmit test signals is really important. Anyone who purchases one can and should find out right away how their electronics will respond. I also hope there will be plenty of in-water testing so we all get a sense of how well these things work in real sea conditions, and I hope to do some when I get Gizmo into warmer water. (This test was done on the boat, by the way, which is why the MoB appears to be doing 5.6 knots.)
However, I suppose there's a scenario where too many AIS safety beacon tests become a hassle — like, say, in Newport a day or two before the Bermuda Race — but Garmin thought of that too. In the Other Vessels configuration screen below you can individually turn off test alarms for AIS SART, AIS MOB, and AIS EPIRB devices. I have no idea when the latter will come to market but apparently Garmin is ready for them!
PS. To my knowledge, only Raymarine is close to Garmin in handling AIS safety beacons well, as referenced back in June. That same entry, though, shows a pretty funky i70 instrument response to an AIS beacon test. But that may be a a test-only issue, like Garmin had for a while, because the screen below showing live AIS MOB response from a Wamblee device in Italy looks good. My beacon test testing will continue, but maybe I can find a quiet place and cooperative USCG station somewhere to do some live beacon testing.