An ode to buck-boost DC power converters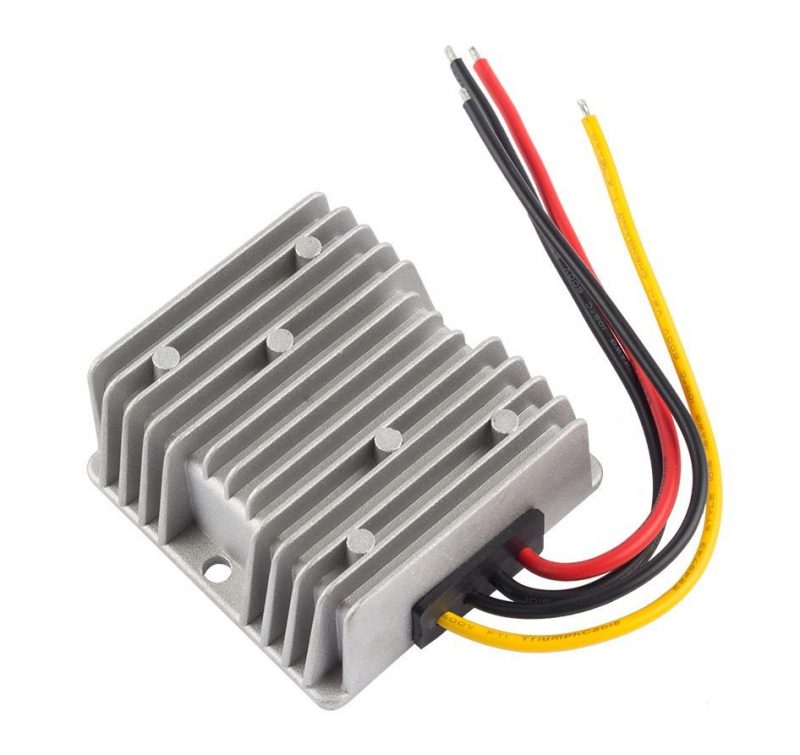 In a comment on my recent Ubiquiti EdgeRouter configuration article, frequent Panbo reader Hartley noted the unfortunate 24v DC power requirement.  The ER-X model of the EdgeRouter is actually capable of running on 12v, but that version can't supply 24v POE (power over Ethernet) to connected devices.  So I was reminded of my good experience with buck-boost type DC converters like this Drok step-up converter, which can power a 24v device on a 12v boat.
I have both 24v and 12v DC power available on my boat so I haven't needed a buck-boost converter for step-up functionality, but I have used them extensively for power regulation and stabilization.
My Carver Voyager 570 is equipped with a pretty lousy inverter,  a 15-year-old Charles Industries quasi-sinewave inverter (actually made by Vanner). It's very sensitive to incoming power for both charging and inverting functions, and what it needs for charging isn't great for other operations.  I've contemplated replacing it, but that brings up a whole other conversation about how long I'm going to keep this boat.  As a result, the inverter transfers load to the battery bank more often than I would like, and sometimes that transfer causes a momentary dip in the house bank voltage.  Then the dip causes several electronic components on the boat to reset. Most noticeable were several of my Raymarine MFDs resetting.  Trying to fix this situation, I looked at and discarded a number of different options.
There are several marine-specific products designed to provide precisely regulated 13.6v DC.  The marine power conditioners are pretty expensive, as well as large and heavy.  Because of both the size and expense I would want to use one larger unit rather than several smaller ones.  But running multiple electronics off one power conditioner means that all components are on one circuit.  So, if that single circuit trips or the power conditioner fails you've lost all the electronics connected.  So I set about trying to find another solution.
The search to find another solution lead me to Amazon and multiple listings for what seem like pretty similar products.  I read a lot of reviews, looked at some additional options and ultimately decided to order a few and see how they did.  Unfortunately, the exact models I ordered are no longer available, though there are dozens of similar units still available.  I suspect that's the nature of the beast with these things.  A very similar 4a 12v voltage stabilizer
is available for $23.99.
I've got to admit I was skeptical about whether a no-name product made in China with a limited number of reviews was going to work out.  When the first few arrived they looked pretty good; there were no red flags I could find.  So, I powered one up and connected a meter.  Rock solid at 12.8 volts.  I decided to leave the unit powered up for a day and just make sure there were no surprises… there weren't.
Up next was installing the first few I ordered on a couple of the devices that seemed to be the most sensitive.  While still on shore power I made the connections and everything fired right up.  Next up on the testing docket came firing up the generator and triggering some transfers to and from the inverter.  Now things started really looking good.  Several of the devices without a stabilizer restarted while none of the devices with a stabilizer had any issues.   After my initial success, I ordered enough stabilizers to cover the rest of the critical components and installed them.
I haven't done much efficiency testing yet on the converters though I'd like to at some point.   The step-up converters are listed at about 90% efficiency, step down converters are listed at 95% efficiency and the stabilizing converters are listed at 96% efficiency.
It's been over a year since I installed the voltage stabilizers and I'm pleased to say I haven't had a single device reset from dipping voltage.  I'm also happy to report none of them has failed.  Based on my experience with the stabilizing converters I wouldn't hesitate to install one for step-up duty for a 24v load.