Ancor goes NMEA 2000 & the BEP Pro Installer line
Perhaps, coming soon to a marine electronics store near you (though not yet online) is a fairly complete line of NMEA 2000 cables and connectors under the well-known Ancor brand. I particularly like how the kits and explanatory packaging will encourage consumers to set up their own small networks. The 2 and 5-meter cables, for instance, are sold as Backbone/Drop Cables, while the 10-Meter is simply a Backbone Cable (because a spur shouldn't exceed 5 meters). I saw the preview Ancor line above at IBEX, but learned more about it in a special Soundings Trade-Only advertorial publication designed for next week's METS show…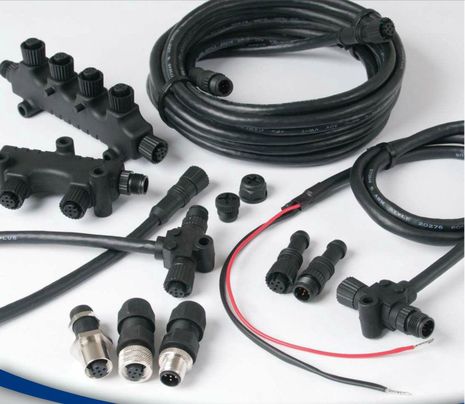 One notable feature of the Ancor N2K cables is that they use 18 awg power wires instead of the conventional 22 gauge, which means less chance of unacceptable voltage drop if the network grows large. They've also developed a tee connector with a built-on 1-meter spur cable that I've never seen before (though some other parts, like the multi-tees, appear to come from a source used by other N2K distributors). We don't yet know how Ancor pricing will compare to the competition, but I like to think "the more the merrier" in that regard. I was also pleased to learn from the Trade-Only page that in 2014 Ancor is adding back "200 products that had previously been rationalized out of" their catalog. (Thanks, incidentally, to reader Butch for sending me to the related Continuous Wave discussion.)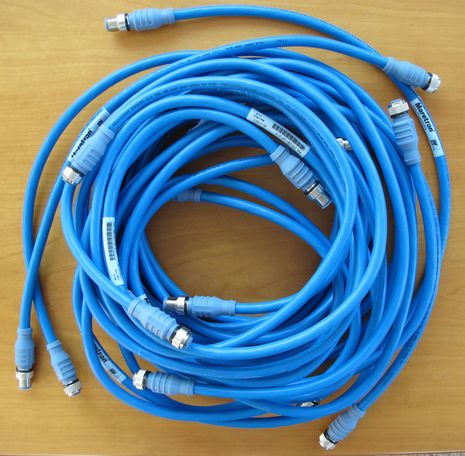 It will be particularly interesting to see how Ancor pricing compares to Maretron's MID size cables, which also employ 18 gauge power wires. The pile photographed on Gizmo last spring is now a color-coded backbone, snaking from engine room up through both helms and back to the antenna mast. I know that some people wail at the costs — which range from about $26 retail for a .5 meter to $51 for a 10 meter — but I thought it a reasonable investment for high quality data/power cabling that will never be obsolete, no matter how the electronics change. It's also worth noting that the last remaining proprietary NMEA 2000 connector and cabling system, Raymarine's SeaTalkNG, also features 18 gauge power wires and is also designed with a color-coded backbone. But I digress. 
   The facing page in the Trade-Only pub advertises a new line of bus bars, fuse holders, battery switches, etc. from Ancor sibling company BEP. Fortunately, the Pro Installer line is well documented online, but I'll add that the gear looked very well made and smartly designed at IBEX (I thought) and I suspect it will be of interest to both real pros and informed do-it-yourselfers. Then again, Blue Sea Systems is also very strong in this area. The more the merrier!
   By the way, I will not be at METS myself, but I will be covering some major electronics introductions there and Kees Verruijt will again report after a show visit.