Antenna masts: Edson Vision & more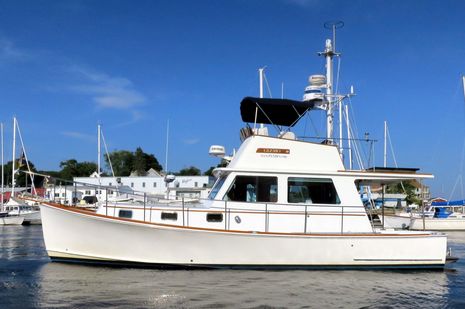 So far, so good. Finishing up Gizmo's antenna mast was the last minute task before heading south, but nothing fell on our heads during the often lively passage to the Cape Cod Canal and around into Long Island Sound. Most of the new installs up there worked, too, though we experienced a couple of very odd MFD issues that I'll write up once I understand them better. For the time being I'll just repeat a venerable adage: Do not rely on any one source of navigation information. Now let's discuss the Edson Vision and custom mounting hardware I used for the antenna farm…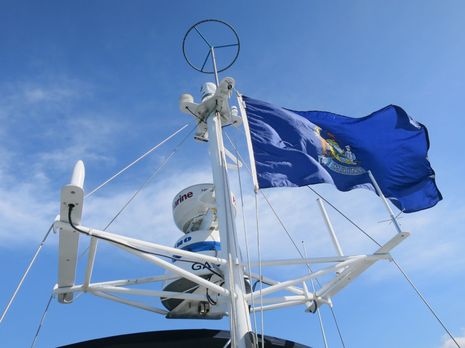 So Gizmo now has two antenna platforms bolted to the spreaders as well as a new mast cap, all custom made in aluminum by Maine metal wizards Rockport Steel. The concept is to get a lot of antenna mount options fairly clear of the steel shrouds without adding a lot of weight. By extending the cap in four directions I also got better positions for the LED flood lights and the two ultrasonic wind sensors, as well as a flag hoist further abaft the mast.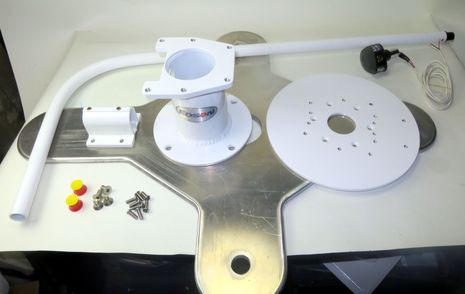 I also used an Edson Vision series six-inch mount to get the Flir camera a little higher and also to make it easier to install, troubleshoot, or (sadly 🙂 return. My initial Edson order, though, wasn't well thought out. Working through all the Vision options you'll find at that link I got intrigued with adding a curved arm with a combination Perko LED steaming/anchor light on top. Above you can see the 10.6-inch plate needed to hold the camera as well as the light arm bracket. It all goes together nicely and Edson includes the bolts needed to attach camera and bracket to plate and then plate to mount, plus containers of the anti-seize gunk you should use where stainless meets aluminum.
But when I saw the big plate and light arm in the flesh I realized that combining them with Gizmo's peace-sign-like Electrotechnologies lightning inhibitor was too much. That's when the Vision modularity — and also the great Edson service I recently wrote about — came into play. I sent back everything but the mount while they shipped me a 7-inch plate that matches the camera diameter.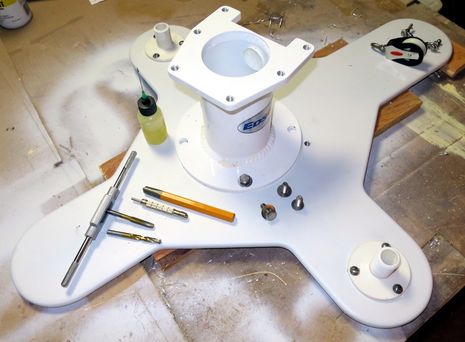 Here's the mast cap going together. It's thicker (and heavier) than needed — I gave Rockport Steel lots of latitude so they could use material in stock — but I made lemonade out of lemons by tapping threads for many of the fastenings. It may have been a little quick and dirty to spray on Rustoleum Professional Aluminum Primer and topcoat, but the paint certainly went on easily and seems to have adhered well. Time will tell…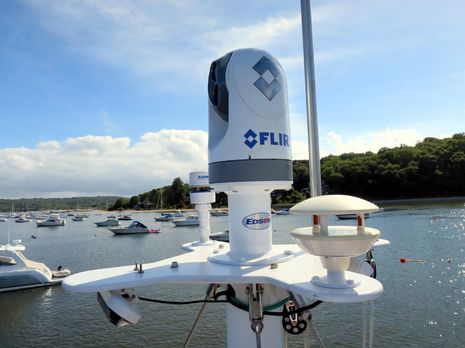 Here's the cap yesterday afternoon here in Northport, Long Island, about 330 miles down the road to Baltimore. Maybe I'll get around to sawing off those bolt ends eventually, but then again, maybe they're a further discouragement to the birds who seem to avoid Gizmo's mast anyway. Note the nice high view, which of course is available via the Flir or any pan-and-tilt camera.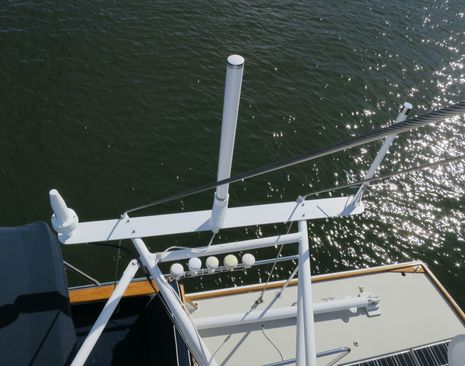 As a bit of an experiment I had standard 1″-14 thread marine antenna base nipples welded on to minimize weight and hopefully improve the looks. You can see on the starboard platform that the idea worked fine with a Globalstar Sat-Fi antenna (I'm testing Iridium GO, too), a WiFiRanger Marine, and the Wilson marine cellular stick. Some antennas won't work with my scheme, though, like the Digital Antenna 695-3000 MHz Bullet below (first discussed after the Miami Show). It comes with that custom stainless base which has enough internal diameter to fit an LMR400 cable with an N connector. So you make the connection with the cable run through the base and then finish the install with those tiny screws between base and bullet, which is possibly tricky business when you're up a mast. But then again, I think the Bullet combined with a Wilson Sleek 4G cradle booster is partially responsible for the very fast cell data connection I'm enjoying right now.
At any rate, we're underway now and it's just dumb luck that we'll be going through New York Harbor on 9/11. You see where we are via DeLorme InReach satellite tracking and often via Marine Traffic. Rest assured that Gizmo will be flying more than the flag of Maine.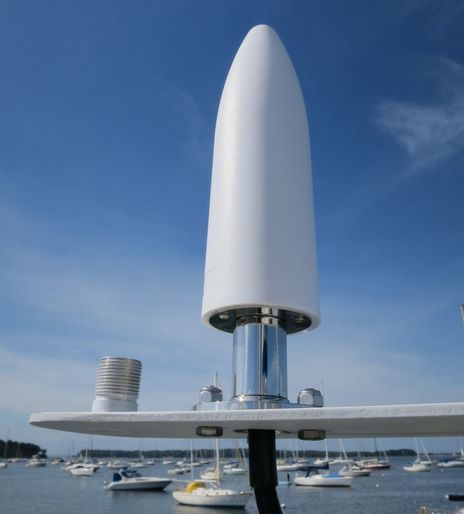 PS: What I meant about flags, with huge thanks to reader Ronbo who took and emailed this photo of Gizmo riding the tide under the Queensboro Bridge — also known as the 59th or "feeling groovy" bridge — early this afternoon.