Aqua Map updated with no-wake zones, live sharing, and more
Two recent Aqua Map upgrades have brought several new features and the ability to share your location with other Aqua Map users. Aqua Map now displays no-wake zones, artificial reefs, and the state of Georgia's restricted anchoring zones. Although it might not seem like a major feature, I'm most excited about the ability to display no-wake zones.
No wake zones
No wake zones prove confusing to many boaters. Although I think the confusion is often feigned, the reality is that no-wake zones are often minimally signed and typically don't appear on charts. So, ignorance has some legs as an excuse.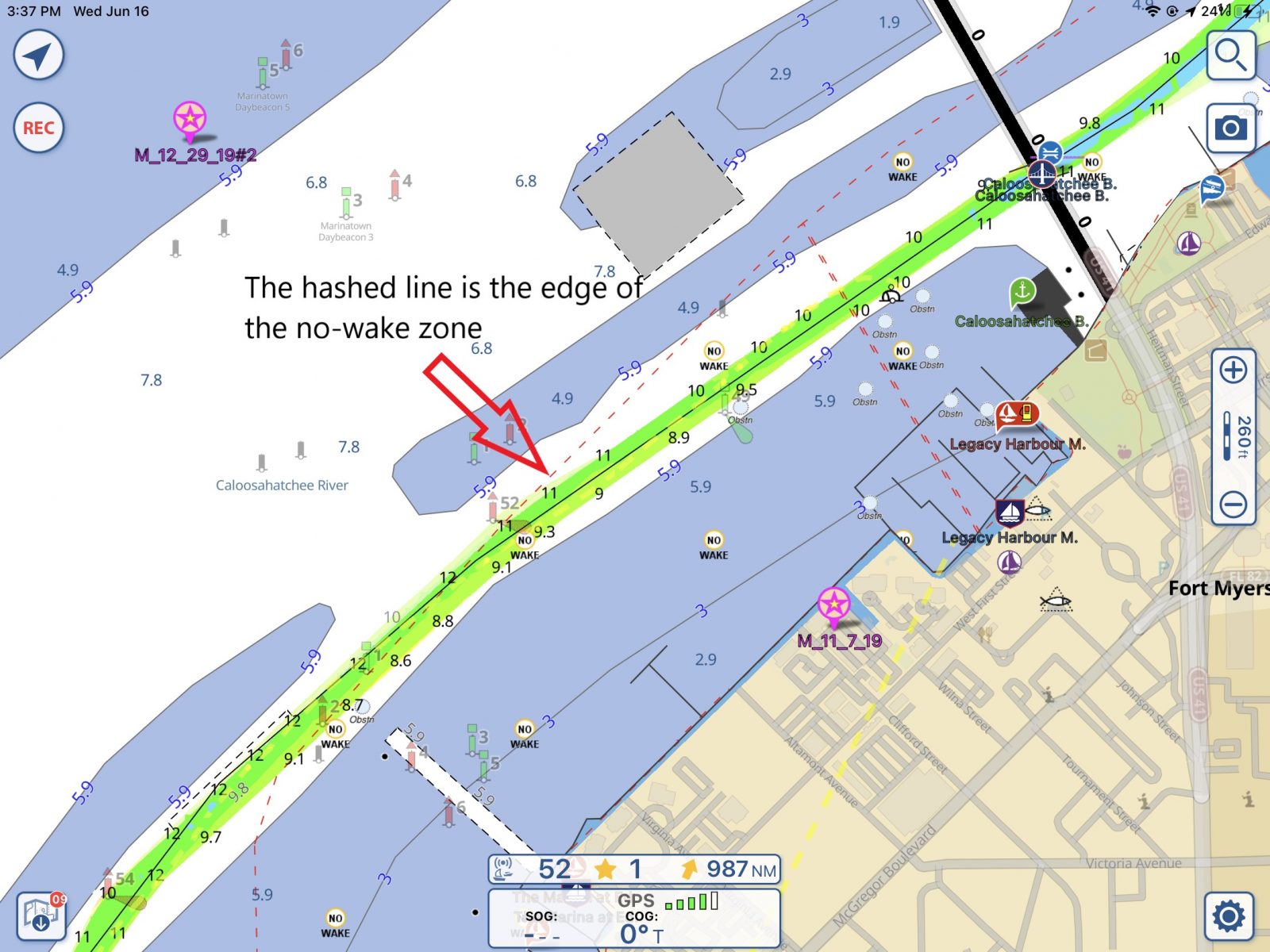 No-wake signs on the waterways often only appear at the beginning and end of a zone and can be confusing. Let's use the no-wake zone directly in front of my home marina as an example. It starts about a half-mile downriver and continues all the way through downtown Fort Myers. But, until the bridge north-east of the marina, the water to the north and west of the ICW is a 25 mph zone.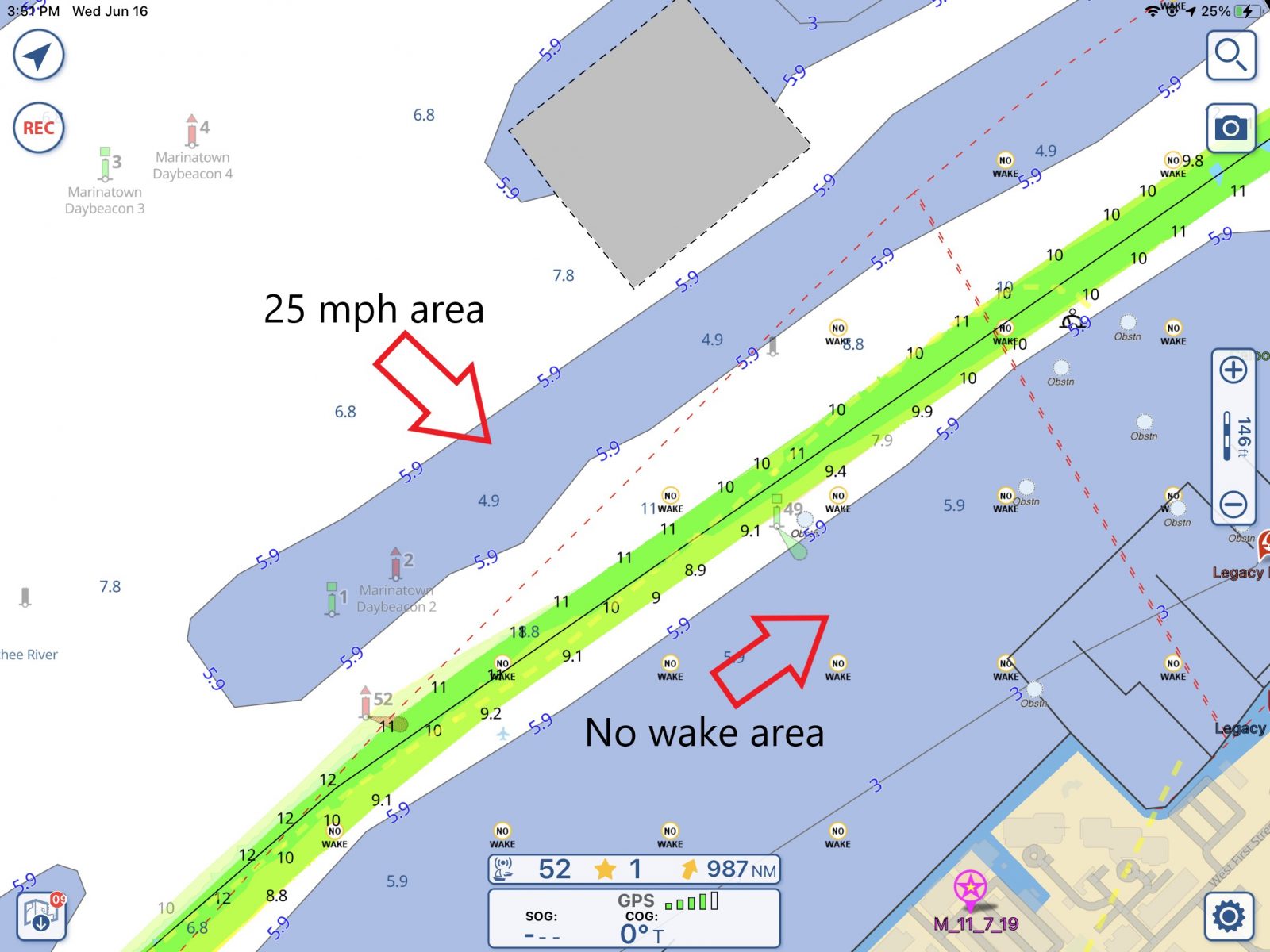 This confuses many boaters especially with boats operating on plane just a few feet away. Aqua Map's new display of no-wake zones easily clears up the confusion. The screenshot above shows the no-wake area bordered by a red, hashed line and indicated with frequently repeated no-wake icons.
Navionics' Boating app has displayed the current maximum speed based on your position for some time. But, there's no clear indication of no-wake zones on the charts. It turns out that wake restrictions are in the chart layers and shown as restricted areas (I didn't realize that until I dug deep while working on this entry.) So, if you tap on a point on the chart and make your way through the layers, you may be able to find it. But it's pretty well buried.
Showing the current maximum speed for your area is definitely helpful. I think showing both the current speed limit and no-wake zones on charts would be the best of both worlds.
Currently, Aqua Map displays no-wake zones for North Carolina and Florida. No-wake buoy locations are shown for South Carolina. Aqua Map would like to display more, but need states to produce this data in a format that can be processed for display.
Anchoring restrictions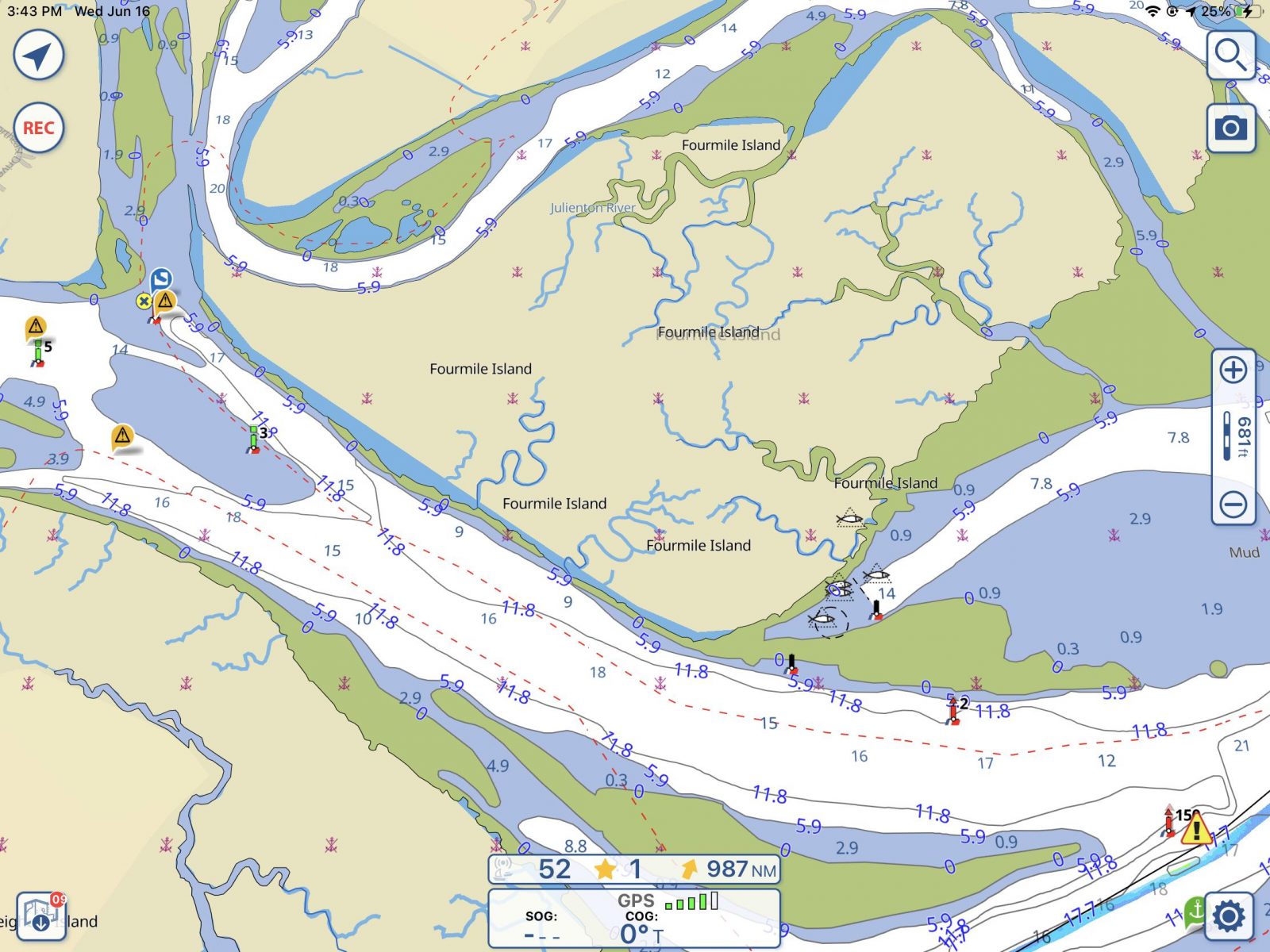 In 2019 Georgia enacted significant anchoring restrictions that mobilized a response from the cruising community. Since then, a new bill rolled back the most onerous restrictions, but anchoring remains banned in many areas. With the new restrictions came the challenge of knowing which areas permit anchoring and which areas ban it.
The Georgia DNR released PDFs and other documents showing the areas, but boaters must interpret those documents to ensure compliance. The latest Aqua Map update displays the prohibited anchoring areas similarly to the no-wake zones shown above. Red, hashed lines outline prohibited areas, and crossed-out anchor symbols also indicate a prohibited area. Many of these areas include land because that's how the Georgia DNR displays them.
Similar to making U.S. Army Corp of Engineers survey data available, Aqua Map has again taken previously available — but difficult to correlate with charts — data and made it easily available. Now, if you're in North Carolina or Florida, you can see no-wake zones at a glance. Or, if you're in Georgia, you can know with confidence that you've anchored in a permitted area.
Sharing
Aqua Map joins several other applications in allowing boaters to share their location. You can share your location and some basic information about you and your boat. Boats can be marked as favorites by clicking on the gold star to the left of the boat name and you can limit your list of boats to favorites or all boats sharing.

Sharing also brings a new databar right above the main GPS status bar on the bottom of the chart. This bar shows, from left to right, the total number of boats sharing data, the number of your favorites sharing their data, and the distance and direction to the closest of your favorite boats.
Currently, there's no messaging functionality, though I'm told that's in the works. I'm hoping that they might implement the ability to quickly share tracks. I think it would be amazing to see a boat ahead of you in Aqua Map that has just traveled a tricky area and ask them to share their track.
Final thoughts
Aqua Map was a powerful and feature-rich boating app. The addition of these new features make it even more powerful and solve real problems for boaters. I'm pleased that these new features don't make the app any more difficult to use and increase boaters' awareness. Awareness is the key to safer boating and I think Aqua Map does a lot to make us more aware and safer boaters.