AutoTether, an update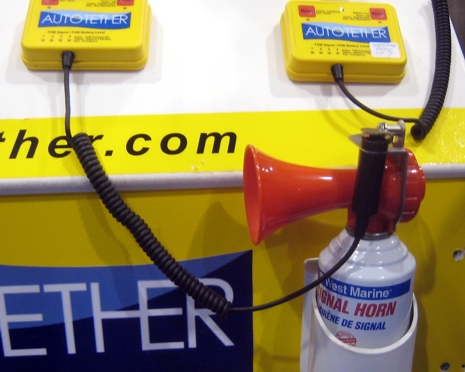 I was pleased to meet the founder of AutoTether, Anthony Viggiano, at MAATS, and learn more about his wireless MOB safety product, though I've already tried it, liked it, and written it up in PMY. Anthony, who struck me as a classic entrepreneur, says he didn't realize how hard (and expensive) it would be to develop this system. The first part, settling on a design and getting it to work, was relatively easy, he said, but achieving a high level of reliability, without false activation, took some serious efforts.
There are a lot of extraneous wireless signals out there and after a year of added development AutoTether passes highly secure codes between base station and FOBs. Like I say, it seems to work fine, and I've yet to see a false activation. Now Viggiano has come up with neat variation, seen above, which will be of interest to sailors and bigger power boat folks; the AutoTether activator can be used to set off an air horn instead of an engine kill switch. Viggiano is also in serious talks with at least one big nav systems manufacturer about integrating his MOB device with a whole helm system. Maybe this business idea will work out.