Avia Design, a new N2K player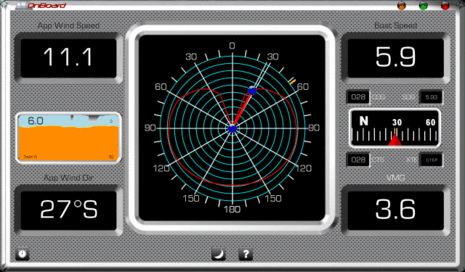 I've recently been beta testing a suite of software products from a marine electronics newcomer called Avia Design, and I'm tentatively enthusiastic. They are the first products I know of that are fully leveraged off the NMEA 2000 Third Party Gateway (TPG) discussed yesterday, and therefore a sign of many things to come (I think). And they're cool, or at least should be when finished. Check out that real time polar diagram for performance sailors above — I'm not sure there's ever been one before — and there's plenty of power boaters too…

The way the Avia architecture works is that Avia Server, the only copy protected component, takes NMEA 2000 data coming from an Actisense NGT-1 TPG and broadcasts it over Ethernet UDP. Thus the same computer, or any other on the network, can run Avia OnBoard sail or power versions, or both simultaneously. Standard N2K data like that seen on the sailing screen — plus many engine, tank, and battery PGNs — are already supported, and more should be easy to add. There's also an Avia Demo program that feeds simulated data to the instrument program so you can see what's it like without any N2K hardware, and — tickle me pink — an AviaN2KSim program that pushes faked PGNs out through an NGT-1 so that guys like me can test N2K devices in their laboratories.
This whole Avia setup is, in fact, quite a lot like Maretron's N2KServer and N2KView products, but not exactly. The Server, for instance, can also accept NMEA 0183 inputs, as seen in its setup dialog box below. Then again, Avia doesn't offer much screen customization, nor a whole family of hardware products that work with its instruments. But it also seems aimed at somewhat smaller boats than N2KView is, and may be more aggressive about partnering with other developers because it's quite a small operation.
Which is not to say that Avia isn't ambitious or able. Principal Grahame Shannon is a deeply experienced software developer, yacht designer, and boater as you can see a bit from his Blue Book of Boats listing and/or hear about in this Furled Sails podcast (a good resource, by the way). He may be as old as I am (a pity), but he's been coding at all hours recently, sometimes in response to my beta reports. And he could use a few more testers who have access to N2K networks and a willingness to purchase an NGT-1. But I don't think that's an unsafe investment, even if you don't like the finished Avia programs and prices (still undetermined), as more TPG apps will likely come down the pike by and by. At any rate, check out Avia Designs and eventually I'll report on what the finished products can do.