Azek PVC board, great for electronics panels?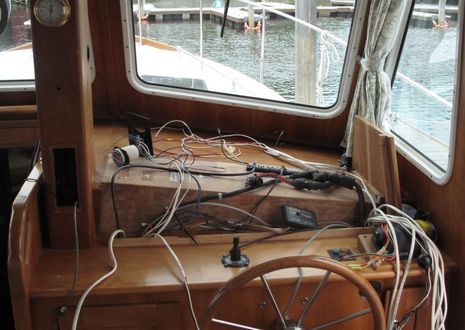 At first I was just going to replace the electronics panel at Gizmo's lower helm, but I got carried away. And at this point I've got a boat that I can't start — because the engine instruments, and much else, are disconnected — in a slip that I'm just bumming until the real occupant's yacht is launched (which accounts for slow posting here). But the project is going well, and I'm particularly pleased with the Azek expanded PVC board product I'm experimenting with for the dash panel(s)…
Azek is not marketed for marine use, but I suspect it has many uses on boats. Compared to classic StarBoard solid polyethelene sheet, it's lighter, stiffer, less expensive, and much easier to cut and shape with standard woodworking tools. (At least the latter also holds true for the traditional laminate and plywood panel that I'm replacing.) Azek also holds screws well, and you can weld pieces together with regular PVC plumbing glue. The only downsides I've seen so far is that it dents more easly than StarBoard or Formica — sort of like white pine — and the edges need to be hidden, both issues due to the fact that what's between the mat skins is actually a very dense foam.
Of course where you don't see it, Azek can be used as is and should remain stable despite any sort of weather. That's what it's all about. Below, for instance, is a temporary mount for the FLIR thermal camera I tested last season. I whipped it up quite quickly and it held up fine on Gizmo's mast head. The new dash panels will hopefully look a lot more finished…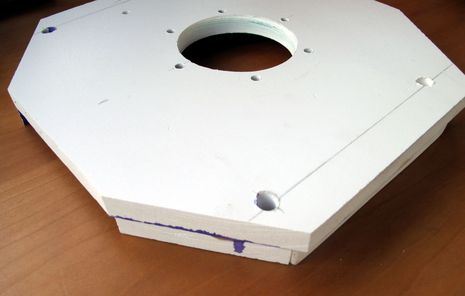 While Azek sheet stock only comes in white, it is supposed to take paint well, even dark colors, if you use the right "VinylSafe" latex. (You can find details about paint recommendations and sheet stock in the Azek "Paint" and "Product" PDFs here.) You can see in the photo below that I already knocked some paint off when I was cutting holes, but I didn't let it dry long enough and it will be easy to re-coat anyway. You can also gather from the size of the PVC "dust" how easily this stuff cuts with a big toothed blade or hole saw. Rasp and sandpaper are also effective and fast. Gizmo may get more electronics updates than average boats, but I believe every electronics panel (and cable run) should be designed for change. Here's what the lower helm used to look like, by the way, and note that I'm also building a new overhead radio and stereo panel. Plus expanding the gadget space behind this dash, and redoing the flying bridge set up to some yet undetermined extent; Gizmo is going to the next level! Please let me know if you've had any experience with Azek or similar plastics, or just how you like to build dash panels. But right now I better get back to work.