B&G in Las Palmas: "Products for All Sailors"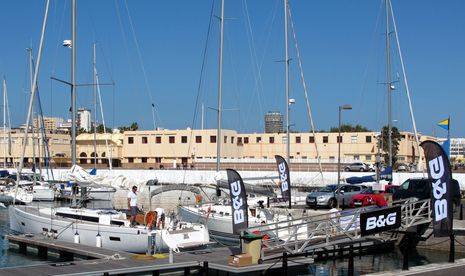 I know several sailors who have installed Lowrance MFDs as an economical way to gain access to Navico's sailboat-friendly Broadband Radar, and the scheme made sense as there wasn't really all that much difference between the fishing-focused Lowrance systems and even the sailor-centric B&G Zeus versions of the Simrad NSE and NSS displays. But those (somewhat confusing) days may be over soon as one of several stories Navico presented to the boating press in Las Palmas was a simplification of its three-brand strategy. Now B&G intends to serve all sailors, from grand prix racers to weekend cruisers, and from premium to value-oriented budgets. Moreover, B&G demonstrated that it's fast putting together a suite of features that should appeal to every type of sailor…
In 2011 when Navico staged an even more elaborate press event on another Spanish island, it made a convincing case about how it had unified its R&D, manufacturing, supply chains, etc. but would continue to use three of its original brand names in order to make better sense to different boating segments. But as you can see in the slide below, "Sail" was the most fragmented with B&G given just the high performance, premium sector and a taste of the mid-range. That fairly reflected B&G's heritage and pricey products like the WTP3 data processor along with the advent of more accessible gear like the then new Zeus MFD and the soon-to-come Triton instrument display…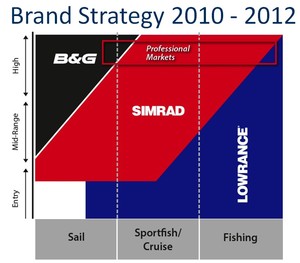 When you check these products at the BandG.com site you'll see that they are graded good-better-best style as Navigator, Offshore, or Grand Prix. The newer but less expensive Zeus Touch, for instance, is put right on the good/better Navigator/Offshore border, and I'll bet that the brand new B&G ZG100 GPS/Heading sensor will be solid Navigator/good when it gets its own page, because it's a great value but Navico is somewhat downplaying its performance abilities…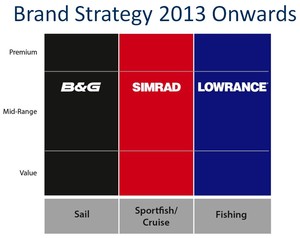 Possibly you too have already realized that B&G was reaching out to club racers and performance-oriented cruisers, but the slide above signifies that the brand does not intend to stop there. When you think about what it means for each Navico brand to cover good-better-best for its particular user segment, doesn't that imply, say, a 7-inch Zeus Touch as inexpensive and powerful as a Lowrance-7m HDS Gen2 Touch or perhaps even a 5-inch sailing chart plotter based on the $569 Lowrance Elite-5m (and thus suitable for a small daysailer)? Of course I asked the B&G product manager about these possibilities, but all he could share was a big grin. I'm sure it's been exciting to work with Volvo and Vendee racers — and I heard some great stories about B&G's recent successes in those realms — but wouldn't it be fun to bring some of that very sailing-specific technology to the masses?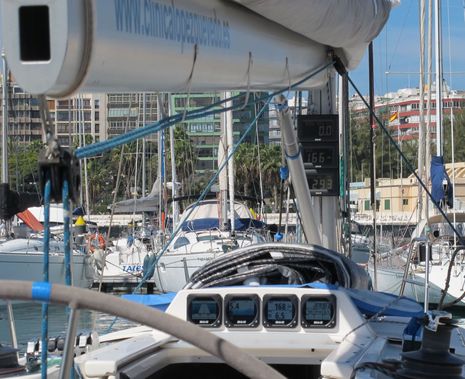 Navico's three-brand strategy modification is apparently a very recent decision and we won't see the results for while. But what B&G showed us in Las Palmas certainly demonstrated how well they've moved into the "Better" band. The already-competitive Triton display now a v2 software upgrade that adds several nice features like the Wind Plot screen explained below as well as integration with those Triton HV 20 mast displays seen above. Incidentally, the Triton screens were very readable in latitude 28 near equinox high sun even with polaroids on.
The HV's were also very easy to read but that no surprise as apparently they really are the same hardware as the B&G H3000 displays that have endured so much offshore racing, only with NMEA 2000 networking. Controlling the data you want to display with the Triton is quite basic, unlike what's possible with an H3000 system, but then again the HV's cost less (especially when bundled with regular Tritons). B&G thinks that there are lots of mid-range sailors who don't yet realize how nice it is to have some numbers in the same field of view as their sails and the waters ahead…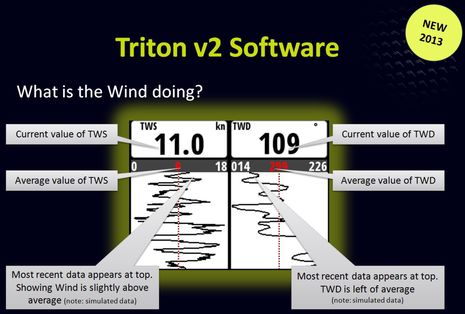 I've got lots more to report about the Las Palmas event, probably starting with Navico's bold market share claims, hinted at here. But I'll leave you with a screenshot taken on my Mac mini using the GoFree Controller/Viewer app and a Navico WiFi1 (more soon on progress with the GoFree ToolKit discussed here) . Shown below are the latest elements of what B&G calls Sailing Navigation, specifically layline overlays representing the boat's actual situation and what's needed to make the next windward waypoint. Note data bar "SailTime" values like TTW-S (Total Time to Waypoint Sailing) and the Port/Starboard leg time and distance components it's based on. Note too the SailSteer screen, which graphically presents all sorts of useful information like lift and header history, set and drift, rudder state, and when to tack to make the next mark or get around a danger. Yes, Sailing Navigation takes some getting used to, but check out the B&G Zeus Guide PDF. Unfortunately, we didn't get much wind in Las Palmas but I saw enough of Sailing Navigation in action to think that many sailors will be interested, and so hopefully will the other manufacturers who cater to sailors.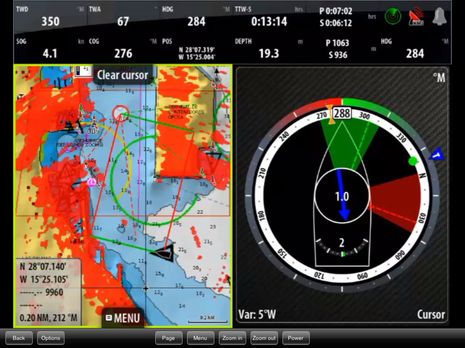 PS: here's an illustration from the Sailing Navigation Guide that explains the good stuff going on with those laylines: