BoatLogger, well worth serious beta testing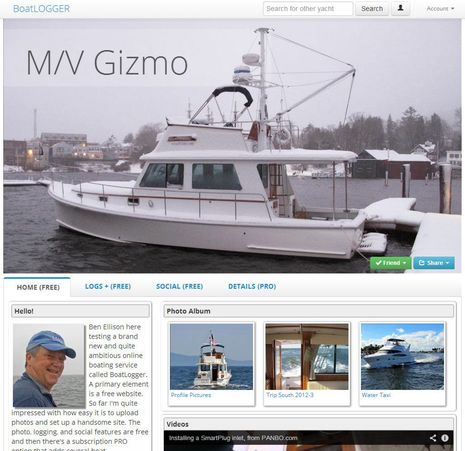 It's good to start the year with a project, and I've got one to share. I'm convinced that a new boating service called BoatLogger has a terrific concept for collecting log data, cruise photos, equipment manuals, and much more to a personal boat website they've made very easy to set up. But what the developers need right now is a hardy band of beta testers to create their own sites, try every feature possible, and report problems. That's how I spent much of 1/1/2014 as you can see at www.boatlogger/gizmo. I'll explain what I've learned after the break, and also detail an incentive available to the first 50 beta testers…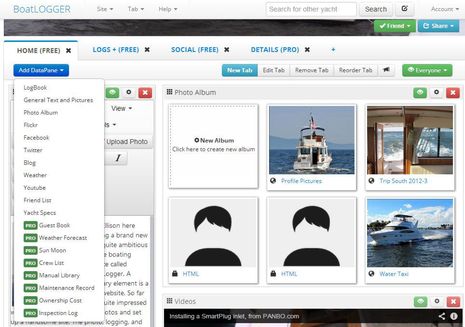 The screen above shows what Gizmo's home page looks like in edit mode. This is perhaps the most polished aspect of BoatLogger so far. It's beyond slick how you can drag and modify various DataPanes to create a custom page on your site. Note, too, how you can edit and reorder the tabs associated with the pages. And for me, a major feature is those green "eye" buttons, which let you make individual panes or whole tabs private (only for you, or you and your friends) or public. That's key, I think, to a site that can serve you and your boat in many different ways, and it works very well (as I'll demonstrate further below). Finally, the DataPane list shows how much of BoatLogger is free, which I've also noted with my tab names.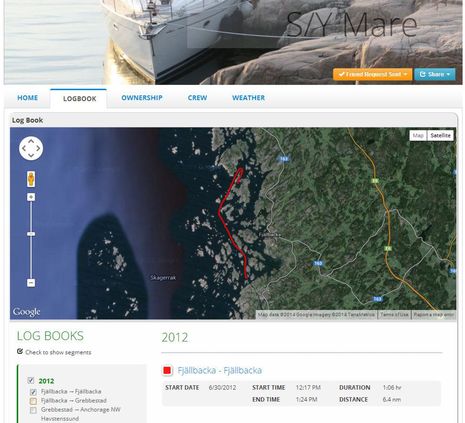 Here's the Log Book data pane for another BoatLogger beta vessel named S/Y Mare showing how logs are presented as multiple track segments that you can zoom into by just clicking check boxes. Tracks are just the beginning of what can be logged, and the development team is working on myriad ways to get data easily, if not automatically, from your boat to the cloud. In a few weeks there will be smartphone apps that will let you notate events like sail or weather changes that will get bundled with the phone's GPS info and either stored or sent to the BoatLogger cloud if possible. There's also an API (application programing interface) so other developers can contribute data to your BoatLogger site or use it in other ways. Plus, there's planned support for data loggers and satellite trackers like Spot and inReach (I've already enabled the latter, which looks to be fully automated but currently has a bug). Finally, there's a future BoatLogger product called BoatSupervisor that will purportedly integrate NMEA 2000, NMEA 183 and Seatalk instrument data (and even onboard camera output) to push up to your online log!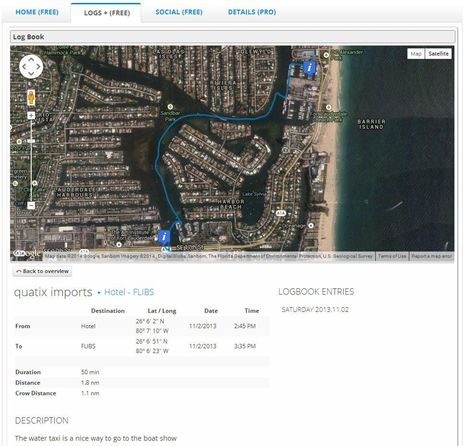 BoatLogger also lets you create logs manually and import tracks in several file formats. This area needs lots of work, but I was able to import a couple of tracks collected with the Garmin quatix watch I'm long testing (with Garmin's free BaseCamp — HomePort works, too — used as the software intermediary that can export the tracks as KML files). If you click on the title of my "Hotel – Flibs" log segment, you'll see that I was easily able to link in some appropriate photos and that BoatLogger is ready to capture engine, fuel and weather data, once I have an easy means to collect it.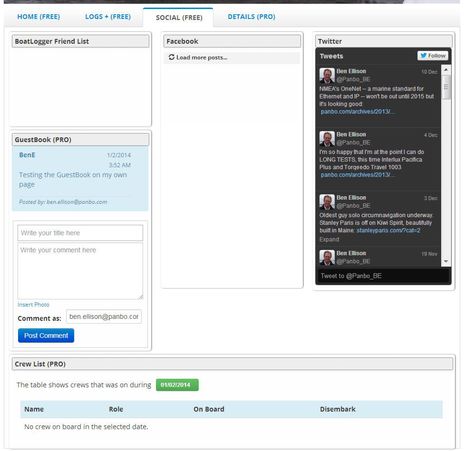 Here's what I've dubbed the "social" aspects of BoatLogger. I like how they have integrated in big social networks you may already be using. The FaceBook stream does work some of the time, incidentally, and there's also a data pane that can stream an existing blogger of WordPress blog. But BoatLogger has its own "friend" feature that I hope to try with readers who join the Beta test. Meanwhile, the Pro version at $39/year offers the GuestBook pane and what seems to be a sophisticated crew management database…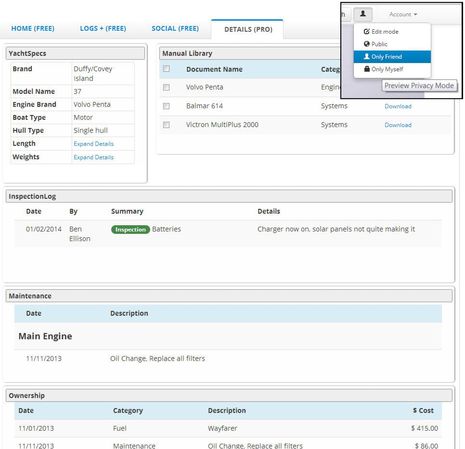 Where the paid Pro service really comes into play is if you want to use your BoatLogger site to organize maintenance details. Uploading PDFs is already easy (though I wish you could also open them online) and initial testing of the inspection and maintenance panes revealed some good thinking. A maintenance cost, for instance, will also show up in your "Ownership" pane (which might get a more colorful title on some sites ;-). Note the inset at the top right of this screen; it shows how I was able to see what this page looks like to a friend. If you go there as the general public, you won't see the "Ownership" pane at all. These are the sort of design nuances that makes me think that BoatLogger is a service I might want to use for a long time.
In the meantime, though, there are many bugs and many aspects to be completed. I hope beta testers will take the challenge seriously and deliver lots of feedback to [email protected]. Anyone who registers can test the free parts of BoatLogger right now, and even get a month of Pro features to try. But the first 50 Panbo readers who go to Account/Subscriptions, choose any plan, and then enter the coupon code BETA will get at least 6 months of Pro service. You will have to go through a Paypal checkout, which will set up a future payment, but you will be warned before any payment is made and can always quit or downgrade for free beforehand.
   More than money, though, is the fear of putting effort into a new idea that doesn't last, which is why I questioned BoatLogger's Per Magnusson about the company background and commitment to the long haul. I learned that besides years of tech consulting the IT Tack team was behind an early and smart marine app and according to Per, "We have tip-top funding…and we will foresee that BoatLogger will spawn out a few natural add-ons later. All of us are keen boaters and we put into the site what we want to have and see ourselves." Sounds, and looks, good to me.