WaveTrax iThing app, more smart boat logging to the cloud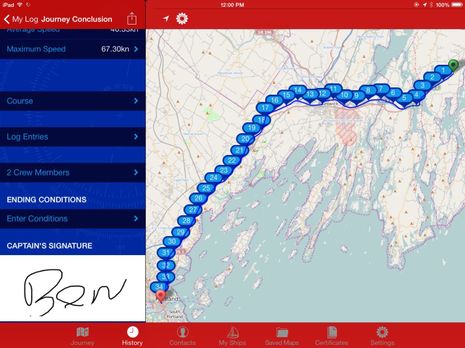 I wish that track was on the water, but testing WaveTrax auto boat logging over the road is impressive, nonetheless. Running on my iPad mini, the app not only collects a track point every minute, but automatically creates log entries marking my Lat/Long, COG, and SOG on the hour (and at user selectable distances). It's fairly easy to add notes, captioned photos, engine/fuel status, and weather observations as desired, and when a trip is done, I even get to touch scribble a signature. But that's hardly half of it…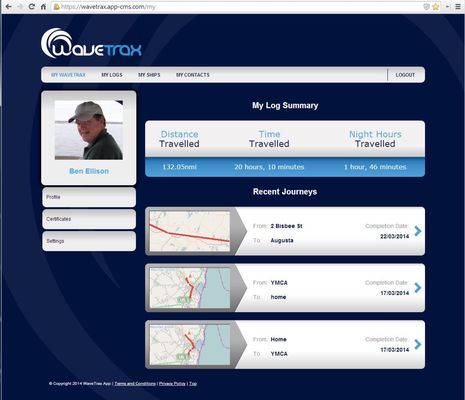 WaveTrax is both an app and a synchronized personal website, and in my view, that's the way to go for tasks like this. The iPad is easy to use on a trip, but my home PC is better for, say, adding text and photos of my various vessels and regular crew members. And since that data gets synched back to the app, it's ready to use the next time I start a fresh log entry. Synchronizing app data with the cloud also protects it, plus a mobile device is generally good at wireless connections.
   For me, so far, that just means using a Bad Elf Pro for precise GPS records, but I'm optimistic that WaveTrax or similar apps will soon be automatically fetching GPS, weather and lots of other log data via an onboard WiFi source like the just-tested Vesper XB-8000 or the Navico GoFree tested last year (note the TripCon PC log software examples in that entry). All the pieces are falling in place to make automated voyage logging easy, inexpensive and data rich.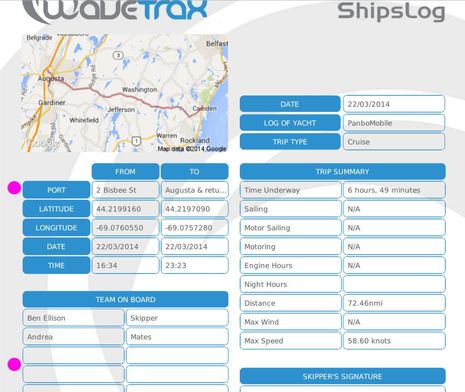 But I get ahead of myself. The WiFi boat data connection will be great, but I think that many boaters will enjoy just a well-designed logging app like WaveTrax that also lets you access and edit your trip data on the Web, once they understand the possibilities. For instance, I spent very little time collecting the data that's in the printable PDF trip log that a WaveTrax user can create on his or her personal website, and it can even include captioned photographs. WaveTrax can also synchronize "certifications" (important documents), though so far they have to be images, not PDFs and the app sells for $13 with a free year's subscription to the website. (You can try the WaveTrax website for free and it can create logs from existing GPX track files.) 
   I've also been testing the free (Android) BoatLogger app that can now automatically upload data to the BoatLogger website I began beta testing in January. The app is not as polished and full featured as WaveTrax, but then again, my personal WaveTrax website is not as polished and full-featured as what BoatLogger makes possible. Hopefully, these two ambitious developers are checking out each other's work!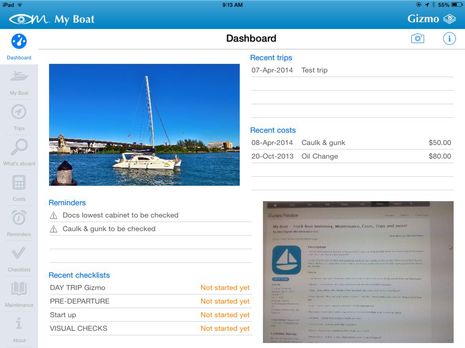 Any developer trying to make it easier for us boaters to keep track of all the data even a moderately complicated vessel can generate should also check out the new iPad app My Boat. The core component is a database of all the gear, spares, etc. you have stowed around your boat, but as you enter them you can assign costs and service/inspection reminders that flow out to other elements of the app. You can also photograph items likes spares. Unfortunately, My Boat does not synchronize to a personal website — though you can back up the database to DropBox — and I ran into other issues like an inability to customize storage locations. But then again, the $20 app does include a lot of pre-built checklists that you can easily customize. 
I don't plan to invest more time in My Boat unless the developer makes my data web accessible — I'm already happy with CarbonFin Outliner for general to-do and checklists — but I will definitely keep testing BoatLogger and WaveTrax as they develop more features (and crush more bugs). I will also predict, though without any inside information, that this year we'll see a big developer like Navico, Garmin or Navionics/Raymarine announce a vaguely similar logging service. Aren't the possibilities obvious?
   The final illustration shows three screens from the BoatLogger app. It may be rudimentary compared to WaveTrax, but they even threw in some scripts for bad situations like MayDay with all the right data filled in automatically.