Captn Jack's, liquidation?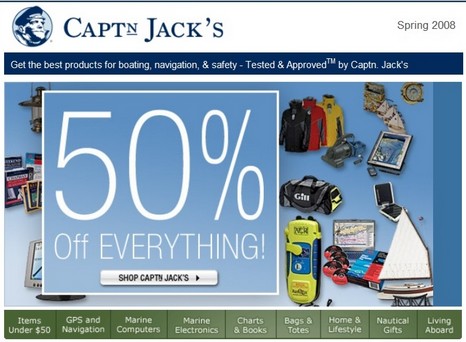 Sign of the times? Or just an indication that the Captn Jack's portion of Maptech is going to shut its doors? I really don't know much new about the Maptech sale since my last entry, but there sure are some good deals available at Jack's, free shipping too. Like the new version of the WxWorx XM Weather receiver (with a modular interface, and I imagine alternate modules can be had from WxWorx), the Last Call VHF speaker/recorder I tested and liked, the iBlue Bluetooth GPS/tracker I tested and bought, the Emtac Bluetooth GPS (which is better built), some interesting looking 12v appliances, and who knows what else. If you have some cash or credit left, that is.
PS: If you have a weakness for gadgets, for goodness sakes never visit Woot.com, especially on Woot Off! days like today. And don't even consider downloading the Wootalyzer.