CE & ACC, great but not enough! Part 1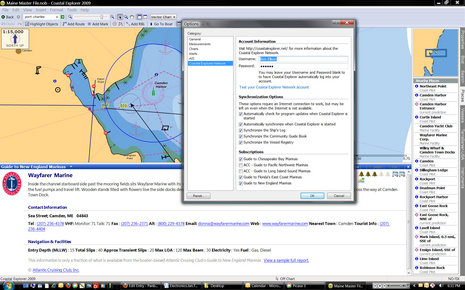 One thing I've always liked about Coastal Explorer is the way it handles points of interest (POI) information. It includes a vast, searchable gazetteer, along with coast pilot info that gets listed and icon-located when you're checking out a harbor ("places" tab). Plus it integrates Panoramio community photos if you want and Maptech marine facilities and port photos if you have them. (CE 2009 did not become Maptech Chart Navigator Pro 2009, unfortunately, though CNP, which is actually CE version 1, is still being sold as "new" software, also unfortunate.) You can see in the Options box above how Rose Point is working on an automatically synchronized Community Guide Book idea that has terrific potential. But, whoa, check out the new "Subscription" options that will appear in an CE update very soon. Rose Point has struck an interesting deal with the Atlantic Cruising Club guide folks, and thus CE users will get free partial ACC marina listings — like the Wayfarer data above — for those guide areas shown. They'll also get a neat way to integrate complete ACC guides into CE…

I've been Beta testing the CE/ACC developement, find it quite slick, and am going to illustrate how it works below using Cape Charles, VA, as it's a slightly oddball cruising spot I happened to visit last year. The screen below shows what a CE user will get free just by click subscribing to the Chesapeake ACC Guide in the CE dialog above, and waiting while a Rose Point server pushes down the data. Note that I'm also using TerraServer photo map overlays, another CE feature that has to be iniated when you're online, but can cache for use offline.
If you want more ACC marina information, you buy one of their printed guides for $25, and install the included CD, which contains even more data than the book, plus a stand-alone program for searching and viewing all that data if you don't have CE 2009. Below is page one of the typical marina data that will now show up in CE…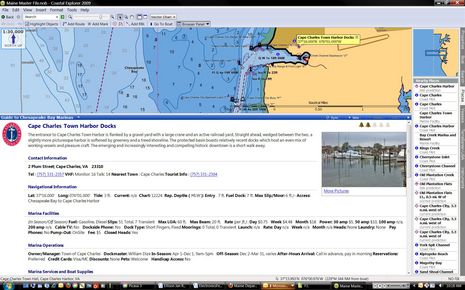 And here's more data on the Cape Charles Public Docks and general area. The ACC researchers really do their homework, and…

thus here's yet more data. Plus ACC's more subjective Notes and Notable. And there's more…

If you click on the photo that starts a marina profile you get a gallery of photos that don't appear in the b&w printed guide. The particular shot I clicked on below perhaps illustrates the "interesting, textured experience" comment above and why ACC rated this marina only two out of five possible Bells?
At any rate, the CE/ACC integration is a smart move. Regular CE users get some extra data, and ACC gets a chance to show them thorough their work is. Cruisers who buy the book get another way to view the data, extra data even, plus an synching system so the data can be updated as needed. It's all good. But, as my "not enough" title suggests, I'm hoping Rose Point, and others, take POI presentation even further. Which I'll try to illustrate next week, in Part 2.