Garmin's new ActiveCaptain Community site, what's good and what's not?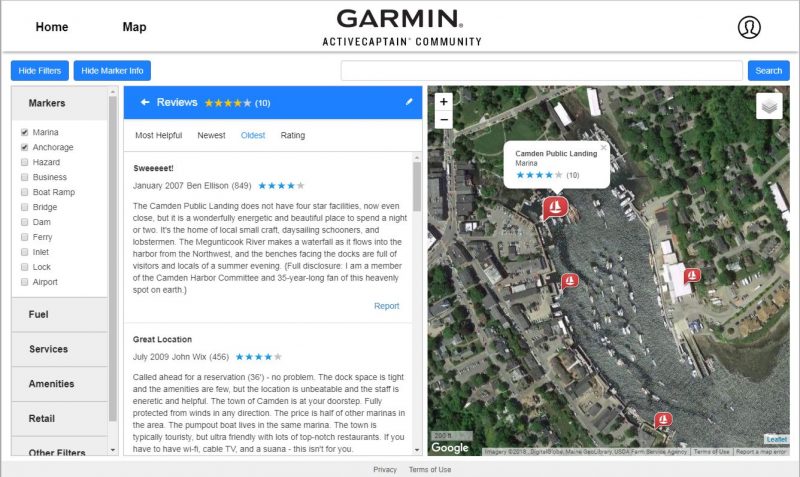 I am a long time fan of ActiveCaptain boating info. In fact, I'm pretty sure that my January 2007 Camden Public Landing review above was one the very first, as I was simultaneously writing about AC's inception here (and at Power & Motoryacht). Now the AC database and user community are both huge, but many of us "captains" are struggling with Garmin's very recent and complete rebuild of the service. In this entry I'll share what I've learned about the new ACC website, hoping for more pros and cons from readers (and meanwhile, Ben Stein is working on an entry about the state of third-party ACC app support).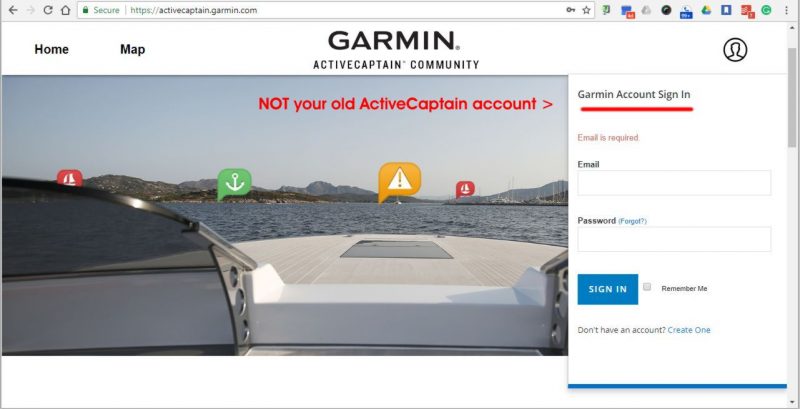 To start, it's important to understand that Garmin has renamed the original AC crowdsourced data system as the ActiveCaptain Community (ACC). The distinction already confused existing AC users when Garmin introduced its ActiveCaptain app, which — while it does include ACC data viewing among its many functions — is designed almost exclusively for owners of Garmin marine navigation systems. Now users of the new ACC website at activecaptain.garmin.com tend to mistakenly enter their old AC email address and password even though a Garmin Account is required.
Signing In
The good news is that creating a Garmin account is very easy. For instance — though I already had one (which now links nicely to my new ACC "Ben Ellison" profile) — I signed up for a new Garmin identity with another email and was surprised to find myself logged into ACC without even needing to verify the address (possibly a glitch).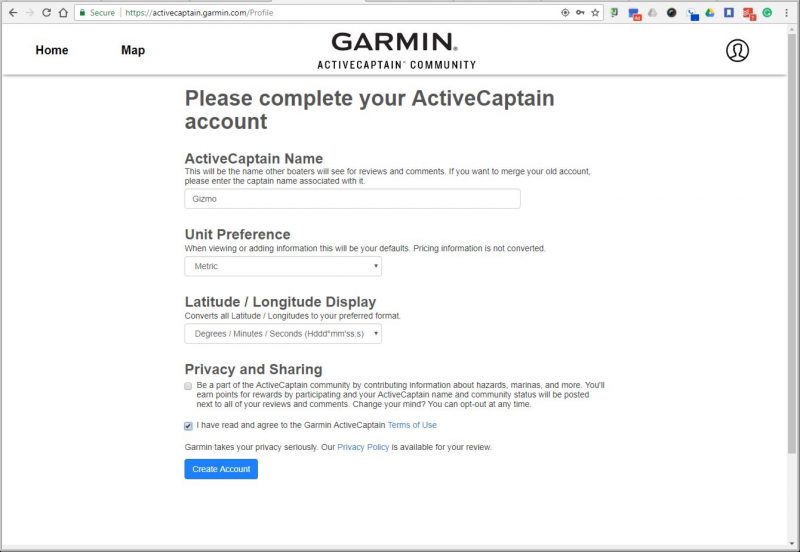 Above is the next and last sign in page a new user will see. As long as you choose an ActiveCaptain Name not already in use, and agree to the ACC Terms of Use, the Create Account button goes blue and you'll have instant access to more than a decade of boating info contributed by many thousands of active users.
As indicated above, new ACC users need not even agree to contribute to the database, though hopefully they will. Making it easier for all sorts of boaters to view and edit ACC info — you'll see how that's improved on PC's, phones, and tablets below — is critical to the future health of the database. The more active captains, the better (with some qualifications I'll also touch on).
But how do existing AC users sign up? Note how the ActiveCaptain Name help above says "If you want to merge your old account, please enter the captain name associated with it"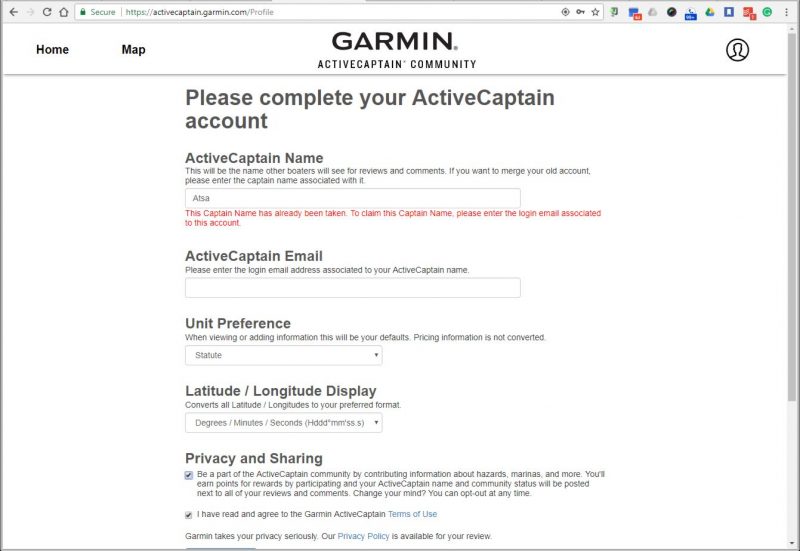 But when you enter your old AC name and the page responds with the message "This Captain Name has already been taken" in red, DO NOT PANIC.
In fact, though phrased negatively, the message is actually good news meaning that the new ACC database remembers your old AC name (and so did you). And rest of the red warning — "To claim this Captain Name please enter the login email associated with this account" — is why the ActiveCaptain Email box just popped up below. If you can also remember that — remember, it's not necessarily the same email you used for your Garmin account — you will get your AC name back (and anyone later trying to use it will get the red message, "That captain name has already been taken, please provide a different value.")
So in my experience retaining my 11-year AC identity was easy, but as we'll see, the value of that identity seems to be diminished in the new ACC, at least for now.
(I'll also note that Panbo reader Hartley Gardner struggled with the merge process, apparently because his AC email address was too long for ACC's entry box, but he figured out a "bizarre" solution described in this comment.)
Where's my data?
The new ActiveCaptain Community site is wonderfully simple, essentially some vague Home page marketing, your barebones profile page, and the very rich data Map. And again that seems nicely accessible for new users while also focused on what AC has always done best, though again confusing for existing users. Where, for instance, are eBoatCards, shared routes, and captain profiles that once showed your boat particulars, homeport, and more (if you wanted)?
The ACC help pages provide some guidance and, frankly, I thought that eBoatCards was a nice-but-failed-idea long before Garmin acquired AC. But Garmin does not mention the complete absence of Captain profile info (beyond our chosen names) anywhere, and I miss the ability to click on a comment's author to usually learn more about their boating style and AC history. It helped evaluate the validity and applicability of data edits and opinions. And, heck, even a curmudgeon like me feels sociable once in a while.
It's possible that Garmin still has the old AC captain details, but deleting it may have been necessary to meet the new GDPR personal data regs, which you probably know a lot more about since it came into effect last week with a blizzard of "We're changing our privacy terms…" emails.
At any rate, the new ACC is quite different from the old AC, but I think that Garmin has just gotten started. Regarding shared routes, for instance, I was glad to read that they're only "removing this feature to redesign it and bring it back in a better way. We will make it easier in the future to create, manage, and share routes." (I hope the improved version will will support custom waypoint names, which many charting programs and MFDs can handle these days, and which were sadly left out of the original AC implementation.)
Map viewing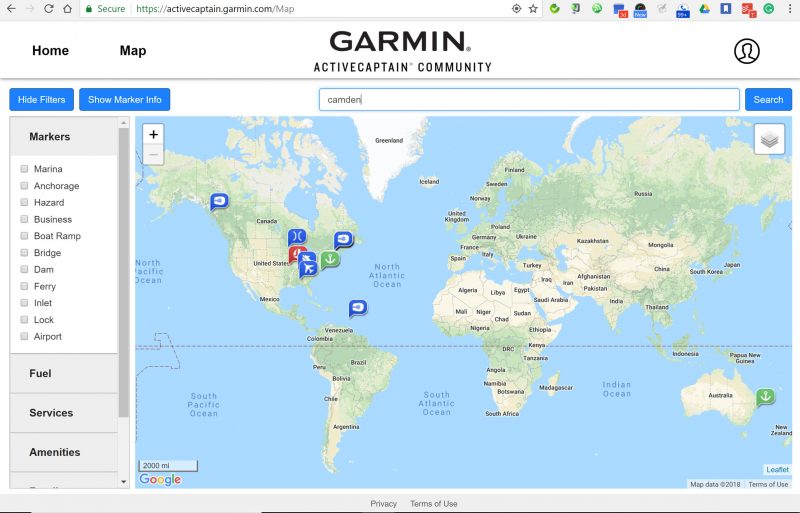 Nevermind that opening the ACC map now usually zooms you into a satellite photo map of some mid-America farmland, because hopefully that will change soon. Besides, I've found that switching to faster-downloading land maps and unzooming/panning to my area of interest is easy even with a slow internet connection, and the new ACC search facility is a great shortcut.
But folks used to the old AC site have some unlearning to do. For instance, the search seems to work strictly on ACC marker names, not geographic place names, captain names, or anything else. "Camden Maine" or similar gets nothing, while "Camden" goes global.
Also, marker types filter differently now (and, yes, there are many more as the old "local knowledge" category was subdivided). By different, I mean that all markers show for a particular search or area unless you check one or more, and then you'll see just those. I've gotten comfortable with how it works, but it's not the only aspect of the new ACC that will make old AC users feel like they're in the upsidedown world.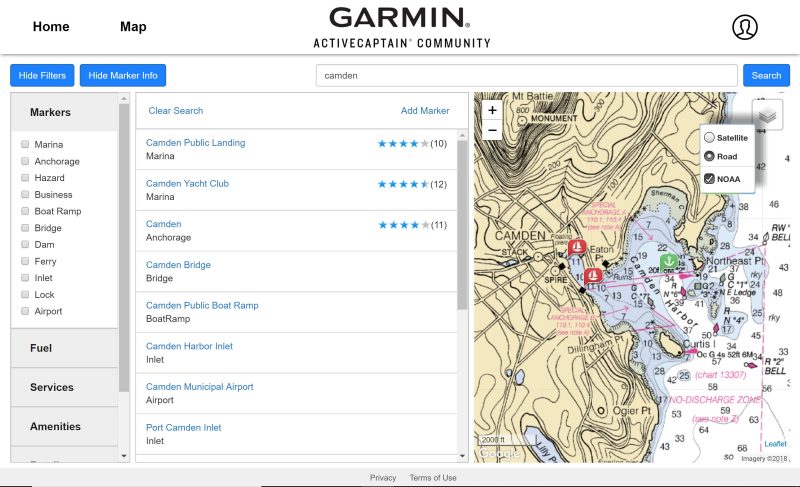 Search is also a strict filter, which is why this view of Camden only shows markers with "Camden" in their ACC name. Click "Clear Search" at the top of Marker Info window and all the available markers in the area will show, at least until you start clicking on categories in the Filters window.
Actually, even all the categories organized under Fuel, Services, Amenities etc. are filters, so you can conceivably hone the marker display to only the marinas that offer diesel, free WiFi, and pet access. And don't be surprised if fishing-related filter categories show up eventually, because that's a vast active boating population that Garmin also serves, and they could contribute a lot to the database.
But right now the detail filtering mainly serves to show how incomplete the ACC database details are, useful as it's been. Either that or only one marina out of about 20 around Longbeach, New Jersey, has showers.
Info editing
While the new ACC filtering is useful and potentially very powerful, the new data editing facilities struck me as major improvements on day one. But pardon me if I also use my screenshots to illustrate an existing AC issue that improved editing should help with.
For the most part, AC info has made boating — particularly cruising, so far — easier and more pleasant. But unnecessary Hazard Markers can add unnecessary anxiety and, in the particular case of the New Jersey ICW, I'm sure they've completely scared off some boats that may well have enjoyed those shallow but interesting waters like Gizmo and I just did.
So note at the bottom of the filtered Marker list above how a couple of the Shoaling Hazard marks are now named "Shoaling (Not!)" — changes like that used to be impossible in AC, and I've just gotten started!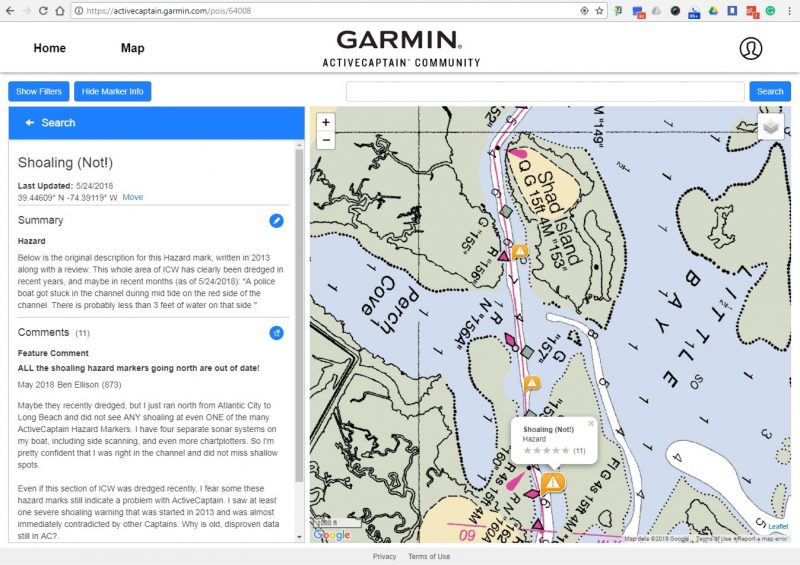 I wrote the comment above last Wednesday, right after I'd encountered many Shoaling Hazards that had no relationship to the reality I could see on Gizmo's many sonars and chart plotters, or feel under her 4-foot plus keel. It was also a test to see if data entered right before the ACC database change on Wednesday would make the transition, which it did.
In old AC world, my comment was pretty much a futile gesture. In fact, most of the many Shoaling Hazards in this area have multiple comments about how the situation was no longer true, if it ever was. But in new ACC world, I discovered that I could usefully rename the Hazard Marker — never before possible — and that the new interface made any sort of editing easier.
Actually, you can delete a useless marker and it happens instantly across the database. Which is definitely upsidedown world for AC regulars and may sound dangerous to everyone else, but please hear me out.
I did, in fact, delete POIS #49734 (see the POI links at the top of the screenshot) and it's gone everywhere I can see updated ACC info. That's why activecaptain.garmin.com/pois/49734 gets you to a "The point of interest was not found" message while activecaptain.garmin.com/pois/64008 gets you to the Shoaling POI with my Wednesday comment (if you are logged into ACC).
Yes, it sounds crazy to let ACC users delete Hazard Markers, but I think it shows wisdom and courage on Garmin's part. Because while deletions "take effect instantly," they "will later be reviewed by a community admin" according to the Support Page. In other words, Garmin is treating ACC users with trust and thus giving them the gratification of making changes fast. But as the wisdom goes: trust and verify.
Garmin is also promising that "we will never edit a review. In rare instances an ActiveCaptain review is removed if it does not meet the guidelines of the terms of use of ActiveCaptain. We always inform the user and give them time to update the review before it is removed."
Aren't these the ways a truly useful and dynamic crowdsourced information tool is designed?
ACC on mobiles
All the previous screenshots were taken on PC's using the Chrome browser and Windows 7 or 10. And it used to be that accessing the AC website was mainly done on PC's, due to issues with map displays and small-screen interfaces. Well, hurray, those days are over. iPhones and iPads apparently still won't show the new ACC's NOAA charts, but the standard mapping and hi-resolution sat photo mapping seem to work well all over the planet.
As my first iPad screen above indicates, GPS-aware mobiles should be able to zoom right into your location, though that's not yet working for me on iPad or Android phone. However, using the new ACC site on either the 10- or 6-inch touchscreens seems easy, including adding edits and short reviews.
Open the iPad Pro 10.7 screens above, and see if you agree that they could be useful for planning or even underway.
My Google Pixel2 XL Android phone does show the NOAA charts, which, incidentally, zoom into smaller scales than they used to.  I'm heading up the always-interesting East River later today, but this will be the first time I was aware that the floating correctional center across from Rikers and La Guardia may have "underwater mines the haul (meaning hull, I think)."
Of course, that may be true, but if I can make a determination one way or the other (without getting blown up), I've already tested that editing ACC on my phone is quite doable.
ACC, what's next?
I don't know any secrets, but I suspect that there's a lot more coming to the ActiveCaptain Community. It looks like Garmin did have to fix the old AC to meet the GDPR (despite what skeptics said), but they decided to do a teardown instead of a rehab.
I obviously like what I've experienced so far with the new ACC website and revised database, though I'm curious about the experience of others. But what isn't entirely clear yet is how many developers have adopted the new ACC system so the info is available for planning and navigation on a wide variety of apps and multifunction displays, yet another critical aspect of a healthy crowdsourced service.
That said, I can tell you that Coastal Explorer and Aquamap are both showing my new ACC edits and reviews — some of which I created in CE — and that Ben Stein will have an overview soon. And, dang, I wish Garmin was less clumsy about this subject on the new ACC site.
"The best navigation products put ActiveCaptain Community data inside, so no internet access is needed when you're planning your travels or underway in your boat" is a great concept, and one I believe Garmin truly supports. But then the Learn More link goes right to the ActiveCaptain App instead of the list that includes the AC app. Do not be confused; do not panic.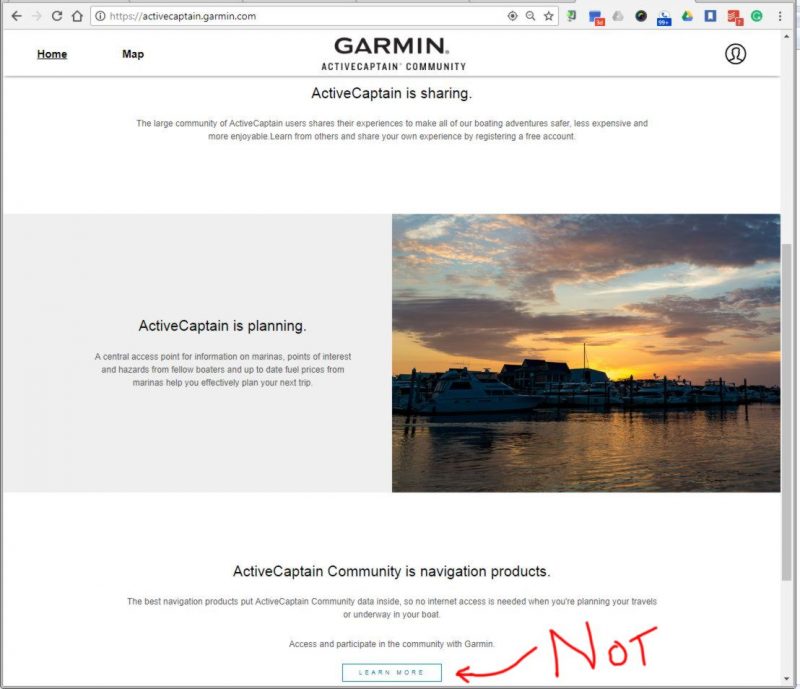 PS 5/28: We did indeed fact-check the unusual Vernon C. Bain Correctional Center hazard marker yesterday — see Android screens above — and it seems that "Be sure to keep clear by at least 400 feet, they do have underwater mines along the haul" is based on warnings along the hull of the floating steel prison that read: "CAUTION  4 INCH ANODE PROJECTING BELOW WATERLINE"  Also, though Gizmo got closer than 400 feet, there were no explosions.