Garmin addresses ActiveCaptain's future in email, AC Community is coming to Navionics
Despite our phone conversation with Garmin cartography manager Ken Cirillo, the company had still not officially declared their plans for ActiveCaptain in writing.  That changed today with a  Garmin email to AC captains beginning: "ActiveCaptain Community will continue to be a free online site…"  That statement echoes what we were told by Cirillo, along with his assurance that Garmin remains committed to working with AC partners (i.e. independent app developers). And there's more official good news in the email.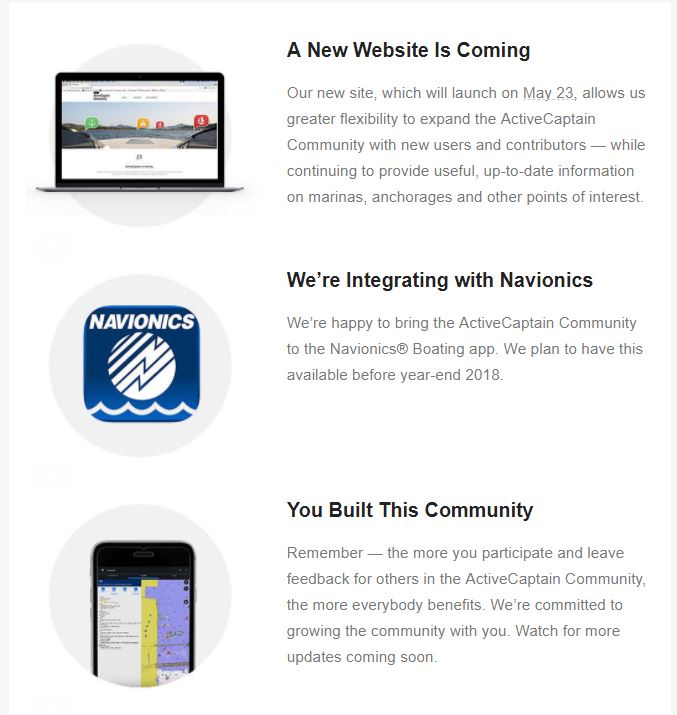 Since Garmin acquired Navionics the obvious question has been, will Garmin integrate ActiveCaptain Community into the Navionics Boating app?  For many that's been the one important feature missing from the otherwise capable Navionics App.  Thankfully, the answer to that question is yes, though the timeframe is a little vague at before the end of the year.
It's taken Garmin some time but the picture does seem to be getting clearer.  The big question remaining is how many partners will be willing and able to implement the new AC Community API before the May 23rd deadline, when apps with the old API will no longer get data updates.  We've heard mixed reports, but May 23rd is just over a month away, so one way or another we will have some answers pretty soon.