ActiveCaptain: Data delivery changing, but free access assured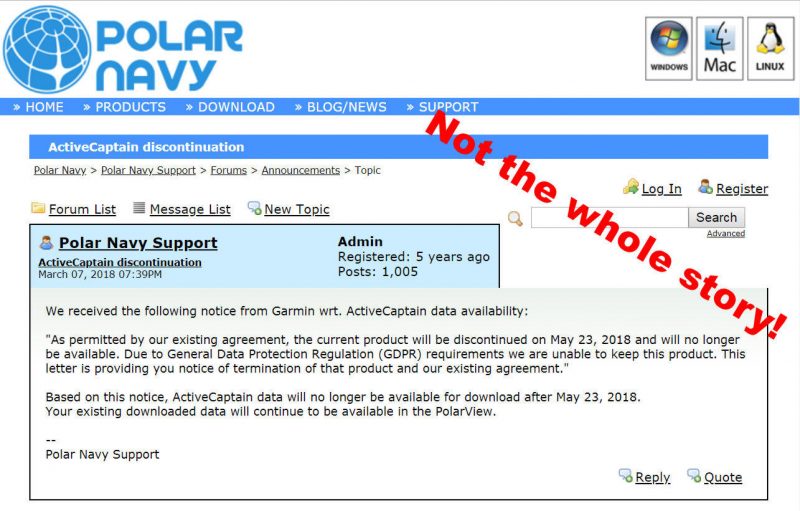 Within minutes of announcing Garmin's acquisuition of ActiveCaptain in May 2017 commenters here and elsewhere immediately began to worry about its future. On Wednesday evening, the Polar Navy announcement above poured fuel on that fire, suggesting that the many non-Garmin charting apps and MFDs which display ActiveCaptain cruising information would lose access to the database this May. But that quote is not the whole story by a long shot. Actually, Garmin is emphatic that AC data will remain freely available to developers and users…
Let's start with a little history. In 2007 Panbo enthused about ActiveCaptain as an innovative crowdsourced alternative to the often outdated POI (point of interest) info available on many electronic charts. Actual captains would actively create and update a database of info and reviews about marinas, anchorages, hazards, and more. Key to the concept was making the data available and editable on as many screens as possible, and it all worked out very well.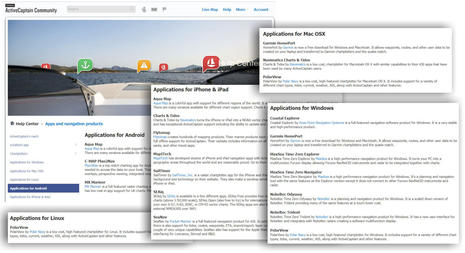 Last fall Garmin renamed the original AC as the ActiveCaptain Community. If you register as a community member, you can see the massive amount of information that's been collected by many thousands of boating contributors over the years. And without registration you can still see all the third party apps and charting programs that currently display AC information.
Unfortunately, the name change and simultaneous removal of Garmin's Blue Charts Mobile from the app store (detailed below) caused further negative speculation. Would ActiveCaptain be converted into a subscription service? Would it be limited to only Garmin products? And the worries were thrown into high gear when news of ActiveCaptain's data API being discontinued hit the Internet.
Fortunately, we got to hear the whole story from Garmin's Ken Cirillo, product manager for marine cartography and content, and Robert McVey, backend connectivity manager (I'm not making that up). Early in our conversation Ken emphatically stated that ActiveCaptain as we know it is here to stay. "We aren't limiting it, we aren't closing it down, we aren't charging for it! We're looking for ways to expand it," he said. This was great news to me, as I've been hoping since the acquisition that Garmin would make an official statement about ActiveCaptain's future.
Ken and Robert expanded on that good news with statements like "We know we need AC to run on as many platforms and as many places as possible." And again addressing the common concern about Garmin monetizing their new acquisition, Ken said, "ActiveCaptain will be free for users and developers." Garmin's commitment to the AC Community and their recognition that a crowdsourced service won't grow with more limited access seemed clear to me.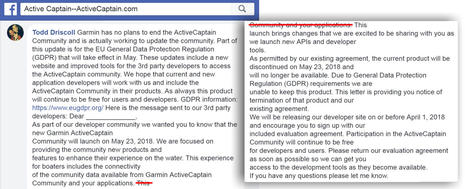 The Garmin team also explained the notice sent to ActiveCaptain development partners on Wednesday (and posted in full on the ActiveCaptain Facebook page by friend-of-the-company Todd Driscoll, shown above). Yes, the current ActiveCaptain Community data feed will be discontinued on 5/23/2018, but it will be replaced with a new and purportedly improved application programming interface (API) that also meets the EU's General Data Protection Regulation (GDPR).
Ken and Rob explained that some portions of the API need to be changed to protect the privacy of ActiveCaptain users to be compliant with GDPR. Apparently it's hard to judge how hard the change will be for different developers because different techniques were used over the years, but Garmin believes the implementation will be straightforward for most of their partners, and also that the new API will provide a clean and solid foundation moving forward.
But Garmin's apparent good intentions don't mean that every partner will make the move to the new ActiveCaptain API. In fact, Polar Navy has made it clear that their various apps will not display AC data updated after May, and we've heard from other developers reluctant to do the work involved. On the other hand, Garmin may have created a nice opportunity for good AC apps.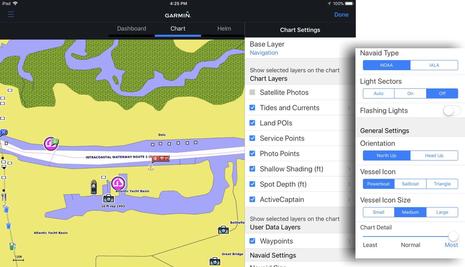 I refer to the disconcerting move Garmin made last fall, when it discontinued its own AC integrated app, BlueCharts Mobile. BCM was many cruisers' first choice for ActiveCaptain display dating way back (Panbo's 2012 review here). Garmin ended BCM because they were bringing out a new app — confusingly named ActiveCaptain, and reviewed here — that didn't replace BCM for many users.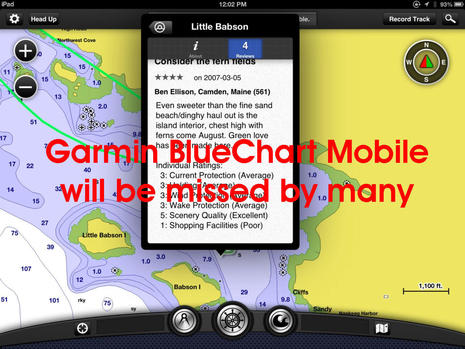 In a bit of timing I've never been able to figure out, BCM was removed from the App Store before the new app wasn't even available. Then it became clear that ActiveCaptain the app is primarily designed for owners of Garmin electronics (though it does display ActiveCaptain Community data).
Lessons possibly learned here are that large operations like Garmin can sometimes move in clumsy ways and can also struggle to express their intentions. But the fact we're left with is that many ActiveCaptain users are hungry for more choices in ways to use the data. Perhaps that, along with the new API and the strong commitment from Garmin's management, will encourage developers to show us new and better ActiveCaptain implementations.