Garmin & Navionics part 2, a close look at ActiveCaptain the app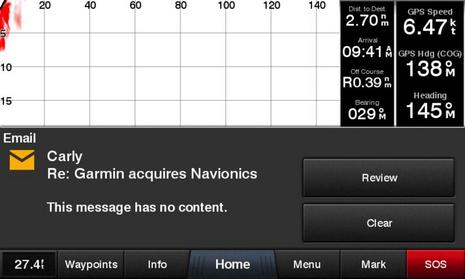 It's odd that I was writing about the Navionics Boating app's excellence at MFD integration when Garmin purchased the company and downright weird that the acquisition news arrived via a beta version of the brand new Garmin ActiveCaptain app that takes MFD integration to some other excellent places. For instance, have you ever seen phone notifications pop up on your helm screen while you're underway (if you choose)? The two apps are good news for lots of boaters as they are right now, but what fun to think of all their key features made into one…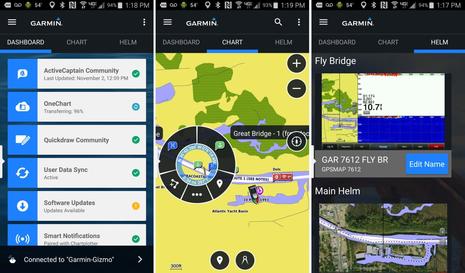 Let's start with a peek at the three major tabs in the free Garmin ActiveCaptain app, as seen above on my Android phone (click the image larger for more detail). The Dashboard offers a set of utilities like setting up the novel Smart Notifications, as well as familiar tasks like Software Updates that used to be much harder to do. Using and/or sharing QuickDraw crowdsourced depth data also got a whole lot easier, and more.
Meanwhile the Chart tab is very much like the BlueChart Mobile app Garmin introduced in 2012, except the weather features are not included (yet). On the other hand, the charts, which allow you to plan trips wherever you are now, cost nothing, as long as you already own the same area on a compatible WiFi-enabled Garmin display — a major feature called OneChart.
And finally the Helm tab is just like the standalone Helm app that has long allowed Garmin owners to view and control their WiFi MFDs with their phone or tablet when on the boat. In short, when Garmin touts ActiveCaptain as an "all-in-one" app, they are not exaggerating!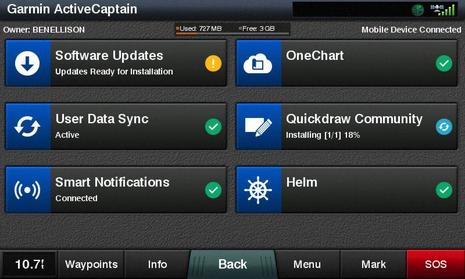 Here's what the new ActiveCaptain page looks like on a Garmin display, in this case a GPSmap 742xs. Note that ActiveCaptain the app is very much about integration of mobiles with Garmin marine electronics, and so far not particularly about the excellent ActiveCaptain crowdsourced cruising information many of us associate with the name. In fact, the app has been in development at Garmin for three years, and Garmin only acquired ActiveCaptain last May.
So while the info that's now called the ActiveCaptain Community is fully available in the Chart section of the ActiveCaptain app, just as it was in BlueChart Mobile (BCM), AC data does not (yet) appear on AC-enabled Garmin displays, and other aspects of the old AC, like eBoatCards, remain solely on the recently overhauled ActiveCaptain.com site. It seems very likely that more merging of the two ActiveCaptains will happen, but, for now, Garmin just seems to have used the good name.
The bigger picture: ActiveCaptain the app is a bundle of goodies that most every Garmin boater — cruisers, fishermen, racers, etc. — will want to have, even if they only use a few features. However, some setup work is required.
Installing ActiveCaptain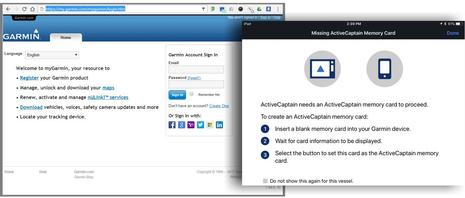 The years of development Garmin put into the ActiveCaptain app and hardware integration are probably why all its aspects have tested quite well for me so far, and Garmin also took the time to build feature explanations and setup guidance into all the platforms. Nonetheless, you have a few tasks to complete before reaching the AC happy place.
Besides simply installing the Android version of ActiveCaptain or the iOS version — already submitted to Apple and due any moment on iTunes — you'll need to remember your MyGarmin login credentials. You can also register a new account when you open the app, but traditional AC users should note that the email and password asked for are not the ones you registered at ActiveCaptain.com (though that may change eventually).
Also, once the app is running and you're ready to try the MFD integration, you'll need a blank SD card which the system needs as a waystation for all the data you may transfer back and forth. And make it a large capacity card if you plan to download lots of charts onto your phone or tablet — especially BlueChart Vision style satellite maps and aerial photos (yes, they work) — because the app will automatically copy such OneCharts to the AC card on your MFD in case they are fresher than what's already available on the boat system.
And you, too, may be pleased to find that some of your already owned charts will get updated for free once ActiveCaptain is fully up and running…but there is one more step.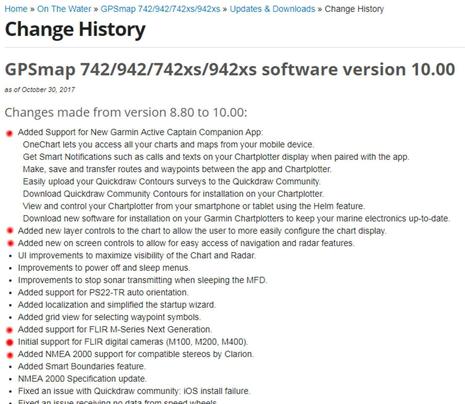 Making the ActiveCaptain connection is a horse-before-the-cart situation for boats with existing Garmin WiFi displays; you need to update the displays the old way before enjoying the new way. For my GPSMap test system, that meant downloading a huge 1.6 gigabyte file to a PC, unpacking it, copying it to an SD card — or buying the card — and finally installing it. It's tedious, and may take your home or office Internet connection, but relish what's coming – shown below.
And note in the GPSMap version 10.0 details above that Garmin did not just add support for all the ActiveCaptain features. The MFDs now also offer some valuable new chart and radar interface features, they support the FLIR M232 thermal camera and Clarion CMS4 stereo system I'm happily testing, and several bugs have been squashed. Which is why super easy ActiveCaptain electronics updating is great news.
Software Updates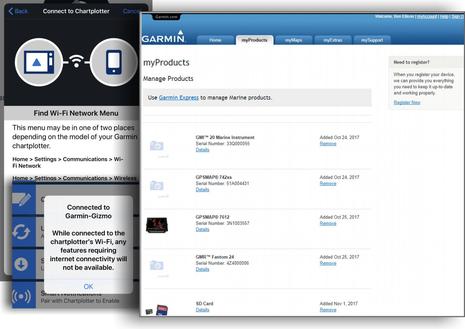 The magic starts to happen once your phone or tablet running the ActiveCaptain app is connected via WiFi to your updated-the-old-way (or new) Garmin MFD. The app will guide you about making the connection if needed (as shown above), and you will also get warnings about how some functions need you to switch back to a WiFi connection with the Internet. In fact, there's apt to be a lot of such back-and-forth switching at first, though the rewards are great.
For example, the bigger screenshot above shows that Gizmo's Garmin test gear is now registered at MyGarmin, which happened automatically because the MFD passed the details to the AC app which then passed them to Garmin's servers. Easy product registration is a good thing by itself, but those same servers now use the data to gather specific update files for Gizmo's system and send them back through the two-step pipeline.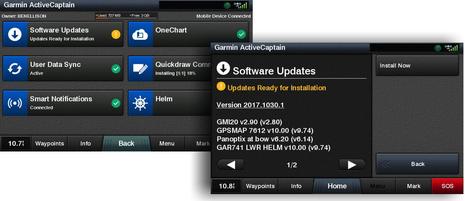 Voila! This update happened nearly by itself. While I had the ActiveCaptain app open on my iPad or phone, perhaps planning my next cruise, the update was automatically downloaded in the background (if the mobile was online). And the download file size was a small fraction of the 1.6 gigabyte SD card method, because it was customized. Then when I next connected to the Garmin WiFi on the boat, the updates file was again automatically transferred, and I would have been prompted about installing them even if I didn't open the AC pages above.
By the way, one AC integrated system can fully support two mobile devices. I can work with My Charts and do other tasks on either phone or tablet (and other AC app users can access my hardware as guests, if I permit).
Now, in a way, Garmin is playing catch up with this new software updating system. Navico, Raymarine, and Furuno already offer direct-to-MFD updating via WiFi, which can be even easier. But there's something to be said for the two-step method with a mobile as the intermediary (which I've also appreciated as part of Vesper's big Smart AIS evolution). Boat WiFi is sometimes too flaky for big downloads, and with apps like ActiveCaptain there's so much else available that the software updating just seems to happen.
OneChart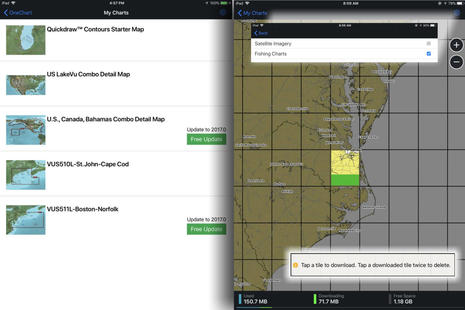 OneChart works in a similar way. Once you've gone back and forth between MFD and Internet WiFi, the Garmin servers and your app will know which built-in charts and chart cards you already own, in other words which OneCharts qualify for your My Chart list. Note that the two Bluechart Vision cards seen on my list above had to be inserted in the MFD during the process, but note also the free update for a card that's three years old.
Once your chart list is established, you can select any region/version and download data by cells. The cell I'm downloading above is from the standard built-in U.S. coastal charts and totals about 225 MB. The same cell from the updated Boston-Norfolk Vision card is about 440 MB because of its aerial photos, extra POI info, Fishing Charts and so forth. And If I enable Satellite Imagery in the chart download settings menu, the same single cell Vision file goes above 1 gigabyte.
Now it's easy to delete chart cells or stop downloads with a double tap, and the app page clearly tells you what's going on with your mobile's memory, but you might want to increase memory on your next mobile. It also may be wise to oversize the ActiveCaptain SD card since the charts you download copy there, too. If some free annual updates are available now — and the ActiveCaptain app also lets you purchase new charts for mobile and MFD — consider the fact that Garmin now owns the Navionics technology that updates its entire chart database every night.
Quickdraw Community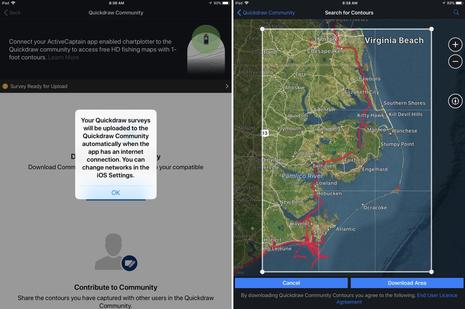 If you're still with me, it's probably obvious how ActiveCaptain makes Quickdraw user-collected depth information easy to display on your boat and to share with other fishermen, and/or with other cruisers who hopefully use it as a secondary reference to official chart data. Note that you can keep your own bottom data private while still downloading Quickdraw files shared by others, as I was doing on the right-hand app screen above.
It's good to see that at least one boater has already contributed Quickdraw data for the ICW section Gizmo will be traveling after some service work at Atlantic Yacht Basin, though shoaling hazards along the route are already well covered by the AC Community, the Waterway Guide, and the Salty Southeast Cruisers Net (my review of SSECN app here).
So I was particularly glad to see Quickdraw data for some of the tricky waters inside Cape Lookout that I hope to cruise for the first time, if schedule and weather permit. Heck, I'm hoping that good planning, charting and sonar tools, along with shared local experience, mean that a fairly deep draft boat like Gizmo can gunkhole up through Core Sound to Ocracoke National Park, and it's high time I use the same tech to help put some fresh fish on the boat menu.
The quantity of shared Quickdraw sounding data should certainly increase rapidly now that the ActiveCaptain app makes the two-step upload automatic (if you choose), but, wow, what does it mean that Quickdraw is now under the same roof with all the crowdsourced and other non-official bathymetry data collected in Navionics SonarChart? To be discussed.
EchoMaps & Strikers too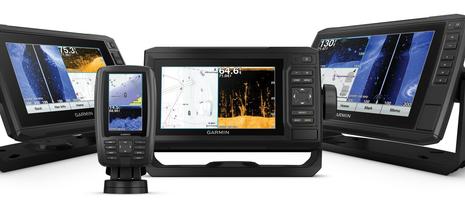 What I've been describing is how the new ActiveCaptain app integrates with bigger boat Garmin system like Gizmo's, but the company seems intent on offering the benefits across their marine line. So WiFi and AC compatability is included in almost all of the new EchoMap Plus plotter/sonar combos introduced last week and even in the new Striker Plus sonars (with GPS and Quickdraw).
That means a small (or budget) boater who purchases a 6-inch EchoMap Plus 64cv for $450 (plus install and transducer costs) will also get whichever of the phone/tablet features they'd like to use. That's quite a large chunk of added value, and another reason why I think that the ActiveCaptain app is a big deal.
Happy Ending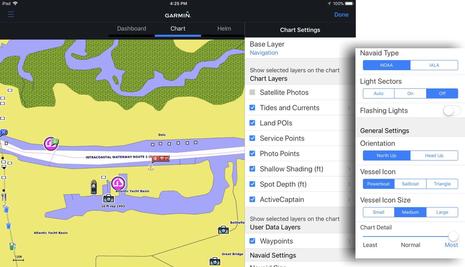 I'll end with illustrations of how I can now use the ActiveCaptain app to plan routes I'll use underway on Gizmo's Garmin helm displays, much as I've recently enjoyed using the Navionics Boating app's Plotter Sync with Simrad and Raymarine displays. On the iPad screen above I've got the AC app's Chart tab open and showing a OneChart area I downloaded, and the setting menus suggest a lot of flexibility about how the data is presented.
This happens to be a BlueChart Vision chart, but ActiveCaptain Community marina, anchorage and other cruising information shows on any OneChart or the app's basemap as long as it's been separately downloaded (with frequent updates automatic if you choose). Somewhat oddly, you cannot currently edit AC info in the AC app — you get sent to activecaptain.com instead — but I suspect that will change soon.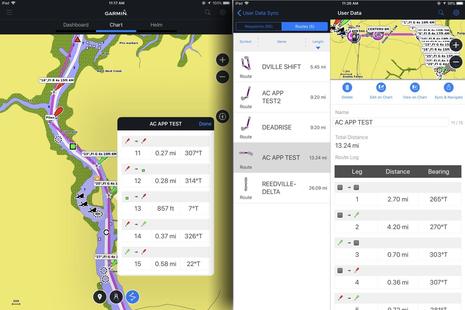 On these screens I've fingertapped a short ICW route which is then displayed in the app's User Data Sync section. Using Navionics' Dock-to-dock autorouting is a lot easier, especially in twisty areas like this, but, then again, I took advantage of a Garmin feature I've long liked: If you tap a waypoint on a navigation aid, the waypoint gets the aid's name and characteristics as its name, even the same symbol. The result is not necessarily a route you'd follow closely, particularly here, but it can be a useful reference about what to look for next and where.
Note upper right that if the iPad is WiFi connected to the Garmin MFDs, I could instantly Sync & Navigate this route to the Garmin MFD system — just like I learned to love with BlueChart Mobile in 2013, and still a somewhat awkward process with Navionics Plotter Sync. But with the AC app, all routes and waypoints are also auto synced to the MFDs.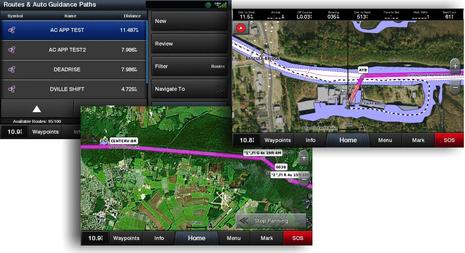 So now I'm building a list of easily-edited-anywhere Garmin routes and waypoints that's synced to boat electronics, phone, tablet, and probably somewhere in Garmin's cloud (GPX export/import is also built into the AC app). That's motivation both to navigate more carefully and explore more freely, and whereas similar app/MFD integration is also available via Navionics and Raymarine/Simrad, have we reached an evolution point in boat navigation?
Add all the other ActiveCaptain app features, plus the fact that Garmin's various charting and routing strengths will likely be abetted by Navionics' accomplishments eventually, are we at a turning point in the marine electronics industry? I'm not suggesting that any big brand is going away, but it does seem like the challenge has increased, and I suspect the lights are burning late at certain research and development centers.
It would be great to hear how readers fare with setting up ActiveCaptain — the Apple iOS version just became available — or any thoughts where these apps and the Garmin/Navionics pairing is headed.