Garmin's ActiveCaptain marine business plan looks good, plus Eartha

On Tuesday I drove down to Yarmouth, Maine, to meet some of the ActiveCaptain Community team at the former DeLorme headquarters building that Garmin now partially leases for inReach and cartography development. The key news is that Garmin recently contacted marine businesses to explain the three-tier business "ownership" and advertising plan they intend to roll out in late August. I think it's brilliant.
Garmin obviously took a cue from Google — no shame — with the concept that every relevant business on a largely crowd-sourced map deserves special status regarding the facts about their business, and that granting such status freely and easily can improve the data quality. So starting late next month, every ActiveCaptain Community (ACC) marina and business icon will get a Claim button that leads to an online form for ownership verification.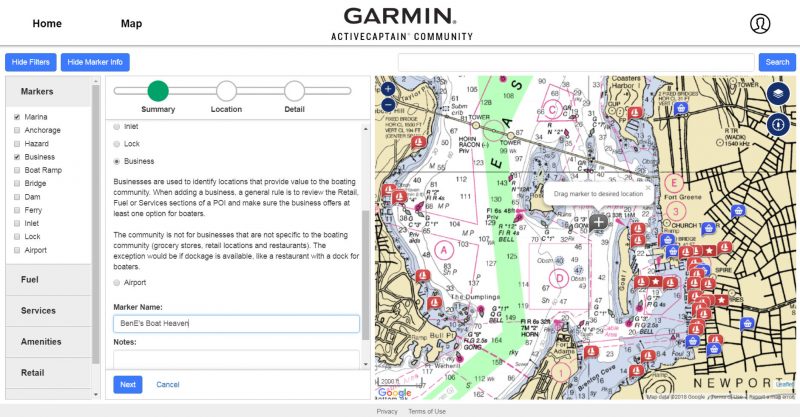 Marine businesses will also be able to create an ACC icon, as I began to illustrate above. Note that when Garmin rebuilt the ACC database last May, they separated out the marine businesses that used to be under the vague Local Knowledge markers and also tried to define what "marine business" means. I asked about restaurants and they responded with "only if they offer dockage" — the right answer in my view.
The "Starter" tier of the ACC business plan will be completely free, and thus an invitation to marine businesses to join the ActiveCaptain community regardless of their interest in becoming a Garmin advertising client. As you can see in the ACC Business & Advertising Tiers table at top, Starters also get to post one photograph — only accessible when the user is online, so no worries about bloated ACC data downloads — and that seems a welcome new ACC feature (that may well expand beyond marina and business markers).
All verified marina and business owners will also be able to respond to comments with their owner status noted, and it looks like Garmin will be encouraging them to keep their fuel, dockage, and mooring prices up to date. Isn't that potential for more accurate marina and business marker info, as well as more transparent handling of negative reviews?
How the Standard and Premium advertising is going to look on ACC is difficult to visualize, but it does seem similar to the old AC FirstChoice program, which I did not find obnoxious. Advertisers also get to show more online photographs, which reminded me of C-Map's often highly useful C-Marina Maps. It won't be quite the same, but I encourage marinas to use their image(s) option for any diagram they may have showing dock and slip numbering, fuel location, etc.
Garmin has not yet detailed what "affordable pricing" for the advertising means, but hopefully the bigger picture here is a concrete display of how the big company intends to monetize ACC without imposing users fees or limiting access to their own marine hardware and apps. In fact, they're arguably expanding access by bringing in marine business owners without charge, and the obvious route to increased advertising revenue is more boating users via many platforms and better information. 
I'm pleased to add that Garmin's primary goal for our meeting was to hear constructive criticism, and I believe I delivered. Actually they got a twofer as Ben Stein and I discussed a bullet list at length as I drove down. Our most radical suggestion is to rename the ActiveCaptain app to reflect what it really is (and how it really shines), like perhaps "Garmin Boat All-in-One App." We've both encountered cruisers who would likely be valuable members of the Community, except that they Googled ActiveCaptain, downloaded the ActiveCaptain app, and then got frustrated when it turned out to be designed for someone else.
The name change probably won't happen, but hopefully the confusing AC app description on the product page and at activecaptain.com — itself a misleading URL if Garmin really expects boaters to carefully differentiate AC and ACC — will be much better qualified. "All-in-One" turns out to "Nothing Useful" if a captain doesn't have compatible Garmin hardware, so why not state that clearly up front? Hurumpf!
And while it's progress that the main ACC page does now link to third-party apps and plotters that work with the new ACC database, why not a table showing more detail about them (like our ongoing ACC Guide)? I also lobbied for more profile information about Captains willing to share it — which is possible, though wiping all the old profiles had to happen — as well some sort of superuser status (Commander?) based on points and/or the valuable new Thumb's Up button on reviews and comments.
Volunteer ACC local guides, as supported on other crowdsourced sites like Google Maps and Yelp, might also be good. I find that this new world of easily shared information gets richer when you can get to know and respect individuals in the crowd. And it seemed clear that the ACC developers are thinking along the same lines. In fact, I remain very optimistic about the future of ActiveCaptain — meaning the community, the database, whatever works for you — because I continue to believe that Garmin's ideas and intentions will work out fine for boaters even if they are surprisingly inept at communicating them.
PS 9/7/2018: ActiveCaptain business claiming happened as Garmin promised and it works quite well. There's a lot of detail in the new AC Business pages, but I didn't need it to create a (somewhat goofy) POI for Panbo's Maine office and then claim it. I was accepted immediately (though I suppose a Community Admin could delete it) and put up a photo on my new Business POI.
David DeLorme's Eartha
Pictured below is the remarkable view just beyond the glass partitions of Garmin's offices in Yarmouth. That's because in 1997 David DeLorme devoted what must have been a sizable chunk of his mapping company's capital to building the world's largest rotating globe, dubbed Eartha. Why I drove by for next 20 plus years with only an appreciative glance through the DeLorme building's three-story glass facade, I can not fathom in retrospect.
Almost as soon as I stepped inside Eartha space, it felt like much more than a big globe. If there was a cartography cathedral, the altar might resemble this. The scale imparts a new sense of our planet and where you can get in close on the ground floor, you're apt to get mesmerized by the detailed mix of satellite imagery, shaded relief, ocean bathymetry, road networks and more. I wanted a hoverboard to peruse the northern hemisphere (though even more detailed DeLorme global mapping is available on the inReach Explorer+, the EarthMate app, and no doubt Garmin products to come).
So don't make my mistake. If you're anywhere near Yarmouth, Maine, spend some time with Eartha. And here's a big belated Panbo thanks to David Delorme, who also keeps Eartha open to the public today (if my understanding of the arrangement is correct). I plan to spend more time with the huge globe myself, and if it can be with the granddaughters, all the better.