C-Map's hyper harbor detail, & more charting/POI news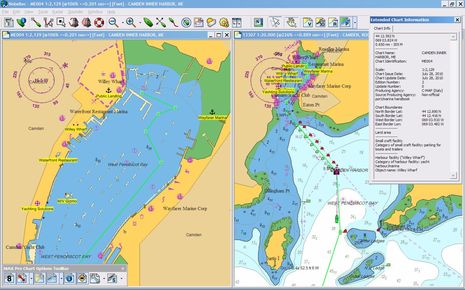 Testing Nobeltec Admiral 11 is going pretty well, and I'll write about it soon, but what really got me grinning is the latest C-Map Max Pro chart of Camden Harbor that came along with the trial software. I'm a long time fan of C-Map's C-Marina concept — in which cooperating marinas are charted in super high resolution — but in actuality C-Map's earlier attempts at Wayfarer Marine detail were seriously flawed. Well, not only is Wayfarer now exceptionally well depicted (with one major exception), but other improvements make C-Map's the best visual guide to my harbor's complexities yet created, I think. Please click on the image above for a full screen window as I explain…

As anyone familiar with Camden Harbor can tell you, C-Map now has Wayfarer's main docks accurate nearly to the individual ramp and float level and, most striking, they've charted all 32 of the private two-boat inner harbor mooring floats. They even put the slight skew in Gizmo's home float that you can see on a typical satellite photo map, which is probably where they got the information (incidentally, an adjustment to the northern mooring stone took the skew out last spring, but the sat photos haven't nearly caught up yet). While some critical harbor businesses like Willey Wharf are still mislocated — which I've corrected with yellow markers (head's up, C-Map cartographers 😉 — this is still the best Inner Harbor chart I've ever seen. And while I may be obsessive about Camden detail, it does matter.
In fact, that route I created in Admiral 11 is exactly the path some visiting yachts as big as 100 feet take before backing into the Public Landing, and that's got to be a hairy proposition for a skipper who's never seen the harbor before (and can't see beans from outside). And look at how beautifully C-Map charted the private aids we use to mark the channel between the two Outer Harbor mooring fields! That's exactly what they look like — 5 mph speed pylons with a series of un-numbered red and green lateral ball buoys — and a far cry from the way NOAA charted those aids. Could it be that C-Map was reading my Panbo rants about NOAA's work? Well, the 7/28/2010 Issue date associated with some of this "non-official port/marina" data" does correspond.
But then again, show me another electronic chart format that let's you see where and when details were sourced like that Extended Chart dialog box does, or another that graphically displays marina floats and slips the way thousands of C-Marina chartlets do. Note also how they've put little anchor symbols along the Special Anchorage boundary lines, more of which appear as you zoom in, making it obvious what the line is about. I don't know for sure that current Jeppesen C-Map chart cards, either Max or 4D, show these details on the MFDs that support them — like
Standard Horizon's
and
Geonav's
— but I'm guessing yes. (Though I understand that the C-Map core data being used by MapMedia for Furuno and MaxSea display does not include C-Marina detail, which is unfortunate, I think.)
At any rate, C-Map Max Pro's textual POI detail — which you can get by clicking on any of those magenta icons — is not great, so it's unfortunate that Nobeltec could not include Active Captain support in the version 11 software (though they had hoped to do). However, ways to use AC are expanding. Soon, for instance, there will be an Android app called HarborFinder,
preview screens here
, and a recent update to
Navimatics Charts&Tides iThing apps
lets you add and edit AC data as well as view it. As a guy who's gone
from whining about iPads
to using one every day, I have to say it's great for this sort of thing. I'm also looking forward to trying
Navionics new 1.0 HD app
, which is now out…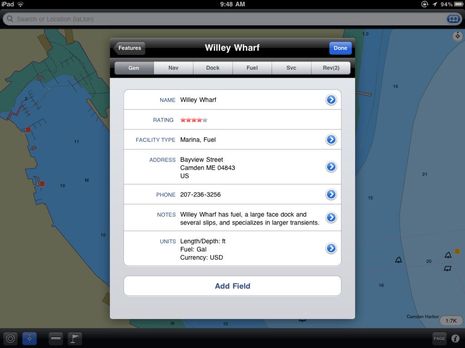 In fact not only are all seven nearly-world-covering Navionics HD iPad apps now at version 1.1, but all the regional PC apps are also out, which indicates that Navionics big 2011 transition is really on track.
User generated content (UGC)
, plotter sync, platform dexterity, and maybe even easy chart card data updates…all of which I wrote about for the January editions of
Cruising World
and
Yachting,
though somewhat tentatively
…
are happening. I downloaded the PC app for the Carribean and South America from
the Navionics Web Store
on Friday and I'm quite impressed with the level of coverage and ease of use.
That massive chart portfolio would have only cost $35 if I hadn't had a voucher, and apparently anyone who has a recent chart card covering that area will have free access to the PC app for planning purposes. I think the app — maybe along with a Navionics card reader — may also be the eventual gateway to getting data updates on the card. I wish Navionics had clear information on their site about what's happening, and specifically how the whole PC App download process works, but I can tell you that it went well for me on a Vista 64 bit machine (and it's supposed to be Mac compatible too). Click and gander (and perhaps enjoy as I did retracing my March, 1974, cruise north from Cap Haitien, which had NO nav aids then):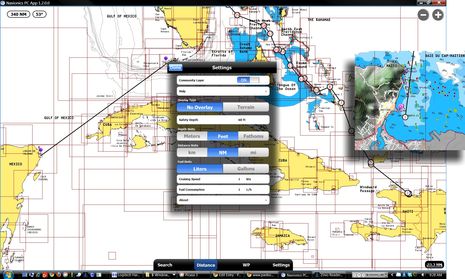 And that's not all! Guess which premier charting company is almost ready to introduce its 2011 edition (which was going to be its 2010 edition)? I've
poked fun at Rose Point Navigation's perfectionist ways
, but I'm also one of the many "beta testers" who've been following the evolution of Coastal Explorer with great enthusiasm. The latest download may still say Beta, but it is finally called CE 2011 and it is apparently a final release candidate, with a
new product description here
. Some day soon, when Rose Point actually asks all the beta users to pay for the upgrade, that will be money very well spent. .
Incidentally, C-Map Max Pro has a slick chart update facility, but so does CE 2011, at least in terms of NOAA raster and vector charts. Unfortunately that means I can see that neither versi
on of Camden Harbor chart 13307 has had the channel buoy mess corrected, even though they were updated recently. Sigh. If you look on the zoomed-in ENC at lower right below, though, you'll see the Wayfarer marina docks that aren't on the Google sat map yet and that C-Map missed (no cartographer has yet adjusted for the massive dredging). Note also the difference between Northeast Point at upper right on the ENC compared to the traditional shore line seen on the 13307 raster in the window above it. I tried hard to get NOAA to reverse that decision, but damned if the new 1:40,000 scale raster (upper left) doesn't also have the point as an island. It's certainly not a critical detail, but one day we will have to discuss how NOAA came to that faulty conclusion.