Nobeltec 9, lots'o'goodies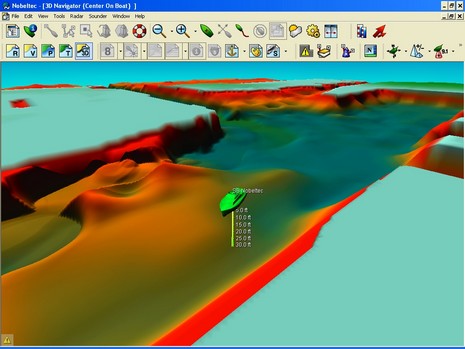 The above screen shot, full size here, is actually Nobeltec's Bathy Recorder, a "plus pack" option to Admiral and VNS 8 that Jeppesen Marine introduced last year. I've seen these results of a tester's survey of heavily dredged Port Everglades, and all the ways you can display it, demonstrated at a boat show, and it was quite impressive, though not inexpensive. But I'd neglected to mention this for so long that we are now seeing the arrival of Nobeltec 9! The press release went out last night, marking the start of the Newport Boat Show today (Admiral PDF here and VNS PDF here). Some highlights:
* Both Admiral and VNS will now display regular GRIB weather files and have new "Nav Info Panels" which can show strip charts as well as numbers. (All seen below and bigger here).
* Admiral also gets "AIS Filtering" (I don't know what that means yet) and now include OCENS WeatherNet.
* Admiral 9 can also support a new Plus Pack called Tender Tracker which integrates with Seetrac hardware.
* Either charting package can work with the new Sailing Plus Pack, which can display existing polars, build new ones, overlay laylines and wind info, and provide "basic instrument support for B&G and Ockam instruments".
* And either can support the new XM Plus Pack, which apparently integrates the WxWorx PC version of XM Marine Weather with Nobeltec.
So…wow…goodies for megayachts, racing sailors, and all the rest of us who care about weather (more detail and screen shots coming to Panbo soon). And we already know that Jeppesen/Nobeltec has been working with Simrad, and is also in a quiet period while it finalizes a deal to acquire C-Map. Looks like a really big year for these guys.