Hello Nobeltec TimeZero Odyssey, goodbye VNS?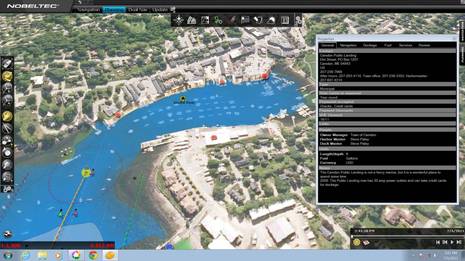 The great news is that Nobeltec rolled out TimeZero Odyssey last week, and the introductory price for existing Nobeltec VNS and Admiral software owners is a compelling $199, as seen at retailers like P2 Marine. Odyssey seems to be the same core charting program that I've been enjoying all season as TimeZero Trident, except that it can't integrate with radars, sounders, or video cameras (thermal or otherwise), and it doesn't support dual monitors, fuel management, or Nobeltec's Ocean Data Service (for serious fishermen)…
Now, I became a fan of Furuno radar integrated with the TimeZero PC charting engine even before I upgraded to Gizmo's Chart Table 21 rig. But the software involved — whether you go with MaxSea TZ Explorer or TZ Trident — rings in at well over $1,000 and you also need a Furuno NavNet3D MFD on board and running. Meanwhile, a major benefit of TimeZero is its gorgeous chart presentation, especially with MapMedia's high res and "fused" photo maps, all of which are free for U.S. waters. For instance, notice how nicely the screen above shows the moored boats in Camden Harbor, or check out the Odyssey video on YouTube.
One other caveat of TZ Odyssey is that it only runs on Windows 7, which I guess is an attempt to minimize customer support hours, but not a huge deal when these days you can buy a zippy Win7 PC for small money (like the 17-inch LED HP laptop I recently picked up). It also takes a fairly powerful PC to fully appreciate TimeZero, and it's getting pretty obvious that Nobeltec wants to impress and switch over its large customer base of VNS and Admiral users.
In fact, though I don't see a word about it on the Nobeltec site, the recent P2 Marine newsletter states that: "In other news today Nobeltec announced that during the spring of 2012 VNS/Admiral 9 and Passport Charts will no longer be available. Nobeltec will continue to sell and support VNS/Admiral 11 through 2014." I suppose some die hard users of older Nobeltec products may howl, but I think they've been treated pretty well since Nobeltec became part of the MaxSea/Furuno empire. I've also been running Admiral 11 this season and can attest that it's a solid program with good AIS and NMEA 2000 support, and excellent presentation of Jeppesen C-Map Max Pro cartography…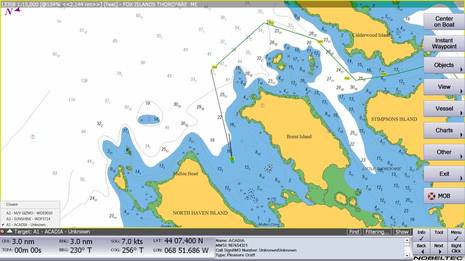 But even if I was running VNS or Admiral 11 — let alone an older and, hence by definition, clunkier version of Nobeltec's original charting software — I'd sure give TZ Oddyssey at $199 serious consideration.