CE 2009 hands-on #1; wows, confusions, and a gripe!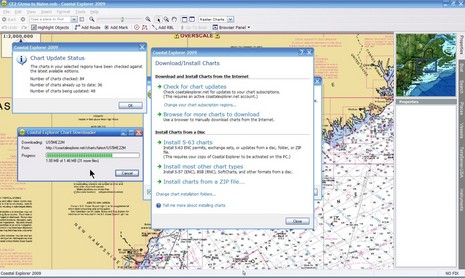 I spent some of this weekend installing and trying out Coastal Explorer 2009, and was thoroughly impressed. CE, also sold as Maptech Chart Navigator Pro, has always been an excellent charting program, in my opinion, and the 2009 edition is a worthy successor. The screen shot above, for instance, shows the slick new automated NOAA raster and vector chart updating routine (and the fact I was doing the updating while riding a train, via a Sprint EVDO WiFi server, suggests how possible online onboard is getting). CE 2009 also easily incorporated lots of Maptech data — photo maps, topos, harbor photos, and marina databases — that was already on my PCs. But CE's included Guide Book data, access to TerraServer photo maps and its new abilities to display Panoramio photos and CE user community POI info (photos included) make Maptech data somewhat less important. Which may be a good thing, in a way, as the relationship between CE's creator, Rosepoint Navigation, and the company that took over Maptech's digital chart business, Maptech Navigation, has gotten a little confusing…
For one thing, Rosepoint Navigation is letting anyone who purchased the original CE update to CE 2009 for free, which is very kind, but is charging $99 to update CNP to CE 2009. Meanwhile, there's a new edition of CNP, also with an update costing $99, but apparently "new" means the data, not the charting program. So I don't yet know what the deal is for someone who would like the latest Maptech data and the latest CE software (nor do I know the fate of the contour feature that was the one real difference between CE and CNP versions 1). I'm trying to find out, because I know there are others like me who want it all!
I'll definitely be writing more about CE 2009 once I actually get to cruise with it (soon, I'm hoping), but I'm already enamored with the new underway interface, the expanded data/instrument panels, and other useful improvements I keep stumbling on. But there's one added feature I strongly object to, which is the ability to filter out all Class B AIS targets. The program undoubtedly does a great job of plotting AIS, as well illustrated by Tim Flanagan, and the filter is off by default — as you can see below (along with CE 2009's superb ENC presentation) — but, in my opinion, it shouldn't even exist. As we've discussed before (like here and in the comments here and here), the notions that Class B targets are overburdening plotting screens and that ships can and will filter out these targets seems to be mythical. I'm quite willing to post rebuttals, but I have never seen a screen showing Class B overload and, to the best of my knowledge, CE 2009 is the only charting program or plotting device, recreational or commercial, that lets users filter out all Class B AIS targets. I think it's an unnecessary and dangerous option, and I'm frankly amazed that Rosepoint would risk the liability involved.
PS. I'm told that Chart Navigator Pro will not be updated to include the new features of CE 2009, which is a bit of a bummer. But CNP will get an update of its own later this year. In the meantime, you could update CNP to CE 2009 as mentioned above, plus get the 2008/2009 CNP disc set for the latest data, but you will lose CNP's contour view. "You can't always get what you want, but…"