Class B AIS transponder for $500, maybe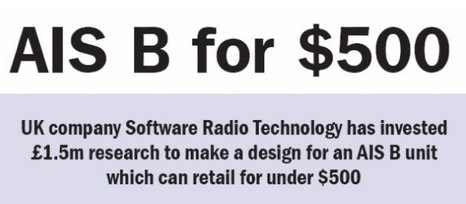 So goes the headline in the Nov. issue of Digital Ship (click on link in "Navigation" section, and thanks, Raye), but there's something odd about this otherwise very intriguing proposition. For one thing, SRT's business development manager doesn't seem to think that Class B transponders will make boating safer:
"Using Class B as an anti-collision device does not make a large amount of sense, he points out – ship owners can see if they are about to hit something much easier by using their eyes than by trying to make sense of a screen with 1,000 vessels on it. 'The vessels will look like snow on the screen,' he says. 'Its not going to have any practical use.'"
Perhaps I'm just in a skeptical mood, but I wasn't surprised to learn at SRT's site that's it's just become a publicly traded company.