Data bridging, a good thing
It may seem nuts that the Raymarine E-Series can input/output data via good old NMEA 0183, SeaTalk (Ray's proprietary improvement on 0183), SeaTalk2 (actually NMEA 2000), and SeaTalk HS (actually Ethernet)…but it's a darn good data architecture. For one thing, there are situations where every one one of those protocols will be used to usefully shuffle info around a boat. Plus the E's (and C's) do something called data bridging.
I can't show you where Raymarine has put it in print, and I've only tried a couple aspects of it, but my understanding is this: If data of a particular type, say wind speed/dir, comes in on any port but is not present on one of the higher level networks, it's translated into the proper protocol and sent out on it, if possible. Thus everything collected on 0183, SeaTalk, and N2K (plus radar, fishfinder, and charts, though not video) goes out over Ethernet. That means installing added E-Series displays only takes a single data cable, plus you can get all the dope on a PC running RayTech. It also means that your old but trusty 0183 (or SeaTalk) wind sensor should show on your new N2K display, or any software running on a PC with a N2K gateway.
Now several multifunction systems use Ethernet like this, bridging up data that comes in via slower, simpler protocols, and Furuno offers a similar proprietary PC interface with MaxSea. There have been improvements, too, like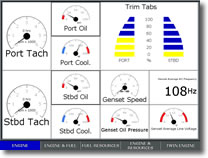 hubbing radar to all displays (Garmin, Nobeltec, and Northstar 8000i) so the system is not dependent on one. And I think Lowrance and Simrad both bridge 0183 data up to N2K; I know that Simrad has a better NMEA 2000 management interface than Raymarine. And, yes, Ray's single 0183 port can cause problems (as now being sussed out at Navagear). But—I'm sure you can see where I'm going with this— until Garmin seemed to include NMEA 2000 in the 4000/5000 series, nobody but Raymarine offered such a flexible data architecture.
PS. The little screen is from a page illustrating many recent updates to Ray's C-Series software, apparently including support for Bennett's N2K trim tab display. Nice!