Digital Yacht TriNav GPS160 & NMEA 2000 MoB buttons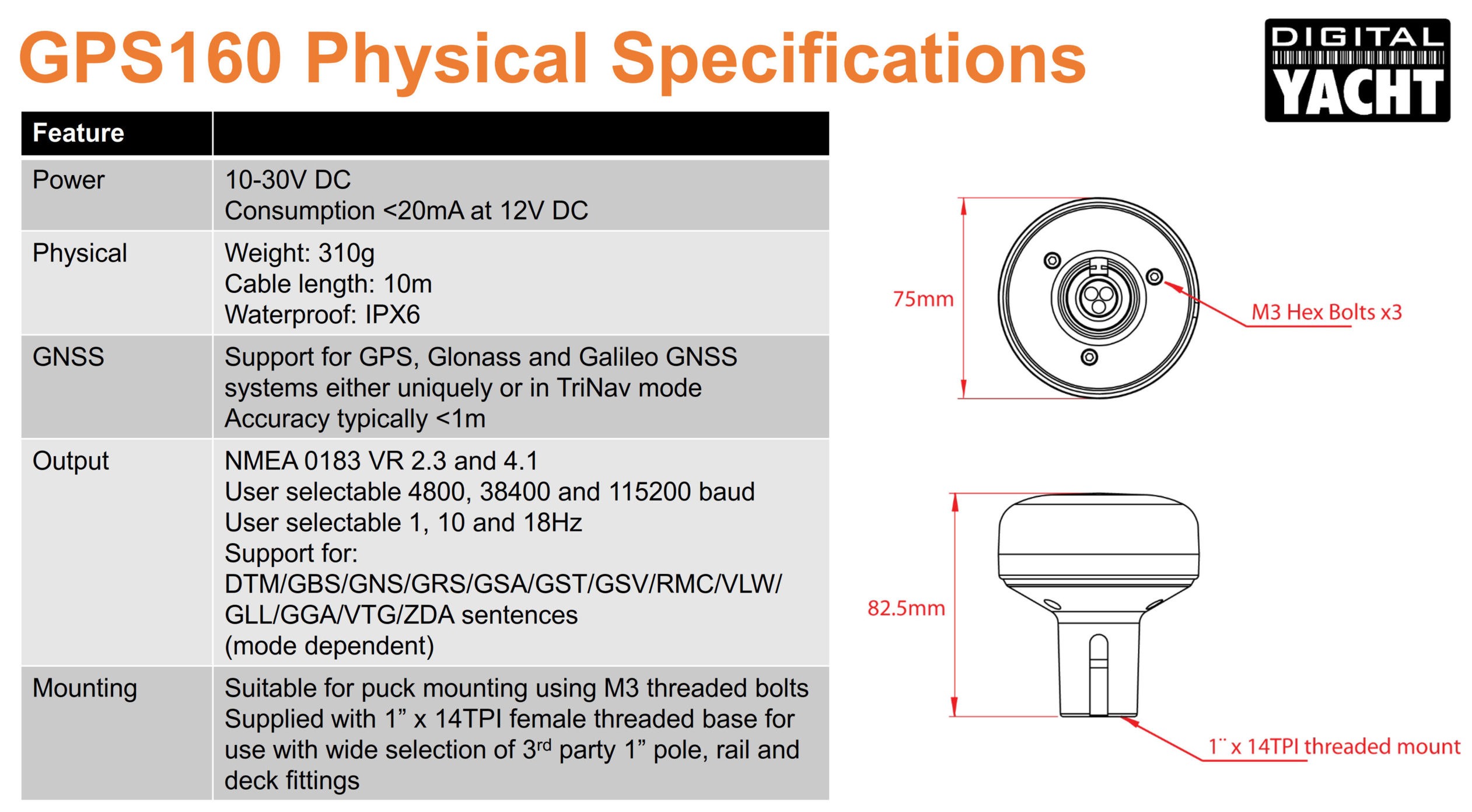 When Digital Yacht announced their TriNav GPS160, I was impressed with the details. For starters, it offers high-performance GPS for $190, and it can integrate with most any navigation electronics environment because it has numerous interface options and its various user-selectable settings are done internally with good old DIP switches. But the cherry on top is support for a manual MoB alarm button that should work with most any current multifunction display, along with some PC charting programs and mobile apps.
In fact, Digital Yacht is using the specific AIS SART/MoB message that's standard in NMEA 0183 and NMEA 2000, and therefore all the major brand MFD's I've tested with actual AIS MoB beacons should pop up an MoB alarm when a crewmember pushes the wired GPS160 button for three seconds.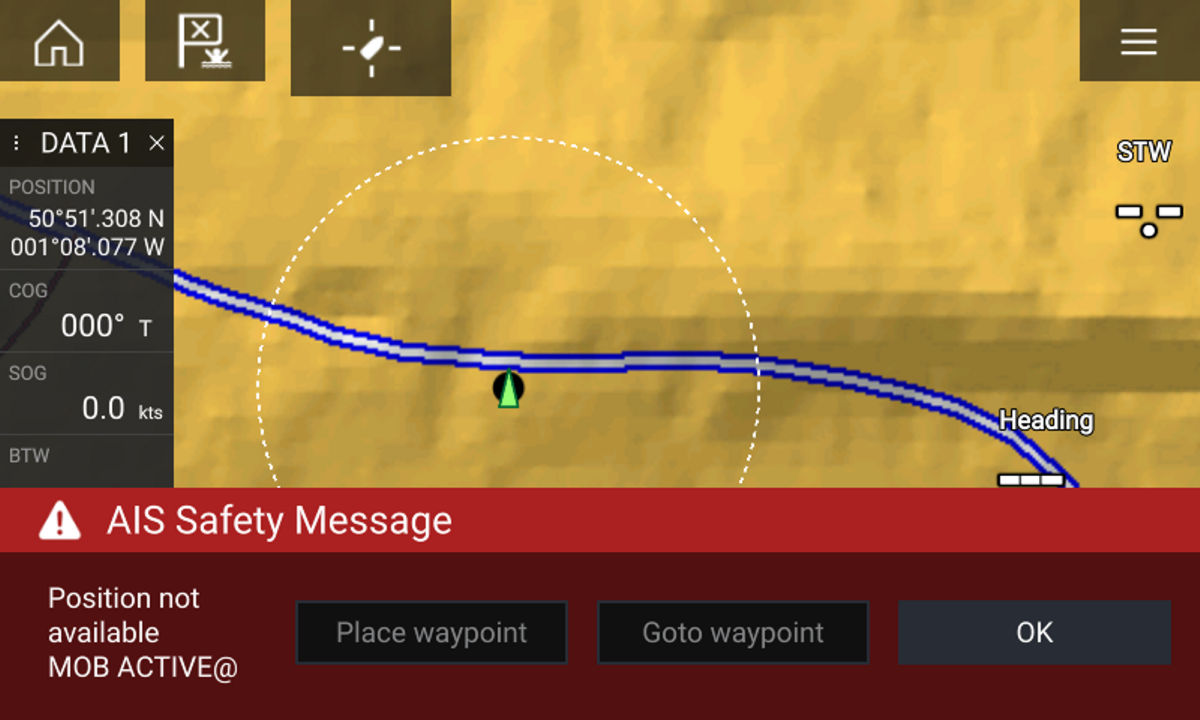 Here's an example of an MoB alarm triggered by the TriNav button on an Axiom MFD, though apparently it was done deep inside the Digital Yacht offices with poor GNNS reception. Otherwise, the MOB ACTIVE position would be the boat's position at the time of button press — presumably with the TriNav's 1-meter precision and super-fast refresh rate — and the Axiom could place the waypoint and/or set it as a GoTo with just one more button press.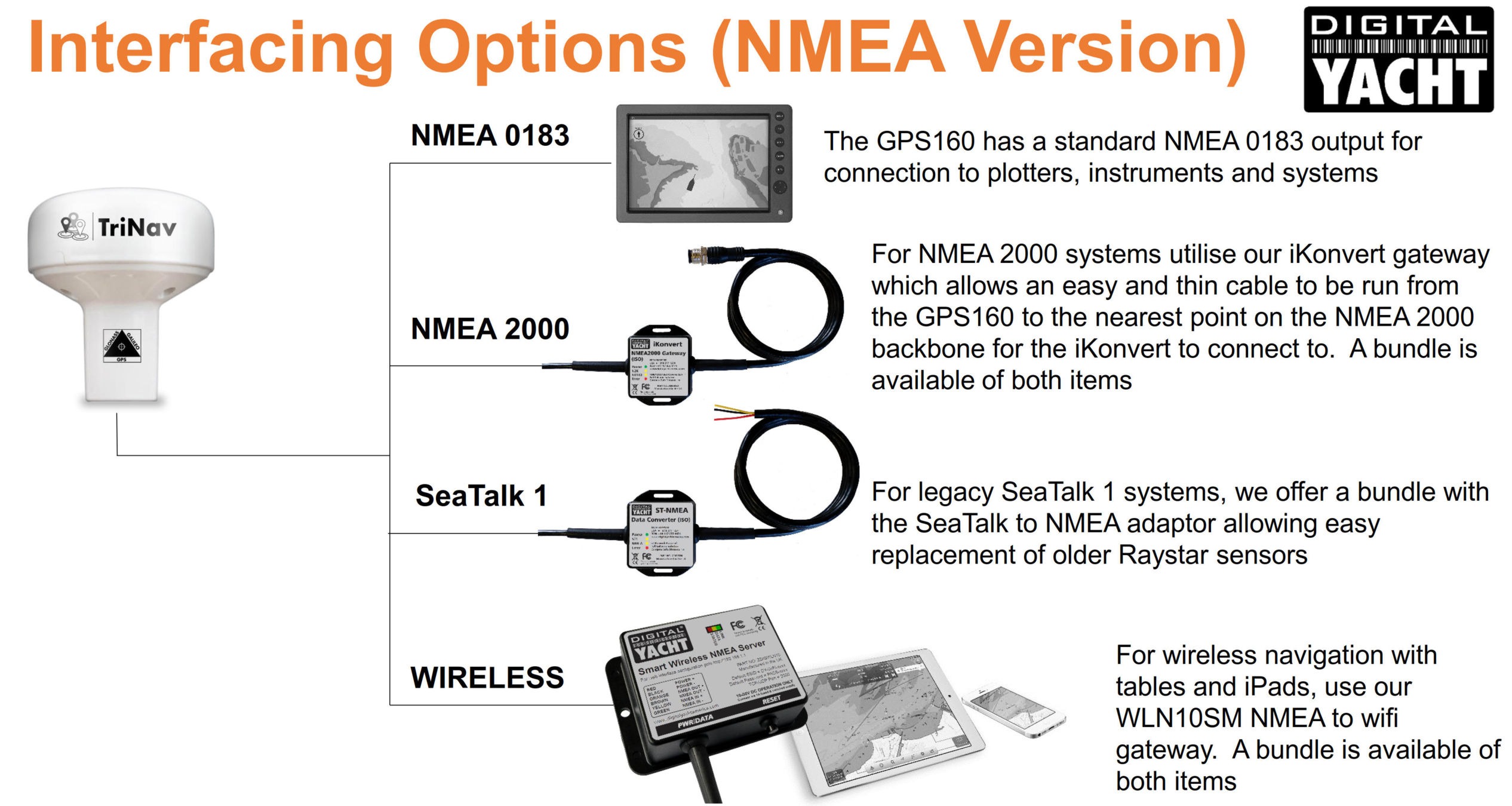 Because the TriNav GPS160 outputs NMEA 0183, distributing its GPS and MoB output over a boat's NMEA 2000 network requires DY's iKonvert gateway and the total cost (below) goes to $330. And while this may seem like a complicated way to go, there are benefits.
For instance, the GPS160's 10-meter cable is fairly thin and will not affect the cable and connector design of the N2K network the iKonvert connects to (much like the LCJ Capteurs ultrasonic wind sensor that's been working well atop Gizmo's mast). Moreover, it would be awkward to include the MoB button wires in a TriNav with direct NMEA 2000 output, which is probably why the GPS160 USB version does not.
So also given possible Raymarine SeaTalk and WiFi interfaces — the MoB alarm should work with apps that understand the AIS MoB message, but it may not be included in SeaTalk — the TriNav is a whole family of products. But that's become Digital Yacht's design philosophy — well illustrated in the new DY Product Guide PDF — and it seems especially valuable for boats with multi-generation electronics.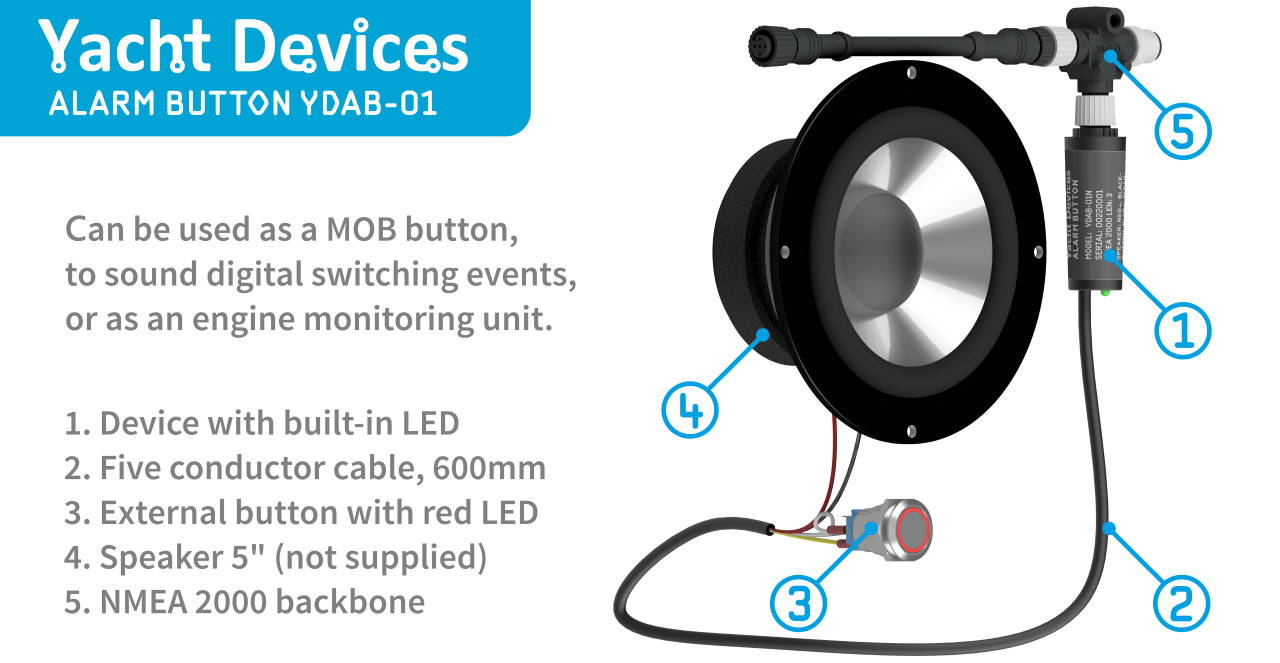 One reason that I'm highlighting the TriNav's MoB button is a Panbo Forum discussion about the difficulties of doing it over N2K. It turns out that while the standard MoB notification PGN 127233 has been out for six years, very few MFD manufacturers (maybe just Navico) support it yet. That's why Digital Yacht is using the now well supported AIS MoB PGNs — actually "Class A Position Report PGN 129038 with MMSI = 972000000 and Nav Status set to 14 plus the Safety Related Message PGN 129802 with the right AIS MOB text."
And it looks like Yacht Devices made the same choice with their very interesting YDAB-01 Alarm Button. Otherwise, the YD brings a totally different design approach to the problem, and I'm hoping that our resident YD expert (and U.S. distributor) Ben Stein will explain that in detail. The cool bottom line? There are at least two ways to install a NMEA 2000 MoB button on your boat.