EarthNC: routing, NEXRAD, & Baron XMWX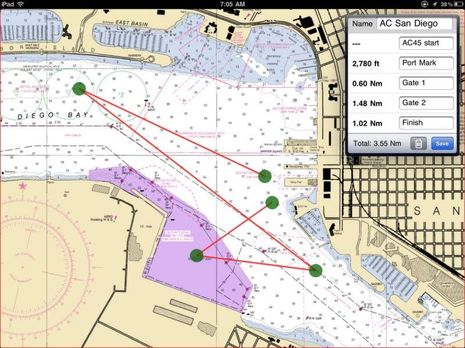 I use the iPad version of EarthNC fairly often because I still like how it can overlay and detail NOAA weather buoy and forecast info, a feature it had when I first tried it. I also like how the quilted NOAA raster charts look on a pad (but then again I'm an old guy). Now EarthNC has added a pretty full featured route-making routine to its iOS version, as I tried to illustrate above by laying out the San Diego America's Cup course I'll be seeing up close later this week (I'm so excited). Note how I was able to easily type in waypoint names, and what you can't see is how easy it is to move one, or delete it, or add a new one along a track line…
Another nice feature for when you're making real routes of some distance is that EarthNC can download and cache charts based on the route instead of a rectangle you specify. The main gripe I have so far is that once you save a route you can't get back to that edit screen (unless I've missed something). But you can get the program to guide you along a route, or just show the waypoints (with or without labels), and you can also export it as a .gpx file. I haven't tried that extensively, but was pleasantly surprised to find that clicking on the AC gpx on my PC got Memory-Map to download the San Diego NOAA chart and show the "route" with all names intact. Coastal Explorer 2011 also imported the route without damage.
Plus EarthNC added NEXRAD overlay recently. It's not animated yet, but it's still useful and, yes, it certainly did rain some on the Fort Lauderdale Boat Show. I gathered there that one of EarthNC's next projects is to enable easy route synchronization between its phone and pad apps (there's even a free Android version) and its free online chart viewer. In fact, all the charting apps are getting better and better. Actually MemoryMap's iOS app already has a very nicely designed routing facility and they are editable after the fact. And I'm getting the idea that Coastal Explorer is going to get some sort of iPad relative eventually, which should be interesting.
But I'll close by noting that EarthNC is the first third party app to take advantage of the new Baron Mobile Link I first saw at NMEA. So the NEXRAD overlay you see on the iPad below is quite different than the one above. It's coming down from the XM satellites instead of over the Internet and so you'd still have it — and lots of other Baron data — over in the Bahamas or out in the deeps. It's yet another example of the many ways mobile devices are integrating with marine electronics, and a particularly good one of how it can look simple on the surface — like live weather wherever you go on the same app — while it's pretty darn complex under the hood.