Ebikes for boats, learning from a Sondors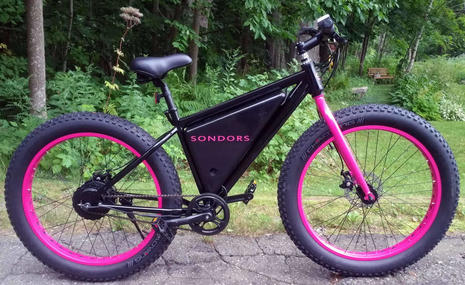 Folding bikes seem great for cruising boats. You can extend your sightseeing, fetch supplies, or simply get some rolling excercise. But I've wondered if a compactable electric bike could be even better and more fun. While that manly beast above is certainly unfit for stowing on even a mid-sized trawler, it's led me to love the ebike concept and taught me what a good one may look like for my cruising situation…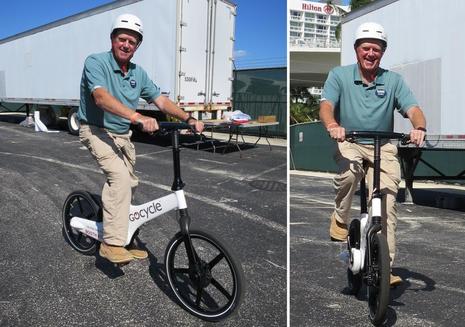 My first ebike experience was a brief test of the Gocycle G2 at the 2014 Fort Lauderdale Boat Show and that Panbo entry attests to how dangerously tempting I found it. While the super light and stowable Gocycle seemed to offer the pleasant feel and mobility of a regular bicycle, it was easier to use even when not tempted to add a smooth electric boost. And, mind you, that old grinning guy above was hobbling around the show on a soon-to-be-replaced arthritic hip (oversharing here).
But Gocycle, like Tesla and Torqeedo, is a company that's prioritizing innovative epower engineering and beautiful design over price. The latest G3 model costs $4,499, and that's before you add some of the accessories desirable for boat use. There are many other folding ebikes out there, but the huge design variety confused me and they all still seemed expensive, especially if I wasn't positive that I'd use one a lot. So my wallet stayed put, at least until Brian Strong (of tricked-out P47 fame) told me about the Sondors phenomenon last July.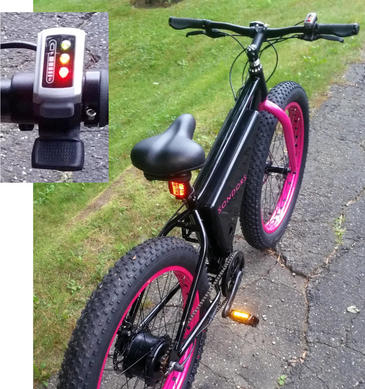 The Sondors Kickstarter project had gotten nearly 2,000 backers, and by the time I heard about their very nicely priced fat tire ebike — $694 with shipping — there were many thousands in use and mostly favorable reviews (like here, here, and here). Brian, an experienced road biker, was already pleased with his newer Sondors Thin model and I went for an Original 4.0 "special" that are still available for quick shipment (in limited color choices ;-). I knew Sondors offered no warranty and hardly any service, but you're seeing many decent bike and ebike components in these just-assembled photos, and the Sondors owners Facebook page is arguably more valuable than many customer service operations.
The photo inset above shows the simple lever throttle and battery level indicator that came with my Sonders, but like many ebikes it also has a pedal assist system (PAS). What it does not have is a derailleur. This 60-pound monster of a bike is single speed, which would normally make it ridiculous for a hilly area like mine. But I've learned that ebikes don't abide by normal rules; further inefficiencies like a heavy steel frame and big soft tires don't matter as much when a motor quietly fills the gap between the energy needed and what you're willing or able to expend.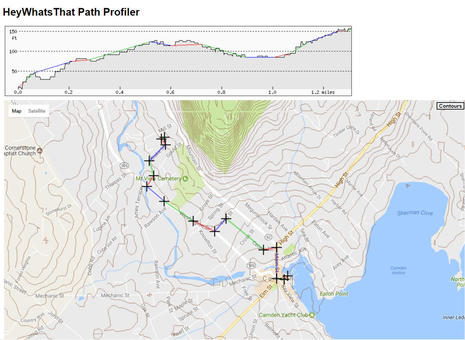 For example, on Maine's occasional hot muggy summer days, I could usually ride the mostly uphill mile plus from Camden Harbor to Panbo HQ quite quickly without breaking a sweat. (Make that about 150 feet up over 1.3 miles according to the nifty HeyWhatsThat online path profiler seen above.) In fact, I was often zipping through downtown tourist traffic quicker than by car, felt quite safe about it, and got some exercise in the process. Plus, it's a blast, and that's largely why I'm still riding on "warmer" winter days. The question now is how my Sondors experience translate to an ebike that can fit and survive on a Duffy 37 named Gizmo?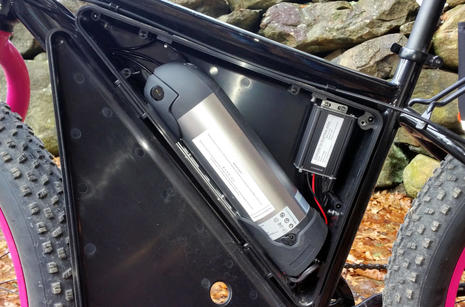 At least for Camden and similarly curvaceous ports of call, I'd like a little more epower than what's provided by the Sondors' stock setup and also a few pedal gears. As is, I can't quite pedal at the speeds I'm sometimes comfortable with on flats and going down hills, and I struggle getting up some grades even at full throttle. To be specific, I have to stand-up pedal if the grade gets to about 16% (or 9° slope, as measured with a phone app), and I've worked out local routes to avoid them, as suggested on the path profile above.
Now there are many factors involved in how powerful an ebike will feel for a particular person in a particular situation, not least of which is my personal 200 pound bulk plus the "stuff" I tend to lug to the boat or from the store. I also keep the 4-inch knobby tires at low pressure to cushion the ride and better deal with potential issues like loose gravel on road shoulders, though they're definitely more efficient when pumped up. I'm asking a lot from an already-heavy single-speed ebike with a fairly minimal 350-watt rear hub motor, though I have already improved its effective power and gotten 5 pedal assist levels with LunaCycle's $100 combination of "Hot Rod" controller and LCD DashBoard (which seem very similar to what Sondors now supplies on its regular to-order bikes).
Ebike hot rodding? While electric bikes may still be a small but growing niche here in the U.S. — it's bigger in Europe and huge in China — there's a vibrant world of do-it-yourself designer/builders and more than a few of them become manufacturers. For eye-opening examples, check out this 10 Fastest Production Ebikes 2017 list. Note, too, that Sondors' success is partially due to the spacious electronics compartment seen above, which makes it easy to try different batteries and controllers, and then that success led specialty shops like LunaCycle to offer all sorts of specific Sondors upgrades (Velomobile too).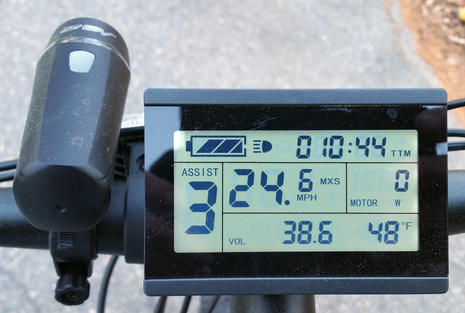 As I shop for a boat ebike I won't settle for much less than what the LunaCycle LCD dash provides (good demo video here). Using the three button keypad, I can select the pedal assist level that suits my mood and also one of three data screen layouts. While it's fun to have speed, time, trip, odometer, and even outside temperature readings, I think that at-rest-voltage is critical to acquiring a precise sense of battery range, and seeing the realtime wattage burn is also useful to understanding an ebike's capabilities.
Incidentally, I have not yet tested the real range of this Sondors with me aboard. Actually, I hope to avoid that completely as getting home in these hills with one gear and a rear hub motor that drags a bit — front hub motors like Gocycle's freewheel — would not be fun. And with that I'll add that some riders get ebikes that fold up mainly so they can Uber home if they run out of juice.
Unfortunately, and perhaps an occupational hazard, I can picture how much further ebike dashboards could go. An integrated color screen with GPS plotting on road and/or topo mapping would obviously be nice, but how about an indication of range based on battery level and current wattage use? It's a bigger challenge on land, but that's what made Torqeedo electric outboards like my long test 1003 more relaxing to use (and it also has a Bluetooth app interface in addition to what's available on the tiller).
And while some serious exercise bikers frown on ebikes — I sometimes apologize when I pass one on a hill — it seems like they could also neatly measure the human energy involved. For instance, most pedal assist systems are based on magnet-measured cadence, which is the same value collected by the Garmin bike sensor that I could have talking to the Quatix 3 watch I'm already using along with Garmin Connect to track my rides. Moreover, smoother performing pedal assist systems, again like the Gocycle G3's, use a torque sensor which would be an even better measure of calories burnt, I'm pretty sure. These are just some of the ways that ebikes will likely improve, though I'm glad I didn't keep waiting.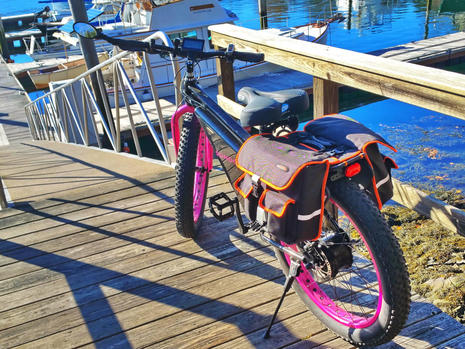 Here's a shot of the pink beast fully accessorized to my "needs" and posed above Gizmo's fall berth. I'll note that I was not at all tempted to go down that low tide ramp, though fat ebike craziness is a possibility. At 70 years old, crashes are a bad idea, which is largely why I like the big tires and also how the epower helps me get going from a stop sign or keep up in slow traffic. Safety is also why I added the Blackburn Multi Mirror and LED lights I can set to strobe (which I'd like to upgrade, maybe even to Lumos).
Meanwhile the Ibera PakRak and 2-in-1 Panniers speak to the utility this bike has, while that Barcalounger of a Cloud 9 Cruiser Saddle is all about comfort. All in all, I'm still under what is affectionally called a "boat buck" and riding this Sondors reminds me of what biking meant when I was about 12 years old as well as a dash of tooling around in a squishy old convertible like a '59 Caddy.
Boat ebikes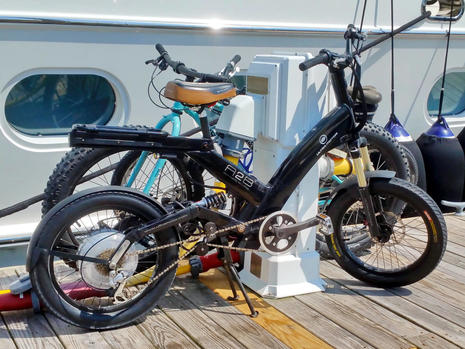 So I'm nearly ready to invest more funds in an ebike that could stow in Gizmo's aft cockpit, but there are many potential choices and none will be quite like the Sondors I'll probably pass along. On the other hand, that collection above could be one boat/ebike nut's fleet and I understand that mentality. I really don't know as I took the photo from a launch at the Northeast Harbor Marina — an excellent place to bike for food and fun — but that older A2B Metro certainly has some pizazz.
I particularly notice the full suspension, and I understand that bikes with 20-inch tires are inherently rougher rides simply because less tire is on the road. However, this bike does not fold and weighs 72 pounds — it was a large yacht — while I prefer the moorings at Northeast and envision an ebike I can sometimes get ashore in Gadget.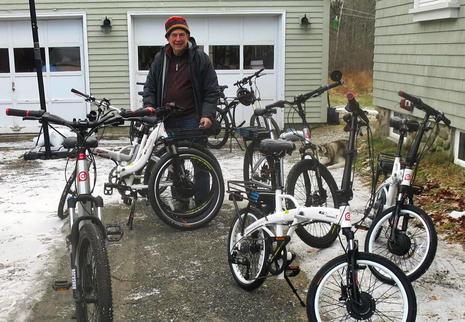 An ebike show would be useful in my situation, but so far I just feel super lucky to live a short walk from no less than Atomic Tommies. That's the enthusiastic and knowledgable Tom Resek himself and he'd kindly rolled out some stock to show me on a recent frosty day. He mostly sells (and rides) ebikes from the wide Prodecotech line, and here he was showing me the Stride 300, unusual because it's a folder that retains the full 26-inch tire feel. That might fit OK and I'm also attracted to the step-through — as opposed to swing creaky leg-over — frame design.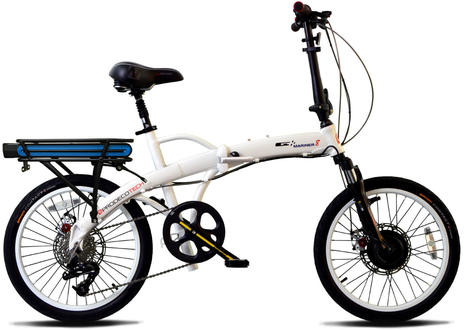 I also took a short spin on a Mariner 8, a true boat ebike with numerous noteworthy features at a price I've come to think of as fair outside the nearly inexplicable Sondors bubble. I appreciate how Prodecotech is more specific than most about what "rust-resistant" means — though I may bring along a magnet when we get around to warmer weather demos — and also the "industry-best, two year, front-to-back components warranty," especially with Tom in the picture. I found the mariner easy to figure out and it rode fine, all despite the unfamiliar forward motor position and lack of pedal assist, but the feel is a far cry from the Sondors. In a word, it may not be "beastly" enough for my taste.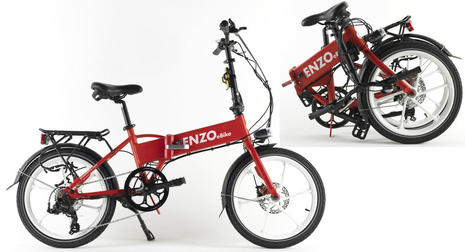 But there is the shopping wisdom of trying to suppress "taste" urges and maintain an open mind. The Enzo ebike is rated one of best folders at ElectricBikeReview, which seems the most industrious of several review sites. It too is "marine ready" — note the magnesium wheels — and I find the wide folding frame member that also holds the battery and controller clever. Plus, hey, there's a wide choice of glow-in-the-dark paint jobs, pink included.
While it's no surprise that EBR's other winning folder is the elegant though pricy Gocycle G2, know that "The Affordable Gocycle" Kickstarter project went very well, which suggests that a retail GS model is not far over the horizon. The more I learn about Richard Thorpe and his crew, the more impressed I am.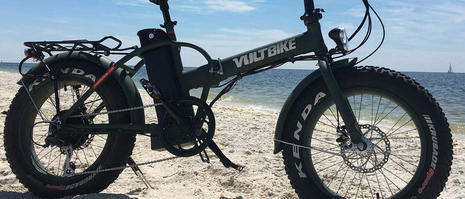 But currently I'm drawn to these bad boys, the VoltBike Mariner above and the Rad Power RadMini below, and by now I think you know why. Hopefully, you're also better able to decipher the major specs and minor details, and a convenient place to start is this impressive EBR comparison page. The Volt is looking like a better value at this point, and small details like front and rear lights both run with the dash off the main battery impress.
But then again the Mini's rear rack extends for long loads and that beastly 750w/48v/11.6ah power system should mean longer range and the choice of assist or pure scoot modes regardless of grade. But I'm not in hurry, the next cruise south is many months away, and perhaps this entry will generate more leads.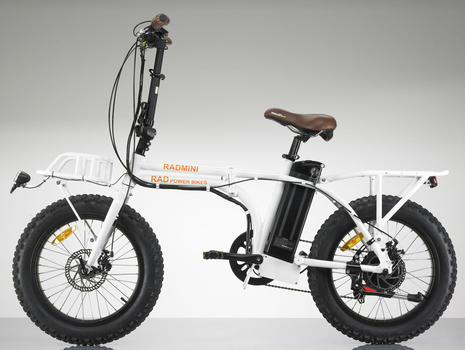 Finally, I tried to detail the Sondors performance in depth because I think it's still an valid choice for a terrestrial ebike, especially if your area is flatter or if you're somewhat smaller and/or stronger. By way of scale, my athletic friend and relative Jared is 5 feet tall and could just barely stand on tiptoe when stopped. And, yes, I certainly should have fitted him with my helmet before his first ebike ride, but it was just a Thanksgiving holiday moment and a quiet, though steep, dead end street. At any rate, he took command of the bike almost immediately even though his 95 pounds meant significantly more power where the rubber meets the road. And that grin, my friends, is a straight up fat ebike joy.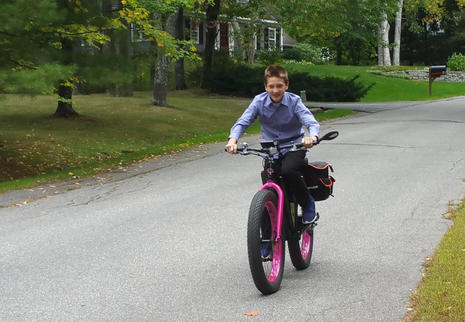 PS 1/3/2018: My search for a folding ebike got easier when Sondors introduced the Fold X model with more power and a 7 gear option, and so the yachty-looking beast below traveled south in Gizmo's cockpit protected by a custom cover. It's been a blast for exploring various port towns and can also carry a significant load of groceries. I can even get in ashore in the tender (very carefully), but I do wish it weighed less. I plan a full review eventually and will also discuss the hyper modern Flash ebike I'm now riding at home. (Yes, I may have a new addiction.)