Fuel management 3, Yanmar & Raymarine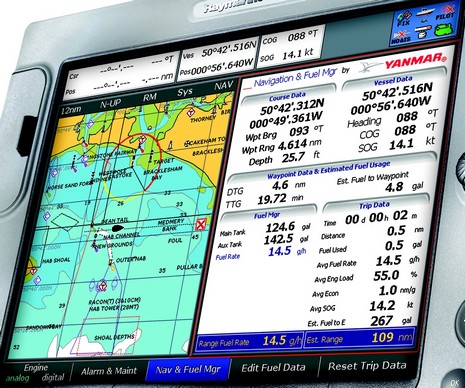 Demonstrated at the Miami Boat Show, and scheduled to ship this Fall, Yanmar's Smart Check looks like a gem of an engine monitoring system. You will need to have one or more Yanmar diesels with electronic interfaces and a NMEA 2000 connection to a Raymarine E-120, plus about $800 for the software (loaded into the E from a CF card), but, wow, you even get detailed alarms with trouble-shooting suggestions, and a maintenance log with reminders. And of course the gauges are complete and handsome, as you can see in this press release. But I want to focus on Smart Check's fuel management features, which are the most sophisticated I've seen so far.
Check the bigger image for not only the fuel values we've seen in other systems but additional goodies like "Est. Fuel to Waypoint" and "Avg. Econ" (nm/g). What you can't see in this image, because the chart in zoomed in too far, is the dynamic graphical representation of Est. Range, at this flow rate a circle around the boat with a 109 mile radius. Note that Yanmar's fuel flow data comes right from the engine ECUs and hence is likely more accurate than even the most carefully calibrated flow sensor. Note too—the math is easy at 1.0 nm/g—that Smart Check's range calculation gives the skipper some reserve in the main tank, and doesn't include the auxiliary tank. Conservative! The system designers also took care with the issue of calculating remaining fuel. Underway, it's done using flow, as I'm seeing with most experienced manufacturers, but when you fuel up you get a clear choice of adding to the flow-based figure or reverting to what the tank level sensor thinks, seen below and bigger here . My hope is that Yanmar will develop this cool software to run on other multifunction displays, and that other engine manufacturers will follow suit.