Furuno and Suzuki Partner To Put More Fish In Boats With High-Precision FishHunter Drive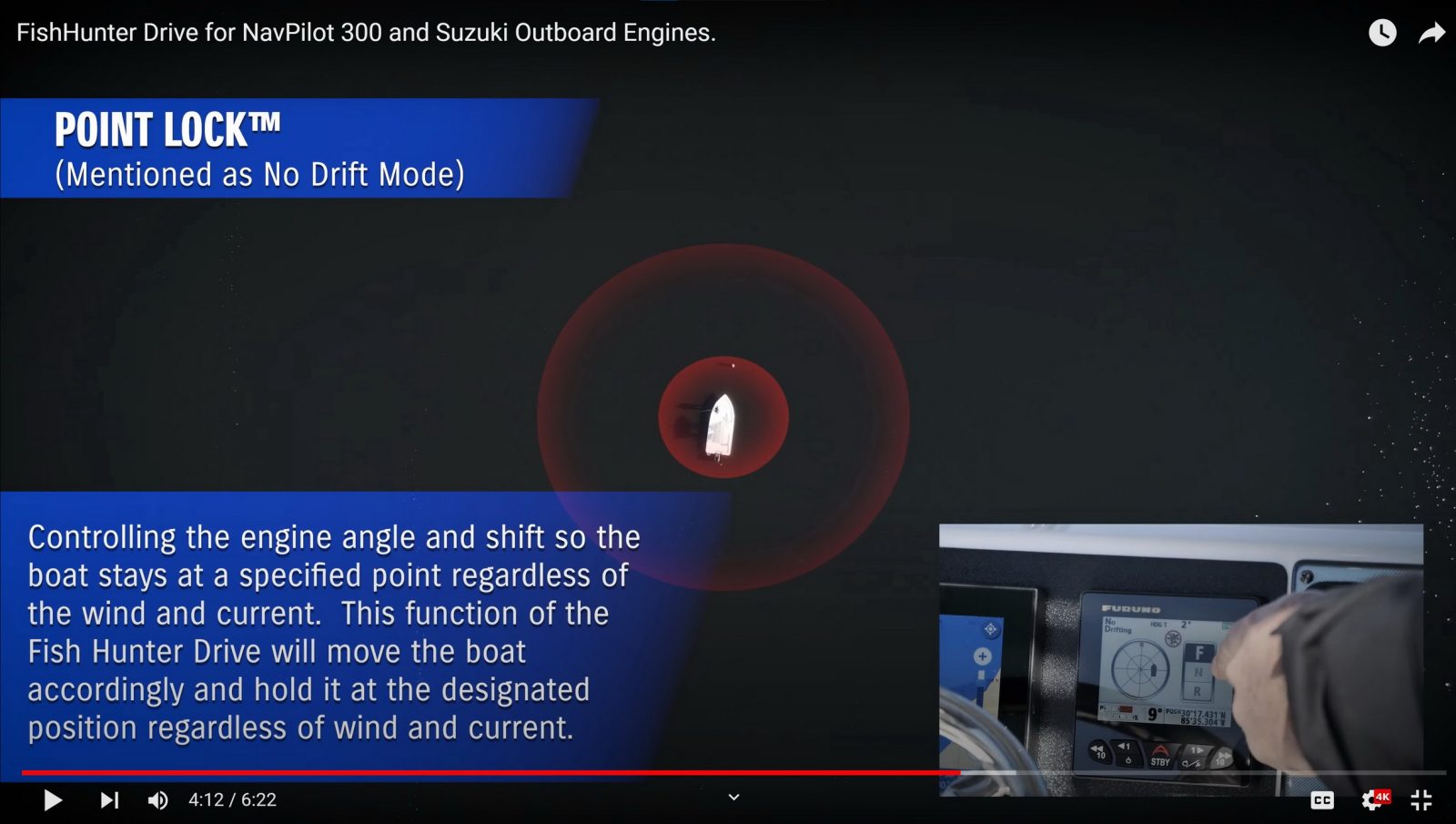 New NavPilot 300 features offer enhanced controls for precision navigation of routes and advanced fishing features for anglers
Camas, WA – A Furuno and Suzuki partnership is delivering all-new control features for boaters utilizing select Suzuki outboard models driven by the Furuno NavPilot 300 Autopilot. These new features offer enhanced autopilot controls for precision navigation of routes and advanced fishing features for anglers while jigging or trolling. Requiring only a simple software update, the NavPilot 300 can take advantage of new FishHunter Drive boat control features leveraging Suzuki's Precision Control, which automatically adjusts tilt and trim at designated engine RPM.
With Speed Control, the boat will run at a preset speed, adjusting engine RPM as needed to account for changes in wind and tide to maintain a constant speed. There is no need to adjust the throttle to maintain a consistent speed when trolling or navigating. Speed Control also helps increase the accuracy of ETA (Estimated Time of Arrival) information.
The Route Smoothing feature decreases the speed of turns as the boat approaches waypoints while navigating an active route. If the boat speed is too fast when approaching a turn, the boat can overshoot the waypoint, resulting in an undesirable deviation from the route. Route Smoothing remedies this by reducing the speed before executing the turn, helping to keep the vessel on course, and minimizing fuel consumption lost to errors.
The Point Lock feature maintains a fixed boat position by controlling the rudder and throttle, countering the effects of wind and current which are constantly working to move the boat. Point Lock is an invaluable tool for anglers while fishing a wreck or reef and for any boater desiring accurate, hands-free position control. Point Lock is also ideal for boaters who occasionally have to wait for a bridge to open so they can pass.
When arriving at the final waypoint, boaters normally choose to either continue in a straight line or circle around the destination waypoint. With the new Auto Stop On Arrival feature, the NavPilot 300 automatically stops the vessel at the destination waypoint. When combined with the Point Lock feature, Auto Stop On Arrival allows the vessel to maintain a fixed position at the destination waypoint.
The new SABIKI Lock is designed for fishermen and takes advantage of the SABIKI fishing mode available with the NavPilot 300 Autopilot. With Furuno's SABIKI mode, the helm is steered automatically by the NavPilot to maintain vessel position while the angler needs only to adjust the throttle to maintain a fixed position. FishHunter Drive's new SABIKI Lock expands upon this functionality by controlling both the rudder and throttle to maintain vessel heading, freeing the angler to focus 100% on jigging and other vertical fishing.
"SABIKI Lock is a real game-changer for anglers already utilizing Furuno's SABIKI mode," said Eric Kunz, Senior Product Manager for Furuno USA. "It's incredibly useful for helping to keep lines straight while jigging and bottom fishing, but it's an especially valuable tool for kite fishing."
These new FishHunter Drive features are in addition to Furuno's conventional FishHunter modes, which offer unique navigation features for fishing, regardless of engine type. For example, when you find a school of fish with a Fish Finder or a flock of birds with your Radar, it's simple to drop a point on that target, send it to the NavPilot, and engage FishHunter to maneuver in an orbit, spiral, figure-eight, or zigzag pattern around the target. Suzuki's new FishHunter Drive modes enhance the utility of Furuno's FishHunter in terms of precise maneuvering and speed control.
FishHunter Drive features are available in combination with the Furuno NavPilot 300 and specific SUZUKI outboards outfitted with both hydraulic steering and Dometic Optimus Electronics steering systems, including the DF140BG, DF115BG, DF150AP, DF175AP, DF200AP, DF250AP, DF300AP, DF300B, DF325A, and DF350A outboards. FishHunter Drive supports configurations of up to 4 engines. Many of these new features can be selected and controlled directly from an interfaced MFD (Multi Function Display), such as the flagship NavNet TZtouch2/TZtouch3 or the GP1871F/1971F combination Chart Plotter/Fish Finder units. FishHunter Drive features are also available in the Suzuki SMD7/9 and SMD12/16 MFDs.
For more information on Furuno or their complete line of Marine Electronics, contact: Furuno U.S.A., 4400 N.W. Pacific Rim Blvd., Camas, WA 98607. Phone: (360) 834-9300 or visit them on the web at www.FurunoUSA.com.