Furuno FLS, a category stimulated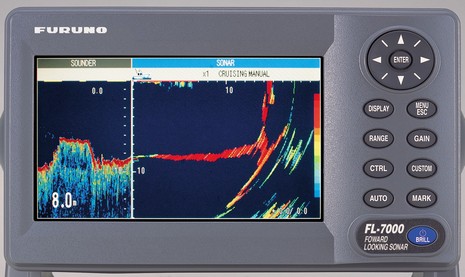 I first researched forward looking sonar (FLS) back in 2002, and later tested an EchoPilot Bronze on my 25′ Ralph. I really, really like the idea of being able to see underwater ahead of the boat (I like exploring, and Maine is ledge city), but so far have to agree with the general consensus that the available gear–from Interphase as well as EchoPilot–can't see very far or with much detail. But now Furuno has introduced the FL-7000 FLS purportedly capable of seeing "up to" 1,600′ ahead of your boat (though the image above, bigger here, only shows a breakwater, or similarly easy target, about 15 meters ahead). Just putting its name on FLS will bring new attention to the category, and I imagine there's some truth to Furuno's claim that it's spent years developing the "best FLS on the market". It's also the most expensive at something like $4,000 (though I haven't seen that in print, and there's nothing about it at Furuno's site yet). The unit also has something called "Baitscope Mode" that I don't comprehend yet, and is capable of using pitch and roll information to stabilize targets. And I'm told that the phased-array transducer, from Airmar, has tested successfully at speeds of 40 knots. Could the FL7000 protect a fast boat from, say, just-awash shipping containers? That would be something! Hopefully, I'll learn more at Fort Lauderdale, still on as best I can tell.
PS 9:30 am: Fort Lauderdale not opening on Sat., maybe not at all.