New Interphase FLS, high end & economy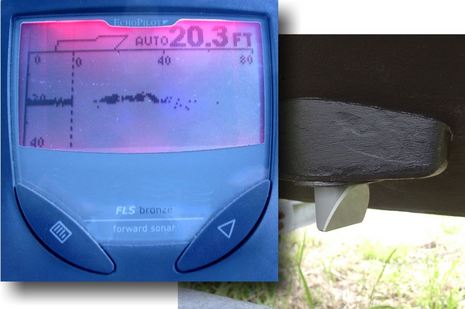 Even though the EchoPilot Foward Looking Sonar (FLS) I tried back in 2002 couldn't see very far and wasn't reliable (kelp seemed able to hide even steep Maine ledges), it hooked me on the potential of the technology. In tricky waters my eye regularly flicked to that little screen above, hoping to see the bottom ahead. Thus I got excited when Furuno previewed a purportedly powerful FLS in 2005, and again when hints arose last winter. But that product has never surfaced. Forward scanning obsessed Interphase, however, is attacking FLS issues from two directions…

First up is the new Escort (info on Interphase main page), which will deliver a simple narrow beam bottom-to-surface forward view that can help you "detect changing bottom conditions up to several hundred feet beyond your boat" and serve as a fishfinder with a 600′ range, all for "less than $1,000." The system architecture is the same flexible black-box-with-keyboard design that Interphase has offered for a while. You use an existing VGA or video display, and I can tell you from recent camera testing that the newer MFDs, like the Raymarine C Wide and Simrad NSE, are good at displaying video. Then again, the NSE will eventually have a StructureScan option, and that too could be used to, say, survey an anchorage (as I argued in yesterday's comments).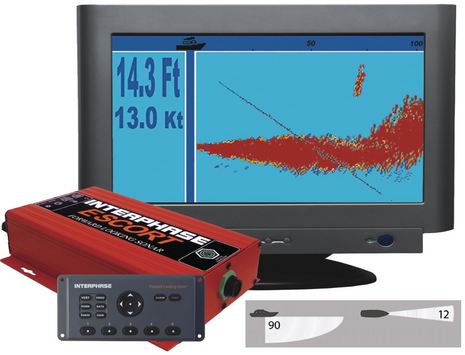 What's really got Interphase President Charles Hicks excited, though, is his new
UltraScan PC90
, which purportedly ends the confusing lag often associated with FLS, particularly the horizontal view that is harder to interpret but more valuable for finding safe passages or fish. Ultrascan is purportedly only limited by the speed of sound in the water, and can do "a complete 90 degree forward scan 24 times every second" at 100′ range. Those are real time schools of sardines on the screen below, which could be split with a vertical view like the one above, and should show navigational dangers as soon as possible. The first PC90 version of UltraScan connects to a PC system via Ethernet and will cost "less than $5,000." Eventually there will be a model with a keyboard, and Ultrascan is also backward compatible with existing Interphase transducers. That's because it's all about high speed data processing, like 1.6 million processes per second, Charles told me (his eyes glinting). He even had a demo unit at NMEA so you could wave your hand in front of the transducer and see it imaged immediately. I hope to try UltraScan.