Furuno RD-33 & GP-33, looking very good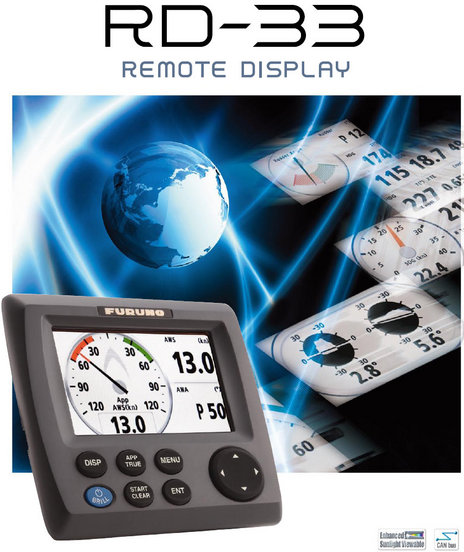 Thanks to Panbo readers "arisatx" and "Recovering Racer", commenting on one of the FI-50 instrument entries, we've learned that Furuno is introducing an RD-33 data display with a bright, high res 4.3-inch color display and powerful abilities not only at displaying NMEA 2000 and 0183 data but also at bridging either type between sensors and other displays. There's going to be a somewhat similar GP-33 GPS, too, and the details of both look very good indeed…

For starters, consider the RD-33 in context with the other NMEA 2000 all-in-one color data displays. This little comparative table I put together is missing some values, and some categories, but the new Furuno display seem to shine, especially given that one U.K. site has the RD-33
at $460 (and another has the GP-33
at $610). I can't find any brightness stats for the other displays, but I've seen them in action, and am hopeful that Furuno's 700 nits is near Garmin GMI 10 readability, with less power drain.

Now, if you go to the
FurunoUSA site and search on "RD33" or "RD-33" (Furuno seems loose about the hyphens in its model names), you'll find a download link to a thorough manual in PFD
format. Just remember that in Furuno speak "CAN bus" equals "NMEA 2000," as we've discussed at length. The RD-33 has the same dual CANbus/N2K ports — one male and one female — that enables daisy chaining but precludes NMEA certification, and I'll have more to say about the dangers of daisy chaining soon. But no one has to use the second N2K port, and, aside from the nomenclature oddness, the RD-33 manual is exceptionally clear about the device's NMEA compatibility, as discussed below.
I'm a long time fan of Furuno's original monochrome RD-30 (which I once described as a friendly robotic assistant), but in retrospect its screens are pretty utilitarian. Not so the RD-33. As you can see somewhat in the top photo — and more of in the brochure and manual — Furuno clearly tried to match or even beat the attractive data displays the competitors designed. One graphic that got my attention, and may be unique, is this layline representation below, which can even show prior laylines to help a sailor track wind shift trends. I also noticed that the RD-33 can display current set and drift at three different water levels, which must be valuable to the commercial fishermen equipped to measure such values.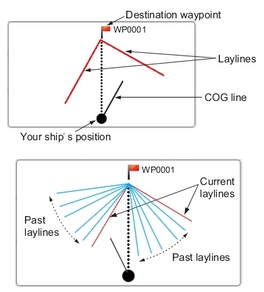 I believe that RD-33 is the only data display that understands both NMEA 0183 and 2000 data and can do some translations both ways. (Garmin's GMI 10 can read both, but does no bridging, while Raymarine's ST70 series can do some translating from SeaTalk.) Furuno's manual is wonderfully explicit about which data messages can be input, and which translations can be output. One thing you'll see is that the translations are incomplete, like in the page below, but I think that may have more to do with incompatible data types than Furuno's programming efforts. I've seen other translators, for instance, that seemed able to deliver individual GPS satellite info from 0183 to 2000, but not the other way. At any rate, the RD-33's bridging abilities could be very useful on many boats, especially ones transitioning from mostly 0183 gear to 2000, but check the manual before making presumptions.
The GP-33 GPS Navigator has the same form and screen as the RD-33, and there's some overlap in what they can do, but it also has enough unusual screens and abilities that it probably deserves its own entry. In the meantime, you can also find its manual at FurunoUSA by using advanced searching on "GP33" and "manuals." But l'll close with a caution: Just because the RD-33 and GP-33 were introduced at an Australian boat show, and seem to be for sale at those U.K. sites with delivery expected this summer, they have not been announced, let alone priced, by Furuno USA. Maybe they'll let us know the plan soon?