Fusion Marine Stereo 700 series, holy mackerel!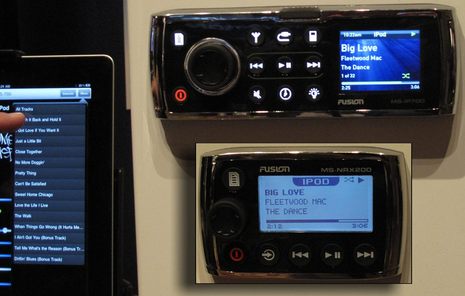 Pardon the lousy show booth photography, but you've got to see what Fusion Audio debuted at NMEA, and it's not fully online yet. The new MS-IP700 at upper right obviously has a color screen, but it also has both NMEA 2000 and Ethernet ports on its backside. Which means that it will be easy to install that new MS-NRX200 wired remote and it will even be able to display instrument info on its 2.7-inch monochrome screen (which is the same size as the 700 screen, because the collaged images are not to scale). And, yes, the Ethernet port is connected to a WiFi router which is being used by a Fusion app on that iPad at left to choose tunes, adjust volume levels on four possible zones, etc. But that is not all!…
The 700 series stereos — there's also an MS-AV700 model with a DVD player inside and an optional iThing dock, quite like Fusion's 600 series — are the first to include something called Fusion-Link. The idea is vaguely like the Simrad/Lowrance SonicHub (which Fusion builds), but now any marine electronics manufacturer can license Fusion's SDK and put full 700 series control on their device via Ethernet. And that means they can compete to design the niftiest MFD audio video interface. And, yes, the 700 series can output iTunes video just like SonicHub can, plus DVD video if you have the AV model. (What I don't think it can do is stream audio or video over Ethernet, but I'll bet that's on Fusion's development road map, along with the multi-sourcing.)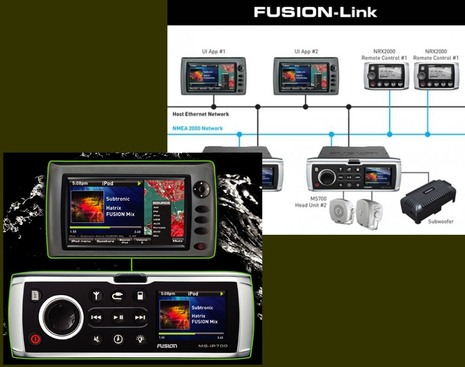 So let's review. Either of the new waterproof 700 stereo heads — which have nice controls themselves anyway — can also be operated by a full-featured N2K wired remote, or by a phone/pad app, or possibly by an MFD at your helm…or any mix and multiples of the above. And Fusion claims that each of those new control types is a "World First innovation," and I think they're right.
And they're not done! If you check out this mini site about Fusion Ethernet, you'll find Fusion's promise to provide wireless controls not just via Apple apps but also Android, PC, and beyond. There's also a mini site for Fusion-Link (actually what you get if you scan the QR code in the just printed 700-series brochure), and there you'll learn that Fusion plans to include SDK developer access to all future products, and hopes to see multi-manufacturer connectivity in everything from mega-yachts to trailer boats.
There are more nice details — and even other new products — that I haven't covered here, but Fusion will be holding the major debut at the Fort Lauderdale Show, including the introduction of Fusion-Link partners. So while I'll have more on all this in the months ahead, what I hope I conveyed here is the big picture, because it seems really big. Of course I'd like to see how all these new interfaces actually work in the field, but I tentatively agree with Fusion's claim (on that Fusion-Link page) that it's working not just on the cutting edge of marine stereo, but of all integrated marine electronics.