Garmin 18″ HD radar, the beam width problem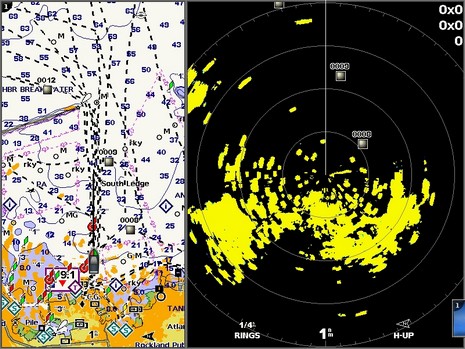 My first time out with the Garmin 18" HD radar was a bit disappointing; Rockland Harbor (try the 'NOAA' slider), loaded with bold shore features and boats, seemed overloaded with blotchy targets. It didn't help that I'd recently been out in another small boat with a Furuno 3.5' UHD open array that painted targets with astonishing accuracy, even without adjustments. But that's not a fair comparison (aside from the 4x price difference); the GMR 18" HD, like most any scanner this size, has a 5 degree beam width, while the 3.5' one has a beam width of 2.3 degrees. I don't fully understand the transceiver physics, but this ratio of scanner width to target resolution is pretty much immutable in current marine radar technology, and it really makes a difference.

In fact, according to a Garmin representative who came out with us for a bit last Friday, the relatively crude resolution of the 18" antenna makes it significantly harder to auto tune. Which is why he recommends manually adjusting the gain in each range, which helped a lot. It's nice that the Garmin units seem to remember each range's gain setting, whether it's "automatic" or a specific number. (The 4000 series manual is very thin on radar details, so we're learning as we go.)
You'll notice that I've also leaned how to make screen shots from Garmin network MFDs, though unfortunately I can't share the technique. (Hopefully Garmin will figure out how to make it a safe procedure, as every display should have the feature, I think). But at least I can share the full size screen above. Note how the big end-of-breakwater lighthouse target just to port a mile out overlays quite nicely on the chart. That's just using COG, which worked pretty well even at slowish speeds. But on Wednesday I installed a Maretron SCC200 compass on Slancha's NMEA 2000 backbone, and it definitely tightened up the radar's target performance and overlay. (It was also plug'n'play simple to install, worked pretty well without calibration, and damn close to perfect after using the elaborate calibration and deviation facilities built into the DSM display I brought along, and took home.) And now little Slancha has Marpa targeting abilities, which work quite well. I'm not crazy about the target icons Garmin uses for radar and AIS—they seem a bit busy—but it sure was neat to see one turn as the GMR figured out what its true motion was. And the way Garmin graphically represents Closest Point of Approach (CPA)—not even mentioned in the manual—is very impressive, but I need another Slancha trip to get a good screen shot!