Garmin AIS, what I know so far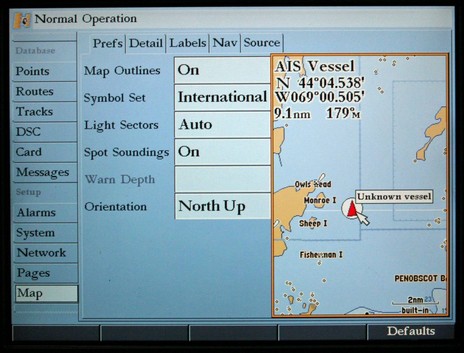 Above, me hearties, is an AIS target plotted on a test Garmin 3120 in my basement last weekend, at least minimally. For instance, the plotter should have been showing the vessel's name by the time I took this photo (I know it was being transmitted), and the manual shows an AIS subtab in this Map menu that apparently doesn't yet exist. So I'd say that Garmin's AIS display is a work in progress, which is probably why the company hasn't promoted it yet (despite all of Pascal's prodding). I'll bet that the feature will get fully developed in future software revs, including CPA and TCPA controls. I hope too that the High Speed NMEA setting used for AIS reception will also be able to see GPS strings, which did not seem to be happening in my test (I was using a SeaCas combo AIS receiver and GPS).
But I had another reason to use this particular photo, bigger here. Trying the 3120 reminded me how neatly Garmin does this Map Setup menu, letting you see the effects of any setting change live in a chart window you can zoom/scroll. It works Great!